Beauty
Halloween 2023: 7 Out-there nail art ideas that are as spooky as they are cool
Subversive season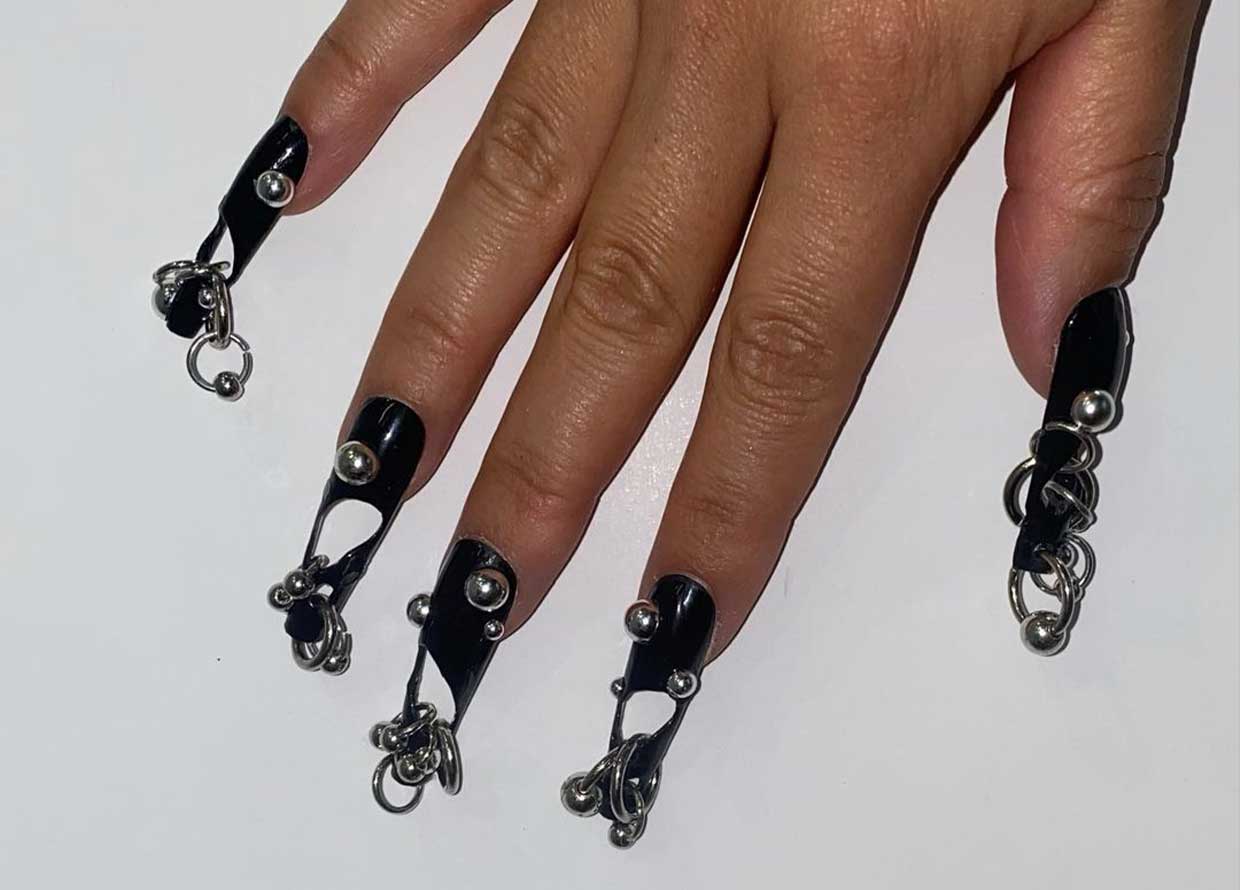 Booking your next nail appointment? Tap into the spirit of spooky season and get inspired by our edit of Halloween nail art.
Bubble, bubble, boil and trouble—we're cooking up mani inspo for Halloween and serving up stellar nail looks to inspire your next spooky set. We're not just settling for ghosts and pumpkins, either! From avant-garde talons to more subtly subversive designs, find our favourite Halloween nail art ahead:
READ: Wearable Halloween nail art to sport this October
Shred 'em up
There are a few things that come to mind with this set, and they are as follows: Firstly, that scene in Jennifer's Body where a demonic Megan Fox throws up pulsing black sludge. Secondly, pretty much every scene in Venom. Either way, it strikes just the right balance of unsettling and mesmerising.
View this post on Instagram
Wing it
Go above and beyond with a sculptural accent—this winged pinky is as much a conversation starter as it is a statement. Is it a bat wing? A dragon? A gargoyle? You'll be fending off questions all month long!
View this post on Instagram
Nailed it!
This one is a bit of a safety hazard, but you can't deny that the feeling it evokes is spot-on. You could even say that nail artist Mei Kawajiri hit the nail on the head with this one. Eh?
View this post on Instagram
Nails with a bite
If you want to make stomachs turn with your mani, here's an idea: Why not make your nails look like teeth? Better yet, throw in a couple of cavities while you're at it—there is nothing scarier than a hefty dental bill!
View this post on Instagram
Eyes on you
There's nothing more unsettling than a pair of eyes where they categorically should not be, but that's exactly what makes this set so perfect for spooky season. It's subtle enough to wear throughout the month but striking—nay, eye-catching—enough to stop your Halloween nails from becoming a snoozefest.
View this post on Instagram
Yassified Ghostface
This set is for the girlies who don't want to compromise their femininity to hop on the fright train. Take a leaf out of this Scream manicure—spooky skeletons and the franchise's iconic Ghostface character have been bedazzled to the heavens and accented with pink glittery blood splattters. Iconic!
View this post on Instagram
Pierced straight through
Have you seen the movie Edward Scissorhands? This is just like that, only instead of scissors, you have functional hands! Unlike poor Edward, you'll just be spicing up your manicure with a few piercings through the nails—it looks gnarly in the best way possible.
View this post on Instagram
For more Halloween inspo, click here.
| | |
| --- | --- |
| SHARE THE STORY | |
| Explore More | |