It's never too late to start leading a healthy and sustainable lifestyle. So if you're itching to stretch those limbs, burn some calories and enjoy the great outdoors, we're excited to announce BURO Malaysia's partnership with Gamuda Gardens to bring you their first-ever virtual run. But getting that heart rate up is just the beginning because we believe that every step you take can make a difference.
WELCOME TO GAMUDA GARDENS
View this post on Instagram
A virtual run means you can go at your own pace from wherever you are—even on a treadmill if you prefer to exercise indoors still. However, you can also choose to take an extra step and run through the breathtaking 810-acre Gamuda Gardens with its forested hills, crystal clear lakes and the pet-friendly Central Park (which also boasts 5,000 trees and 65 different plants species)? That's not all the new up-and-coming township has to offer, though. The developers have also included a wide range of recreational and entertainment attractions for both residents and visitors, thereby creating a community spirit. From a lifestyle and F&B hub to a kid's playground complete with an integrated zipline to a water play park to a horse-riding facility, there is so much to do, and it's only a 20-minute drive from Petaling Jaya.
GREEN LIVING AT GAMUDA GARDENS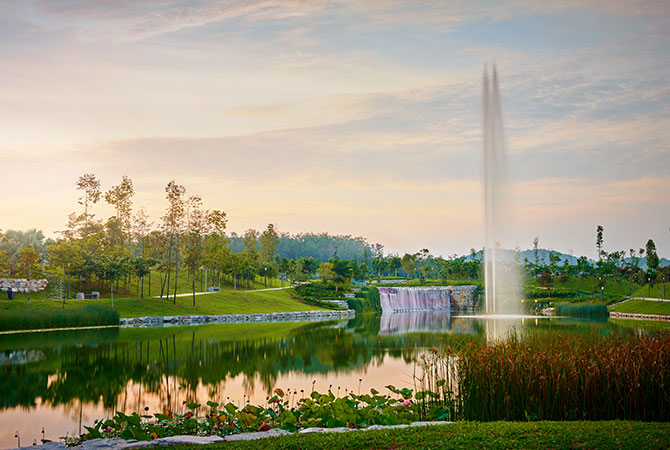 Despite all the fancy attractions built into the township, each of them was built by first considering its natural environment. Gamuda Land, the developer behind Gamuda Gardens, is adamant about designing townships with environmental, social and governance (ESG) targets for a greener future. Climate change is already in effect, and it's our responsibility to prevent it from worsening. As you run around exploring Gamuda Gardens—or on its 5.5km jogging loop around the park—you wouldn't have guessed that it was once an abandoned rubber plantation.
Following the Gamuda Green Plan, the gorgeous township with its lush scenery was built on sustainable planning and design. That includes conducting biodiversity audits by Gamuda's expert advisors to ensure sustainable decisions are made regarding design, development, and maintenance of the township's environment. These experts include researchers from Forest Research Institute Malaysia (FRIM), consulting firm AGV Sustainability and ESG Services, and Wetlands International Malaysia. And so, the design master plan included reforestation and rehabilitation initiatives such as creating small woodland forests and opting for specific flora for the benefit of the fauna. Thus, this provides a safe habitat for birds (like the rare Little Grebe and the critically endangered White-Bellied Heron) and cultivates a healthy population of stingless bees, butterflies and other insects.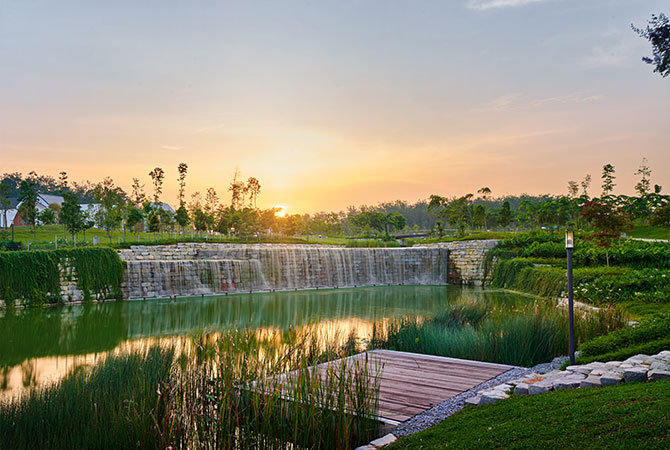 In addition, Gamuda Land aims to reduce greenhouse gas emissions by 40 per cent by 2030 with the company's developments and townships. You can find out more about this, the township and its available homes by stopping by the Gamuda Gardens Experience Gallery or visit the website.
BURO x GAMUDA GARDENS VIRTUAL RUN 2021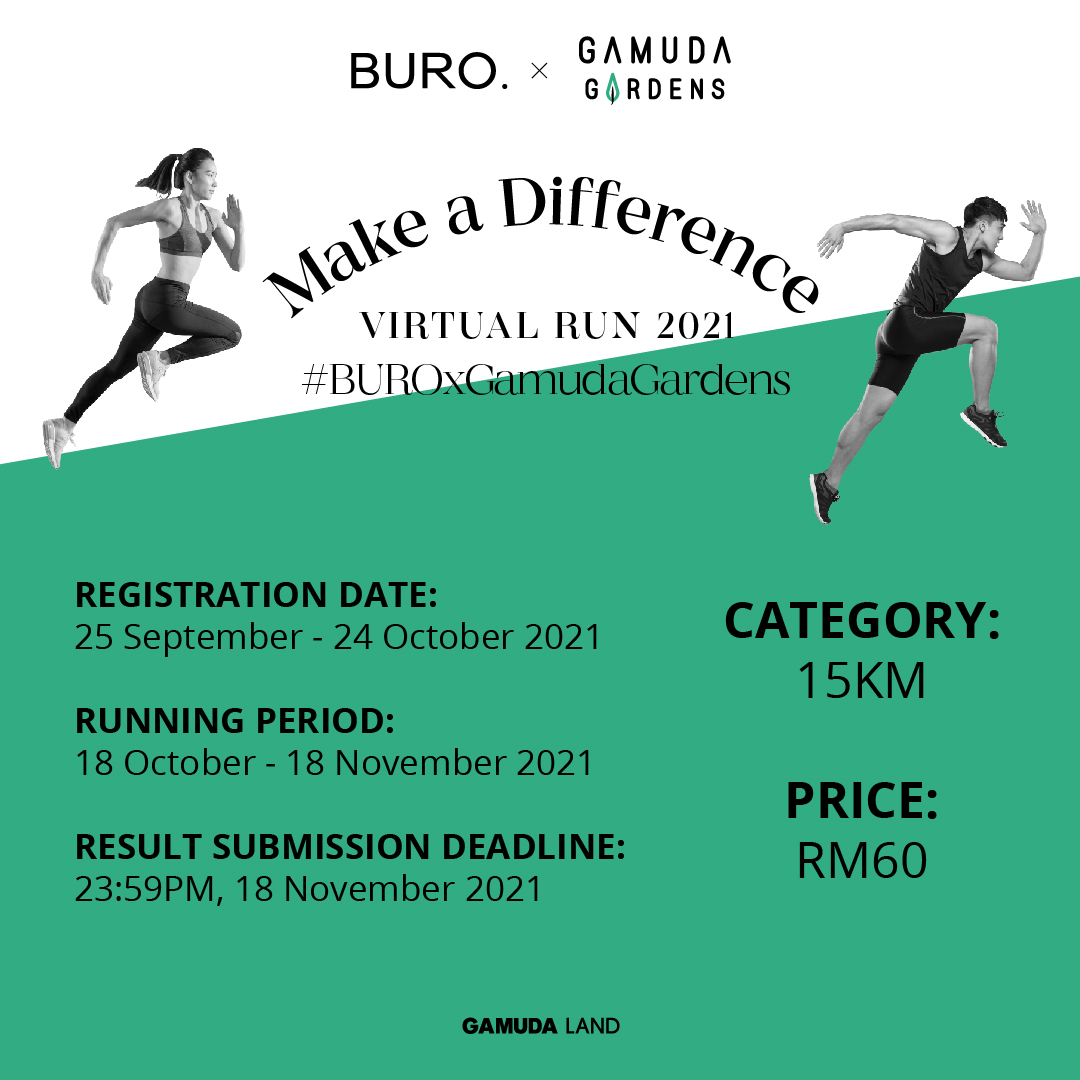 Registration period: 25 September – 24 October 2021
Where to register: Checkpoint Asia
Distance: 15km
Where: Anywhere, anytime
Run duration: 18 October – 18 November 2021
Result submission deadline: 23:59, 18 November 2021
Are you ready to make a difference? Every participant who joins the BURO X Gamuda Gardens 'Make A Difference' Virtual Run 2021 will receive a runner's pack* (which includes a Puma shirt and a medal**) and will stand a chance to win amazing prizes from Garmin (worth RM1,799), Kose, Supergoop and more. There will also be goodies to be redeemed from brands like Starbucks, Wild Kombucha, Celsius, and Heineken.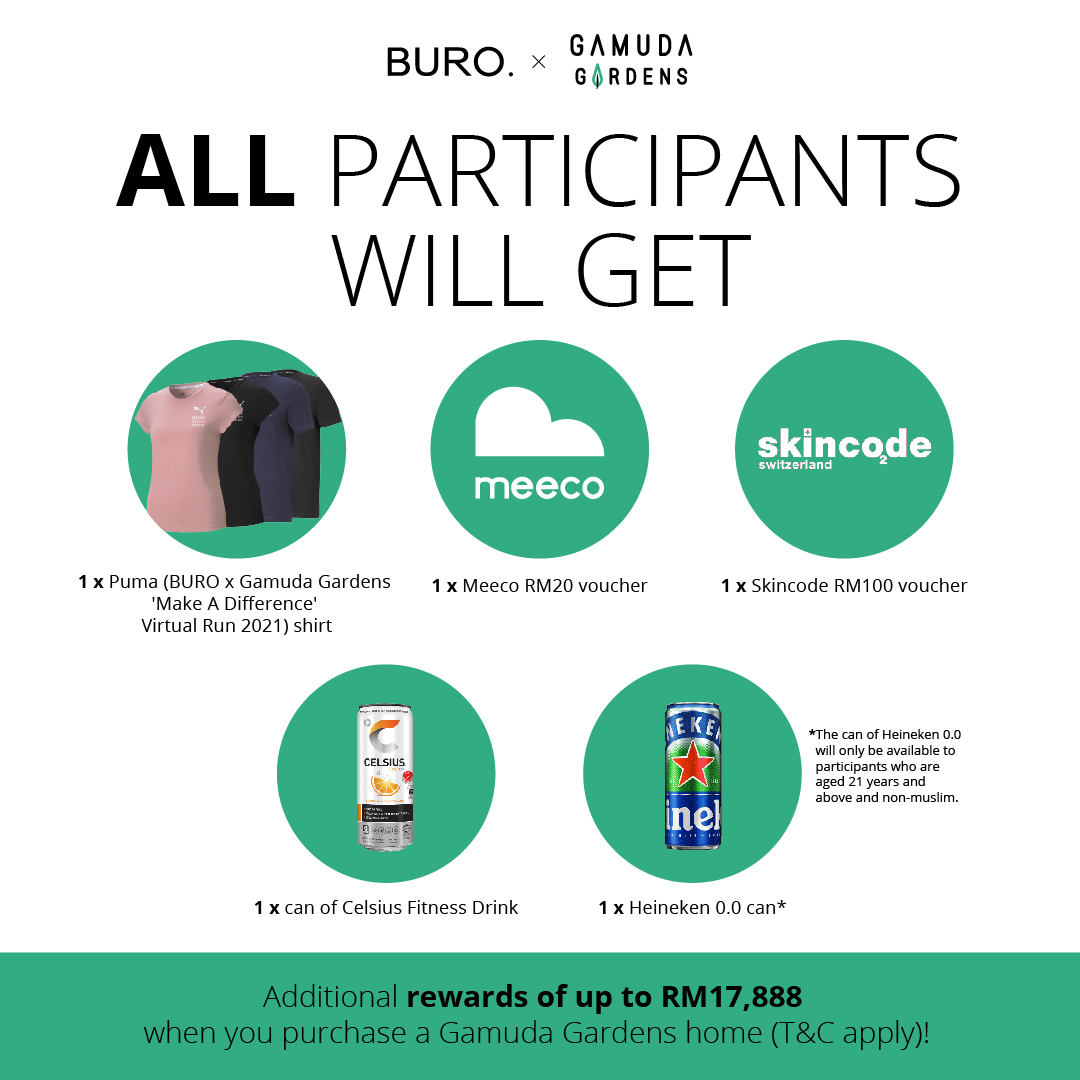 FIND OUT MORE ON WHAT'S IN THE RUN PACK HERE
Psst… All virtual run participants are eligible to receive additional rewards of up to RM17,888 when you purchase a Gamuda Gardens home (T&C apply)!
*The run pack will be given out after the running period.
**Only participants who complete the 15km run will be entitled to a medal.
---
FAQs
Do I have to run the full 15km in one go?
No, it's a virtual run where runners can choose their own pace and setting, as long as it's within the run duration.
Can I run on the treadmill?
Yes, you can walk or run—outside or on the treadmill.
Do I have to run at Gamuda Gardens?
It is not compulsory, but participants who visit Gamuda Gardens during the virtual run period will be entitled to special goodies from some of our partners.
How do I submit my run?
You can use running apps like Strava and the Nike Running app to track your run. Then, take a screenshot(s)—be sure it includes the distance, date and time of the run—and submit it on the run's Checkpoint Asia link here.
What else is in the runner's pack?
All participants will receive the following in their runner's pack:
1 x Puma (BURO x Gamuda Gardens 'Make A Difference' Virtual Run 2021) shirt
1 x Meeco RM20 voucher
1 x Skincode RM100 voucher
1 x can of Celsius Fitness Drink
1 x Heineken 0.0 can*
*The can of Heineken 0.0 will only be available to participants who are aged 21 years and above and non-muslim.
BONUS: The first 500 participants to register will be entitled to:
1 x MEECO Bisou Mon Cheri Hand Sanitizer
When will I receive my runner's pack?
The run pack will be ready for pick-up at Gamuda Gardens from 19 November onwards. Participants may also choose to have their run packs delivered to them. However, they will have to bear the delivery costs.
How do I win the prizes (and what are they)?
Stay tuned as we'll share more details via our website and social media platforms!
Head over here for the full terms and conditions.
| | |
| --- | --- |
| SHARE THE STORY | |
| Explore More | |