Watches
Project CShox: Everything you need to know about the world's first self-design, functional watch NFTs by Echelon Cipher
Technological masterpiece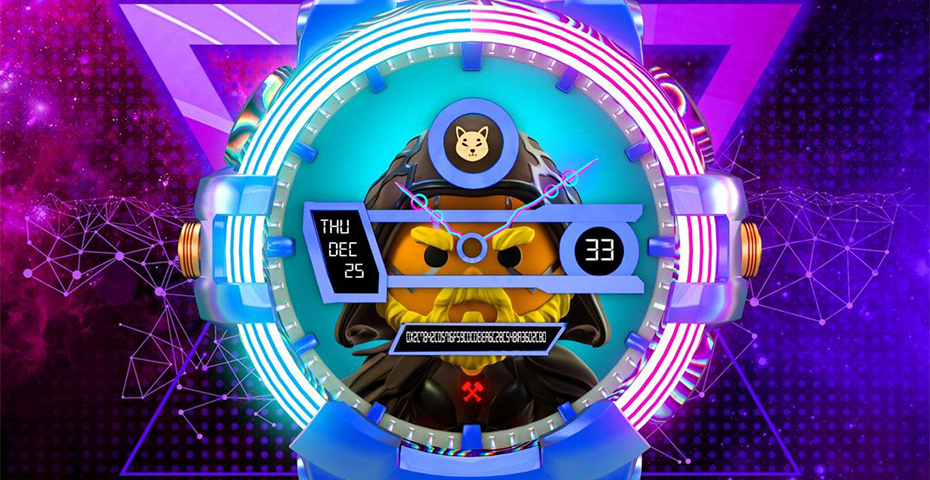 It has been a thriving year for the NFT revolution with thousands sold on the daily and we see many labels—no matter big or small—shifting their focus into the metaverse and Web 3. As the market continues to grow, one project we've got our eye on is Malaysia's very own Echelon Cipher with its cutting-edge CShox collection—digital NFT timepieces that can be utilised in real life.
Not your regular photo NFT, CShox is the world's first self-design collection where you get to be the artist and customise your timepiece based on available pre-designed templates. Just like how you would use a watch to tell the time, holders can use it to check real time according to time zones they're in, as well as see proof of ownership on the watch's wallet address ticker. Not only that, many exclusive members-only perks come with a purchase of a CShox. Echelon Cipher is co-founded by Khor Ren Jin and Dindran Kumar, formerly of O2O and E-Tokina Consultancy—together, they tell us more about it below:
View this post on Instagram
Project CShox sounds incredibly exciting! Tell us, how did the idea come about?
"This idea came about when we were dabbling in the NFT space and were annoyed by the public saying "we can just right-click and save NFTs". We noticed that most of the collections released were profile pic collections, and one could only use it for that means and not interact further with their NFT. Being watch enthusiasts, we decided to create this one-of-a-kind concept coined CShox. No more right-click-and-saving gibberish!"
What makes the CShox different from other NFTs out there?
"CShox is a limited collection consisting of 3,690 Genesis NFTs. Every watch is different from the other as there are no two same watches. Holders are allowed to design their very own masterpiece, which is a first in the NFT space. All existing NFT holders can implement their favourite collection onto the watch. They will be able to connect to our DApp and enjoy additional benefits. Ultimately, the goal is to sync the real world with the metaverse, driving interactions to and fro."
View this post on Instagram
What is the base timepiece design inspired by?
"We're from the late '80s era where there were many cool watches that we adored as kids such as Boy London, Spoon, G-Shock, Swatch, Baby-G and many more! We added our own twist to suit the Web 3 scene, from its name to the rubber elements merging with metal, and unique face and bezel designs. Overall, creating a fresh look for our Crypto-Shox collection."
View this post on Instagram
What are some of the things that a CShox owner will get to do with their timepiece?
"All owners are allowed to sign and upload their very own design. Be it an NFT they own or completely a fresh new design. Below are some additional functions and perks:
The CShox NFT watch can tell real world time, date and has an owner wallet-ticker proof
Real-life retail partner perks and redemption
Holders-only access to Cipher-Market and secure limited goodies and merchandise that are offered
Holders-only access to the forum where the latest Crypto-NFT related matters can be discussed
AR function via mobile DApp and see the watch preview on your hand
How do your retail partners such as Christy Ng, Doublewoot, Beaubelle, Bean Junior, Australian Cake House, Opus Residence and more, come into play?
"Ideally, we want to encourage and educate Malaysians to learn, explore and understand the Web 3 and NFT space that is rapidly evolving. Hence, with the connection between our existing business and customers, we put two and two together. By owning a CShox and applying our partner's logo as part of the watch design, holders will get to benefit from retail perks offline and online redemption on a monthly basis, depending on what's offered."
What are some of the perks that a buyer will get to enjoy?
Bean Junior: Enjoy 1 in-store item, per week, for a year, from any outlet
Beaubelle: Get 

RM100 off any treatment done at

Beaubelle's

flagship outlet

Australian Cake House: Redeem 20 pieces of RM50 cash vouchers on a first come, first served basis
Opus Residence: Enjoy 1-2 nights stay each month, for an entire year
Sabah Mountain Homestay: Enjoy 1-2 nights stay, per month, for an entire year
How much will the CShox be traded at?
"The Whitelist aka Allowlist will procure at 0.08E (RM 640 +-) while public sale is 0.1E (RM 850 +-)*
| | |
| --- | --- |
| SHARE THE STORY | |
| Explore More | |