The Guess Connect watch is a hybrid – while powered by a Japanese Quartz movement, it also possesses nifty digital functions. Why should you have one on your wrist? We count the reasons here:
1. Call and voice command
Compatible with both iOS and Android devices, you can ask Siri or Google for directions, send a text or activate any voice command, all from your smartwatch. Having an inbuilt speaker and microphone makes answering calls or texts in those handful situations (literally) that much easier.
2. Camera control
Move over, selfie sticks—here comes the next big thing: with the Guess Connect, taking a great selfie is a just a touch on your wrist away. Want a group picture with everyone in the room in it? Get in position and let your watch do the job with the remote shutter function, and say goodbye to self-timer fiascos while you're at it.
3. The design
Form and function blends seamlessly here. At one glance it looks like an analogue watch with its classic dial design, but when your notifications come through, the tiny monochrome OLED screen at the bottom of the face comes to life. There is the larger 45mm case for the guys, and 41mm case for the ladies—both available in a series of stylish colourways and designs, making it the perfect functional accessory.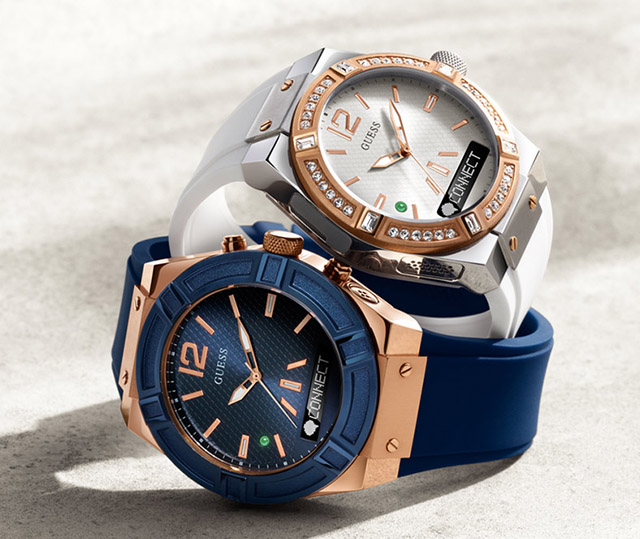 4. Battery life
Powered by Martian Watches, the Guess Connect has a pretty impressive battery life. Depending on one's usage, a full charge lasts three to five days. But its hybrid nature means even if the Martian module runs out, it will still function perfectly fine as a watch thanks to the separate Quartz movement, and that calls for major bonus points in our books.
Related stories:
Guess who's back with a brand new look?
#WednesdayWishlist: Gearing up with these gadgets