When an independent brand's original creations are copied, everyone from the creators to consumers will lose out in the long run
There's a reason why your jewellery costs what it does. When you purchase a piece from its original creators, you're investing in a lot more than just your appearance. You're also supporting the dreams, skills and livelihoods of an entire team of people: From the business owners right down to their partners in the supply chain.
Recently, jewellery brand Wanderlust + Co—which is proudly KL-based, with a large international presence—revealed that copies of their original Tarot Series were being sold across various platforms not affiliated with their brand or their official retail partners. To add salt to the wound, they'd taken Wanderlust + Co's content—including images, videos and product descriptions—and passed these off as their own. Some are even selling the copies at the same price or higher than Wanderlust + Co.
Before the brand broke their silence on this issue via social media on Thursday (24th June), they'd been at the receiving end of doubts and questions from customers who weren't aware that 1) the cheaper products are copies of Wanderlust + Co's original creations and 2) these copies are not comparable to the original jewels, standard of sustainable production, and brand values of Wanderlust + Co's pieces.
In an Instagram Stories on her personal Instagram account, Jenn Low—the founder of Wanderlust + Co—wrote:
"My team and I have been managing copies for years and it has really escalated to some next level stuff in the last few months. Very, very rarely will I ever call things like this out on social media, always wanting to take the higher road, but it's really gone too far this time. The copies are growing and the people who claim we are buying directly from China are also multiplying, and it's time we stand up for ourselves and fight this vicious copy and paste fast fashion cycle."
The many reasons original creations cost more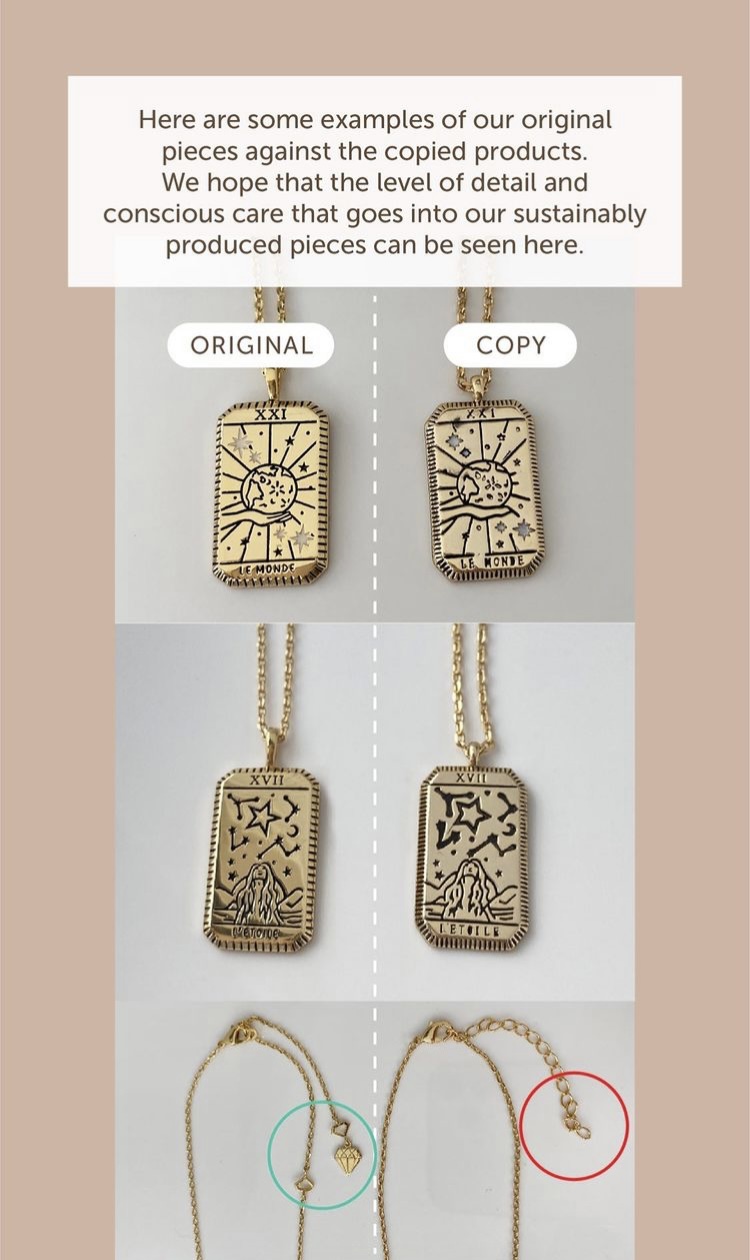 There is no assurance that knock-off jewellery isn't harmful to the skin and overall health. When you buy from a reputable brand, you're buying into their values and their long-term commitment to stakeholders. The low prices of copied products do not reflect the hidden health, environmental and social costs of buying knock-offs, which we discovered when reaching out to Low.
"My team and I are passionate about creating jewellery that's kind to our skin and the planet. If you take a closer look at our brand ethos on our website, we prioritise conscious production and only work with BSCI certified factories who adhere to health and safety compliance; fair working hours and wages; and also the efficient use of resources to protect the environment and the responsible disposal of waste that is a byproduct of manufacturing.
"The issue with the copies, aside from the fact that they are taking our hard work and passing it off as their own, is the production process itself. Over the last 11 years, we have come to thoroughly understand what it costs to produce in a sustainable manner and to fairly pay the artisans who make our jewellery.
"To be completely transparent, the copies are being sold at prices that are far lower than our actual product costs, let alone other business costs like shipping, packaging to ensure products arrive safely, and the livelihood of our Wanderlust + Co team who create and power everything you see on the front end. The prices that the copies are being sold at are really worrying, and very likely made in sweatshops, using unsustainable methods and materials that are not kind to our skin or the planet. Upon closer inspection, the pieces appear to be made with alloy, not lead or cadmium or zinc-free [materials], and are hollow in finishing with messy text and painting.
"As a company, we are always championing creative thinking and we love working in an environment that allows our team's individual creativity to thrive. Whenever we produce a new collection, our pieces go through many months of development, starting from our hand sketches and drawing boards, to 3D moulds, production, and 30-day wear tests to ensure quality and wear comfort for our customers. Following that, samples are used to create content, studio shoots and visuals that we hope can be uplifting and inspiring for our #WCOgirlgang.
"All of these processes take time to come together, and are done with much love and care. To see the efforts from my team passed off as someone else's is really heartbreaking. My hope by sharing this is a greater understanding and appreciation for what happens behind-the-scenes to power an independent brand, and for us to not forget that real people are investing time, effort and energy into creating what we see on the digital front-end of brands."—Jenn Low
What brands can do about stolen intellectual property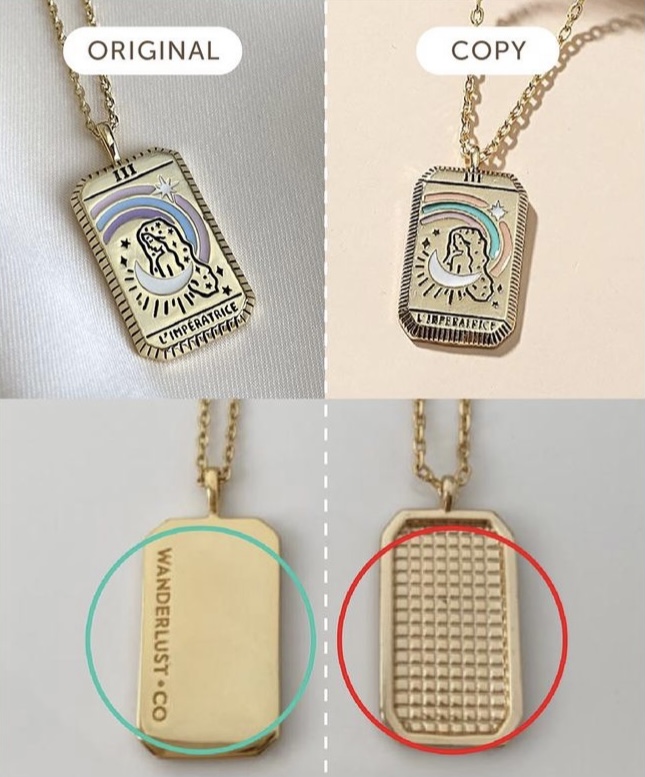 Original creations are protected by copyright. Hence, those profiting unscrupulously from making and selling copies can have legal action taken against them. Likewise, the team at Wanderlust + Co are actively working to resolve this issue, either with the cooperation of those involved or through legal action.
"We have been and will continue to reach out to these platforms and businesses that are selling the copies, to urge them to do the right thing and remove copies of products by creators and independent brands that they are profiting from, including ours. The year is now 2021, and platforms and businesses should step up and do better when it comes to championing and nurturing creative and original work.
"To protect our intellectual property (IP) and design copyright, Wanderlust + Co is working with our IP lawyers, and taking legal action against these parties who are in violation of our IP, and illegally distributing copies of our products. We are further encouraged by the overwhelming amount of messages and support from our #WCOgirlgang community, since we've gone public with this matter in the last few days.
"After months of managing this situation behind the scenes, we are beyond grateful for the support for our pieces and designs. Many of our #WCOgirlgang community have even helped us reshare, repost and report the copies, or email us with leads on businesses who are selling our copies ([email protected]) which has really helped us as well."—Jenn Low
In the meantime, it's business as usual and eyes on the future for Wanderlust + Co. "(My team and I are) currently already planning our upcoming launches from August through to September, for our 11th anniversary launch. We are always inspired by the prospect of a blank slate and the new season is a chance for us to share a new story, and launch new and fresh designs," says Low.
What you can do as a consumer
Support creators and their original creations (bonus points for supporting local). Besides purchasing their products, contact them if you see their designs being copied elsewhere, and report these platforms or businesses. If a product's description—such as the materials used and production processes—doesn't seem to match its price, it's probably too good to be true.
Photos uploaded by the business (assuming they aren't stolen images), photos from customers who've purchased it, or their reviews could also give you clues as to the product's quality. When in doubt, running a Google search on the product's description will also reveal if it's plagiarised.
Coming back full circle to where we began: There's a reason why jewellery costs what it does. Well-designed and well-made pieces, more so if they're made sustainably, are a labour of love. These take time, skill, effort, and resources to produce—which are justifiably reflected in their price tags.