The low-down on Tiffany & Co.'s upcoming extravaganza in Shanghai
Tiffany & Co. has been winning hearts the world over with its exquisite jewellery and the iconic Tiffany Blue box in its namesake hue that wraps every creation for as long as we can remember. Soon, we'll be able to delve into the world of the famed jeweller like never before.
Tiffany & Co.'s largest exhibition in almost a century, and the first of its kind for the jeweller, 'Vision & Virtuosity' celebrates 180 years of Tiffany's artistry and exceptional creations. "'Vision & Virtuosity' is a tribute to Tiffany & Co., which has stood for masterful craftsmanship and innovative design since Charles Lewis Tiffany founded his company in New York City in 1837," said Alessandro Bogliolo, chief executive officer of Tiffany & Co. These two values-vision and virtuosity-lie at the heart of Tiffany & Co. and this exhibition represents the best of our brand."
It will highlight approximately 350 artefacts from The Tiffany Archives, from the French Crown Jewels to the one and only Tiffany Diamond; the latter being one of the world's largest and finest yellow diamonds (it's certainly the most famous one) and the crowning jewel of Tiffany.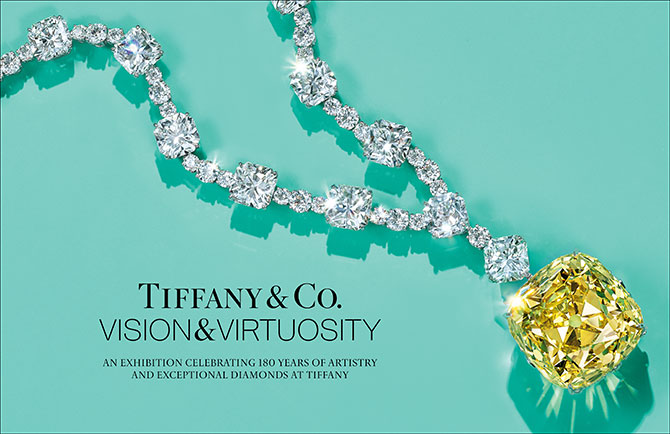 To showcase its acclaimed heritage filled with trailblazing moments and countless "Tiffany firsts", Tiffany & Co. has curated an immersive experience through a thematic journey that will take visitors through six sparkling, all-important chapters for the brand: Blue is the Color of Dreams puts the spotlight on Tiffany's signature robin's-egg blue hue along with its knack for coloured gemstones; The World of Tiffany features its significant influence in popular culture; The Tiffany Blue Book is where you'll find the most stunning high jewellery pieces from then and now; Tiffany Love is a tribute to the Maison's role in some of the world's greatest love stories; Breakfast at Tiffany's unveils exclusive objects from the film such as the original script with Audrey Hepburn's annotations and behind-the-scene photos; and finally, discover Tiffany's most treasured diamonds in Diamonds: Miracles of Nature.
Mark your calendar: 'Vision and Virtuosity' is slated to run from 23 September to 10 November 2019 at the Fosun Foundation Shanghai in China.
Sink your teeth into all things Tiffany & Co. and do good while you're at it—tickets will be available for purchase from September onwards, with all proceeds going to the Fosun Foundation and its charitable programs.
Time to book that flight to Shanghai—xiao long bao and Tiffany & Co. jewels await.