Richard Mille collaborates with artist Cyril Kongo to create a work of art for the wrist – the new RM 68-01 Tourbillon watch
With the RM 68-01 Tourbillon Cyril Kongo, what may seem like an unlikely collaboration turned out to be a statement-making masterpiece. The tourbillon calibre timepiece stemmed from Richard Mille's desire to merge contemporary art and haute horlogerie in an unprecedented manner. Rather than the large-scale urban murals on city walls that street artist Cyril Kongo was used to working on, his creative inspirations was channelled into the world of micromechanics and precision, and the result is absolutely stunning.
Of working with Richard Mille on the timepiece, Kongo says: "I come from graffiti. All my work originates there. It was my school for painting, I learned in the street. I need to remain in touch with that world while at the same time looking at what's happening elsewhere. Graffiti is a language with its own codes, a form of writing, whether this be on a gigantic wall, on canvas, or any other surface. I am not a painter bound to a single space, not to any particular surface."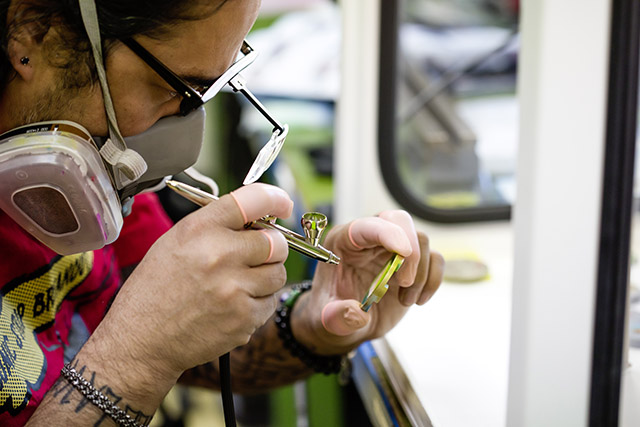 Working on the RM 68-01 was an intricate process—Kongo revealed it took more than a year to develop the painting technique used here. He devised a special airbrush to spray his colours with utmost delicacy and accuracy, one droplet at a time. "Certain pieces were barely a few millimetres long, some even smaller, and I had to put the lettering directly on them, enough for visual effect but without using much paint as to avoid throwing off the balance of the movement," he shared.
The tourbillon movement shines through in the skeletonised design, accompanied by a graphic visual of colours that look like the wild brushstrokes found in street art murals. No two watches are the same, as Kongo hand-painted and applied his stroke of brilliance on each piece, baseplate, bridges and all. Housed in sturdy, scratch-resistant black ceramic, the RM 68-01 calibre has a power reserve of circa 42 hours—marrying form and function to perfection.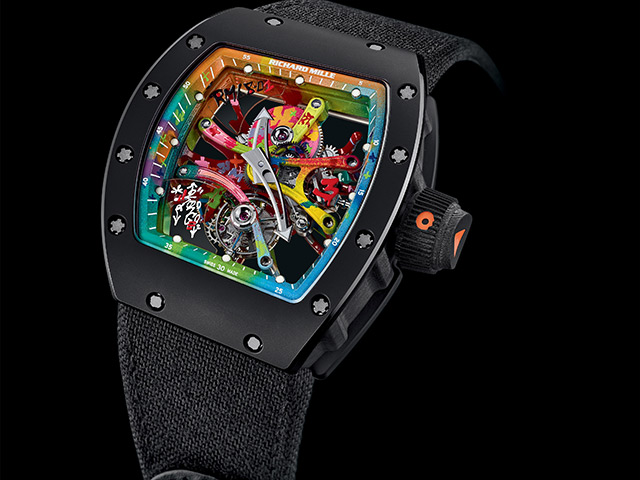 The RM68-01 Tourbillon Cyril Kongo is limited to 30 pieces worldwide.
Related stories:
Richard Mille and NTPT introduces gold with composite materials in two timepieces
Technicality redefined: Richard Mille's RM63-02 World Timer
On auction: Richard Mille's Rafael Nadal RM27-02 tourbillon prototype