Held at Hôtel de Sully in Paris, the official opening of Omega's 'Her Time' exhibition also saw the luxury Swiss watch brand make a very special announcement
Following stops in Milan, Moscow, Shanghai and most recently, Sydney, Omega's 'Her Time' exhibition landed in Paris at the beautiful Hôtel de Sully, a hôtel particulier in the Marais. With an incredibly rich history—the brand has been creating women's watches for over 100 years—there was an extraordinary array of women's timepieces on display, from secret jewellery watches from the 1920s, the first Art Deco wristwatch from the '30s, through to unique Constellation watches from the '80s to now. 
Set across three separate display areas, the exhibition takes guests on a journey through time, where the evolution of the brand is evident. "Omega's women's watches reveal some of the most beautiful designs in our history," says Raynald Aeschlimann, President and CEO of Omega. "There is so much variety and artistry, and I'm so proud to bring this exhibition to Paris, which is one of the world's homes of fashion. Of course, to also be here with Cindy and her family is a special privilege and thrill." 
See Omega's top 10 iconic pieces below:
To celebrate its two-week exhibition in the City of Light, Omega threw a special opening event last Friday, where guests in attendance included model Joan Smalls, Thai actress Praya Lundberg, Taiwanese singer Nick Chou, and our very own Friends of Buro, and of Omega, Jane Chuck, and Juwei Teoh.
The stars of the night, however, were Omega's longest-serving ambassador, Cindy Crawford, and her stunning family. Kaia and Presley Gerber (both SS18's breakout models) were also introduced as Omega's newest ambassadors, following in their mother's footsteps. The move, no doubt a strategic one, will further strengthen the brand's positioning in the millennial market. In conjunction with the announcement, black and white portraits shot by photographer Peter Lindbergh were also unveiled at the event.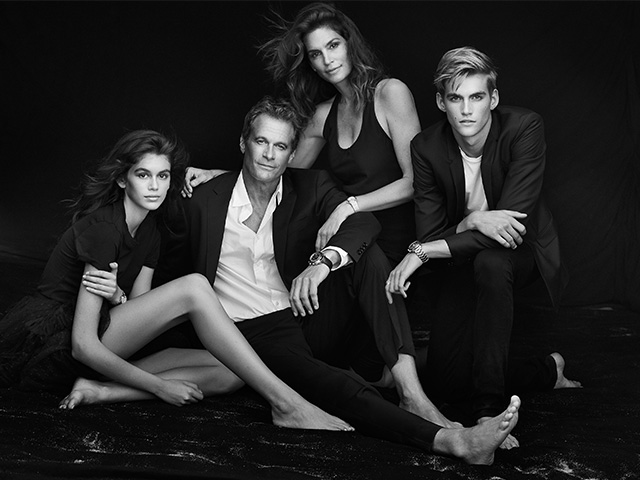 "Kaia and Presley represent the next generation of watch wearers. They are good looking, motivated, inspirational and full of energy. It's incredible to have such a passionate family tradition within our brand and I'm so excited to begin working with these two young people."  — Raynald Aeschlimann, President and CEO of Omega
Watch video highlights from the official opening below:
The Omega 'Her Time' exhibition is now on at the Hôtel de Sully in Paris until 15 October 2017, from 9am to 7pm every day. For more information on Omega and the 'Her Time' exhibition, please click here. 
Related stories:
Inspired by 007: The Omega Seamaster Diver 300m 'Commander's Watch' Limited Edition
Swooning over the Omega Seamaster Aqua Terra Ladies
9 Party-ready watches for your next night out