An artful ode to peaceful nature
From the highly skilled Métiers Rares (Rare Handcrafts) artisans of the Jaeger-LeCoultre Manufacture come three captivating variations of the Rendez-Vous Sonatina, each embodying delicate femininity and elegance in the manner of the Maison's technical yet poetic way of watchmaking.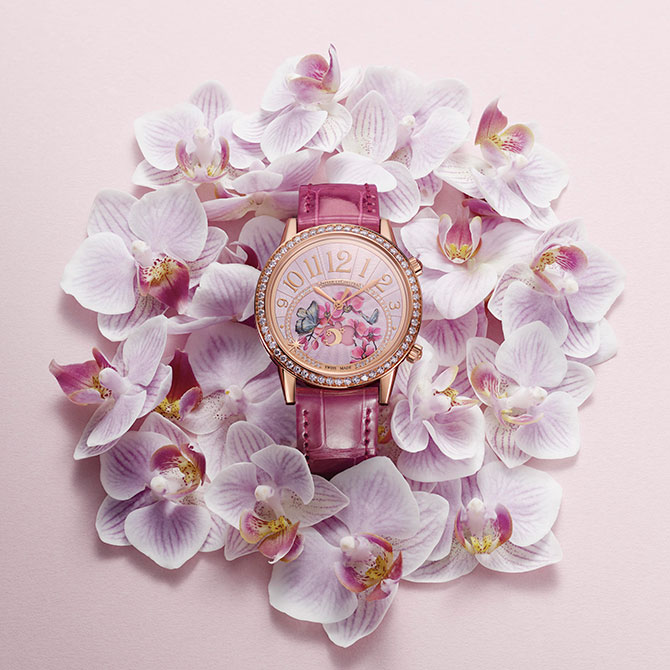 Two wonders of nature take centre stage on the dial of the new Rendez-Vous Sonatina creations: Orchids, a symbol of beauty, grace and charm; and Butterflies, which represent metamorphosis, hope and life itself. Elegant yet delicate, fragile yet strong, the orchids and butterflies are brought to life by the manufacture's artisans through the art of guilloche, micro-painting on mother-of-pearl, and gem-setting.
Every piece is a work of art. The mother-of-pearl dial is first engraved with a wavy guilloche motif, followed by a soft tint of pink, green or purple. This gleaming background then serves as the canvas for the artisan, who will paint in the miniature orchids and butterflies one tiny brushstroke, one painstaking detail at a time. Among the beautiful blooms you'll find the night and day indicator, nestled in a free-form aperture shaped like a flower. The beautiful lifelike image is then framed by an oval ring of diamonds.
READ MORE: Have you seen this living watch?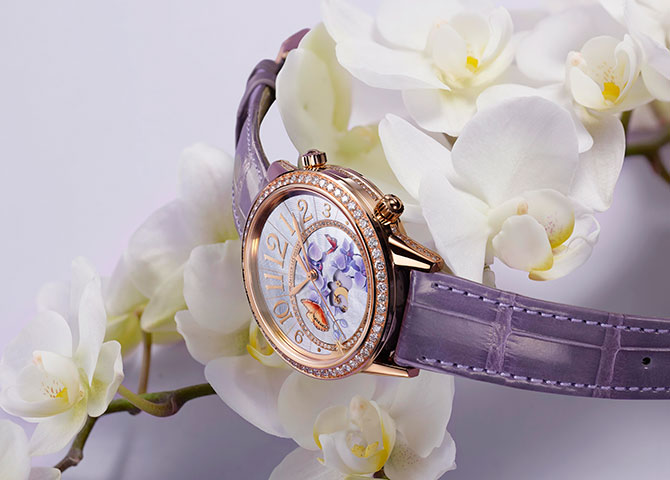 Got a special rendezvous planned? Set an alarm on your exquisite wrist companion using its second crown, which is indicated by the gold star on the edge of the dial. When the time comes, a single, melodious chime rings out, reminding you of the appointment. This whimsical complication is powered by the technical sophistication of the Calibre 735, a self-winding movement developed specially for the Sonatina.
RENDEZ-VOUS FURTHER: Jaeger-LeCoultre's 'Rendez-Vous' with timekeeping brilliance and beauty in 2017
Dressed in pink, green or purple, each variation of the new Rendez-Vous Sonatina is only available in a limited edition of eight pieces.