The Manufacture dials in some romance with a play on the stages of love
For over 12 years, Jaeger-LeCoultre has maintained a shining partnership with the prestigious Venice International Film Festival. In celebration of the event's 74th year, exclusive artistic editions of the Rendez-Vous Sonatina emerge from the Grande Maison's Métiers Rares "Rare Handcrafts" workshop to express an ode to romance.
Rare Handcrafts
This is the pinnacle of art without constraints. The watchmakers and artisans of the Métiers Rares, given full rein to work on their art, devoted their most iconic forms of expertise to the three new Rendez-Vous watches.
On each timepiece, a star lingers within the confines of a diamond-encrusted, pink gold bezel and case. Turn the crown at 2 o'clock and move the star to your hour of choice; a delicate chime rings forth when the time arrives. Day and night perform their infinite dance from the inside of an aperture seated above 6 o'clock. This romantic complication is typical accompaniment to the Jaeger-LeCoultre 735 Calibre with automatic winding; but it is in the generous 38.2mm dial of the Rendez-Vous that it has truly found space to shine. 
A never-before-seen hand-painted mother-of-pearl composes the gleaming dial. First meticulously decorated with miniature guilloché motifs, the surface comes to life with evocations of flora and fauna rendered in paint. With every brushstroke born of unmeasured inspiration, no two pieces are alike.
Three stages of affection take centre stage in this passionate sonnet:
Seduction, romance, and love.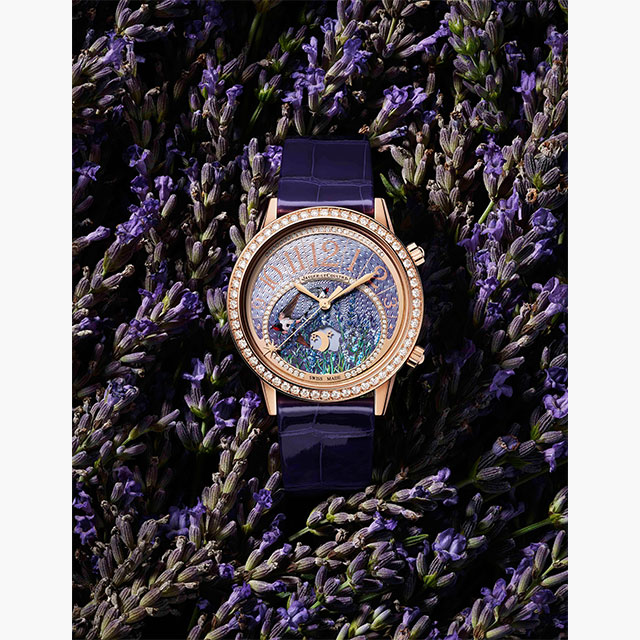 Rendez-Vous Sonatina "Séduction" 
Two swallows soar over lavender fields symbolising the lovers' tango. Freedom and reverie are expressed in the promenade across the lilac sky.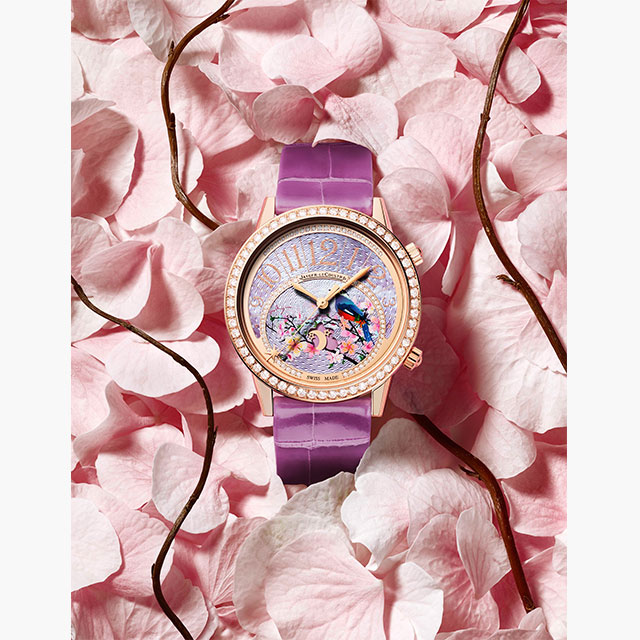 Rendez-Vous Sonatina "Romance" 
Budding romance blossoms in shades of pink and white. A cherry tree branch hosts a sprinkling of delicate petals and a kingfisher perched in peaceful wonderment.
Rendez-Vous Sonatina "Amour" 
A depiction of the enduring bliss of love comes by way of two magpies in synchronised flight, above a patch of peonies. The birds of happiness and the blooms of romance collide in poetic finesse.
Each model of these marvellous creations has an extremely limited run of eight pieces for this release.
Related stories:
Jaeger-LeCoultre's 'Rendez-Vous' with timekeeping brilliance and beauty
Be enchanted by Jaeger-LeCoultre's ode to the beauty of women
Jaeger-LeCoultre introduces three new classics to the Master Control collection