With the release of its latest watch collection, Hermès defines time in its simplest form
Born from the stylistic exercise of aesthetic purity, Slim d'Hermès imbues a minimalistic charm into the world of watchmaking art. As implied by its name, the collection strips bare of superfluous elements, leaving only the fundamentals necessary to stimulate a movement towards essentials in an artistic yet potent manner.
Designed by the creative director of La Montre Hermès, Philippe Delhotal, the Slim d'Hermès is marked by its slender silhouette, hand-bevelled bridges and broad dial opening. Featuring an original typography created by the renowned graphic designer, Philippe Apeloig, the dainty outline of the numerals serve to reinforce the extreme simplicity underpinning the collection.
The Slim d'Hermès is available in both rose gold and steel variations, with or without diamonds. When in rose gold, the timepiece is graced with a guilloché dial in white natural mother-of-pearl, and together with the minimal display of hours, minutes and seconds, time is delivered in a language that is pure and elegant.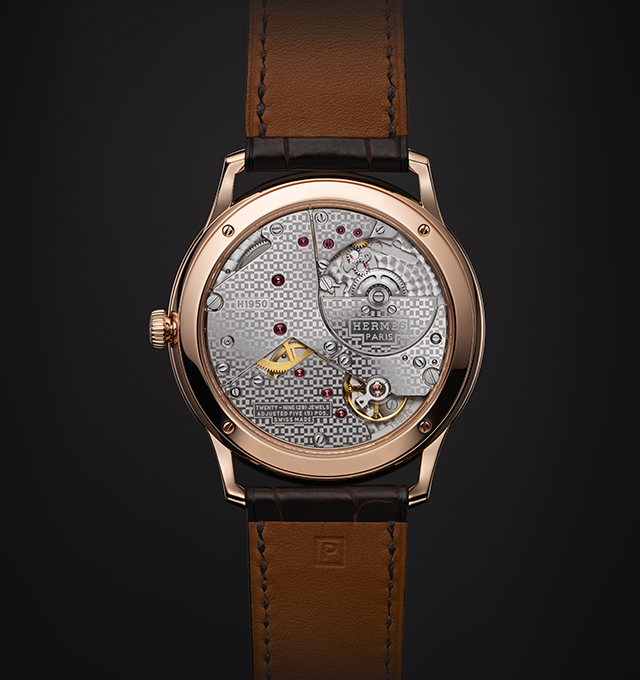 For both men and women, the watch is manufactured in three sizes, with a quartz movement driving the smaller 25 and 32mm models. Right at the heart of the 39.5mm diameter model beats the Manufacture Hermès H1950 ultra-thin movement, and together with a micro-rotor, the self-winding calibre is reduced to 2.6mm, embodying the collection's theme right to the core. Similarly to other Manufacture models, the back is adorned with the "sprinkling of Hs" motif, and together with its sapphire crystal case-back, the Slim d'Hermès offers a glimpse of the mechanical symphony behind its simplistic beauty.
In addition to its unique movement, the 39.5mm may also be furnished with a perpetual calendar mechanism, providing a four-year display that counts off days and months. Aside from an ultra-thin dual-time display, the dial features a moon-phase indication in natural white mother-of-pearl set against a dazzling aventurine glass sky.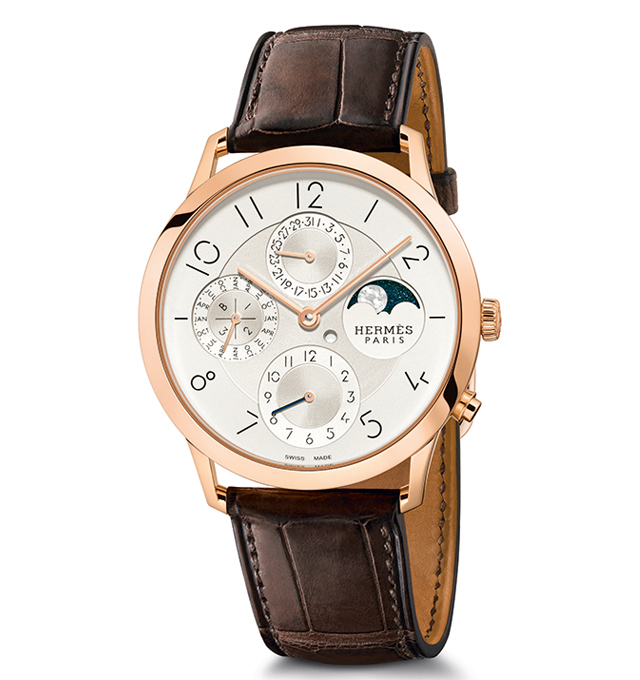 Beyond its size, metal and perpetual calendar function, the Slim d'Hermès further enriches its assortment by presenting a selection of wristbands ranging from Etruscan to cloud white, in alligator, Barenia leather, box calf or steel.  
For more information visit the website.