The new 'Hortus Deliciarum' High Jewellery collection finds inspiration in sublime skyscapes with pieces that capture the spiritual pleasure of basking in nature's beauty
Gucci blooms a new garden of jewels as a reminder for us to admire and appreciate all that Mother Nature has to offer. With majority of the year so far spent indoors and at home, dreaming of the great outdoors through the Italian fashion house's latest High Jewellery collection is a more than welcome experience. 
Two years since the debut of the first High Jewellery collection, Alessandro Michele has designed the second chapter of Gucci's precious jewellery offerings to celebrate the ephemeral beauty of the natural world. This time, 'Hortus Deliciarum', translated as 'Garden of Delights', finds inspiration in the mercurial beauty of the sky and its diverse appearances. It's an open invitation to take pleasure in the simple act of looking up wherever you are in the world to gaze at nature in a moment of wonder.
The collection was first unveiled last week at Villa Pallavicino, a neoclassical residence in Stresa, Italy, which opened its doors for the first time for a private event, followed by a gala dinner with guests at Isola Madre on Lake Maggiore.
Comprising more than 130—largely one-of-a-kind—pieces, 'Hortus Deliciarum' draws from Alessandro Michele's prismatic universe to feature symbolic motifs that make up the multifaceted Maison. Described by Gucci as a "kaleidoscopic palette", it is distinguished by diverse colours that characterise the collection of bedazzled rings, bracelets and necklaces, reflecting the shifting hues and constellations of ever-changing skies. Also included are a selection of striking, singular solitaires and glittering diamond-laden timepieces that complete the sensually bold yet glamorously wild collection.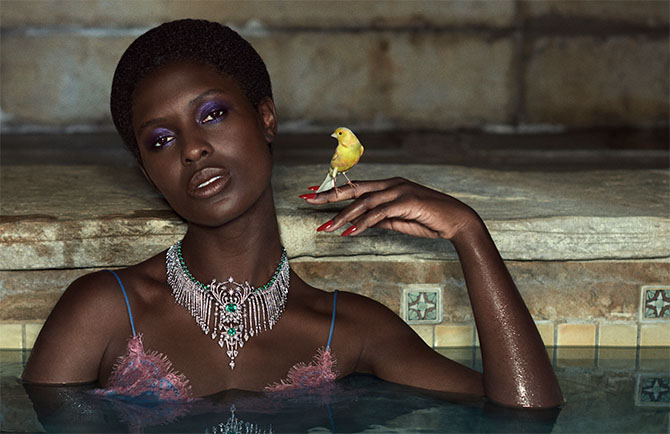 Divided into four chapters, the collection's designs explore the universal splendour of Mother Nature, from monumental landscapes to hypnotic sunsets, the romantic rose garden and finally, the mystic strength of the animal kingdom.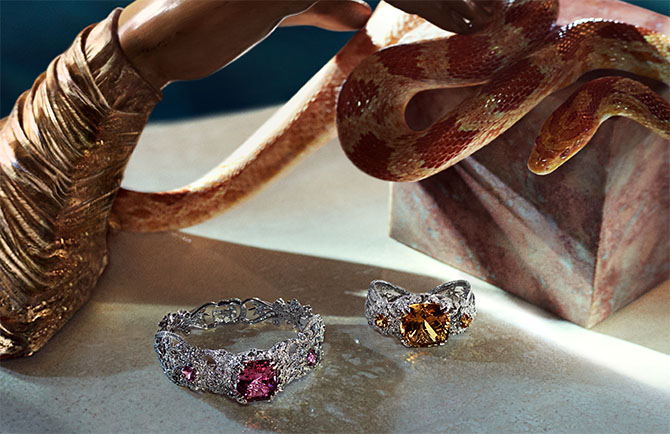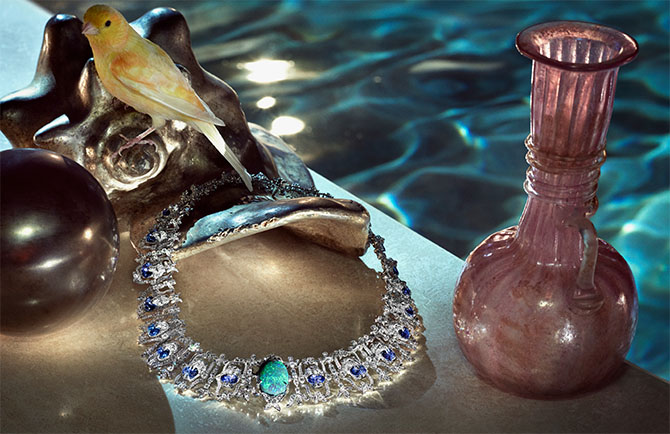 Thundering waterfalls are evoked in cascading diamonds that sparkle on chandelier earrings while fringed and tasselled necklaces embody the ornateness of star-crossed skies. In others, transcendent skyscapes are translated from dusk to dawn through a highly romantic style, including twilight-hued gemstones set with an 8-carat opal on a breathtaking Georgiana collet-set Rivière necklace. Flora and fauna also feature through unique jewels and charms, some likening to the petals of a blooming rose in pinkish-orange sapphires, while others manifest through sky-blue tanzanites paired with roaring heads to evoke the symbolic strength of the lion.
The campaign for the new collection stars actress Jodie Turner-Smith, photographed by Glen Luchford, draped in some of the eye-catching pieces as she takes a midnight dip with a brightly coloured snake and bird. The dazzling series of images comes accompanied by a film to embody summer indulgence and Hollywood glamour while evoking the mysticism of Mother Nature. 
For the latest in watches & jewellery, click here.