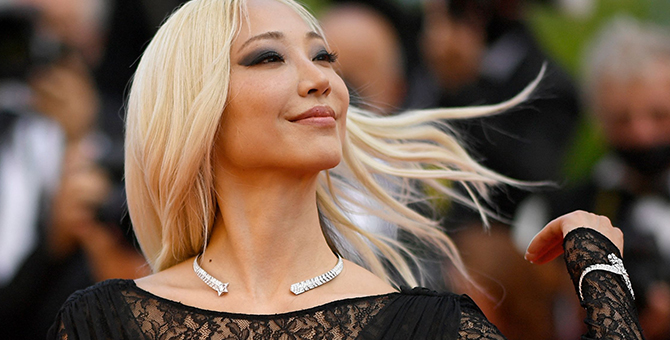 Marion Cotillard shines in Chanel's long beryl droplets earrings featuring yellow-gold and diamonds.
Candice Swanepoel is decked in a matching cantene necklace and earrings from Pomellato.
Model and actress, Nidhi Sunil stuns in a pair of rose-gold earrings set with over nine carats of coloured diamonds from Chopard.
Bella Hadid turns heads again as she returned to the red carpet in Chopard earrings and a gold-dipped lung necklace straight from Schiaparelli's AW21 Couture show.
Maggie Gyllenhaal sparkles in hoop earrings in white-gold and titanium by Chopard set with 11 carats of diamonds.
Diane Kruger wears Chaumet jewels in the pair of Nuages d'Or earrings.
For the opening ceremony, Jessica Chastain dazzles in a Chopard necklace with 112 carats of oval-cut rubies and 13 carats of white diamonds.
Kat Graham dons a glittering yellow-gold and diamond collar from Pomellato with a pair of matching catene earrings.
Cartier ambassador Melanie Laurent wears a pair of Tutti Frutti earrings from brand's latest high jewellery collection.
The most stunning jewellery moments at Cannes 2021
Cannes is back baby! After last year's cancellation, the annual film festival returns for its 74th edition and so did all the glitter and glamour that always came with it. In what felt like a return to pre-pandemic days, stars went all out for their IRL appearances, donning lavish gowns and irresistibly decadent jewellery to dazzle for their red carpet comeback (without masks!). Necklaces and earrings were abound and set with head-turning diamonds and coloured gems to shine individual spotlights on their wearers. Click through to see the beautiful bling we can't stop thinking about.