He counts celebrities such as Selena Gomez and Oprah Winfrey among his clientele – this is his story.
It's not everyday that you meet someone as gregarious as Roberto Coin. The Venetian, who first made a name as a hotellier before jumping into the world of jewellery design, was enigmatic and full of life at our recent meeting. Coin was in town to launch his special collection in support of the SPCA Selangor (more on that later). He spoke with passion about his namesake brand that he first coined in 1996. Over the years, he has garnered a large number of fans including the likes of Michelle Obama, Alicia Keys, Jennifer Lopez, Halle Berry and more. Each jewellery is embed with a small ruby inside that represents his good wishes to the wearer. With an innate love for art and fashion, Roberto Coin tells us of his journey thus far.
Hi Roberto. Can you tell us about your career transition? How did you go from a hotellier to a jewellery designer? 
Well, there aren't many people who chose to be like me or change their success in one business to another. It was a difficult decision and you're always questioning if it's right or wrong. But you have to try to do it. One thing which I know I never wanted to have in my life is regrets.
I've always loved fashion and jewellery was second nature out of fashion. So I told myself to try. The best lesson is you have to be humble and self-aware—this had been what I learned for 7 years as I build my new business. I visited many countries, factories, maestro and stylists to understand the industry. I was a newbie, but I know that I have to be myself. That was how I established my brand, by being myself.
So, how would you describe your career so far?
My career has been about what truly makes me happy. It was not necessarily about how much money I could make but the experience I had and will have. I have visited 29 other countries and met a tremendous amount of people in my time. This is what I realised – there are a lot of people who will fascinate you and there will be a lot of professionals whom you can learn from. I'm still learning today. I have a beautiful life.
Would you say you're a professional jeweller now?
I think I'm a professional in life. Laughs. I get asked to speak at university even though I don't actually have a degree because I didn't have the time to do so. But they want me to tell them a little bit about my story. There are even a few who wants to write a book about me. I have a thousand things happening in my life, perhaps that makes a good story.

That's nice. Let's talk about jewellery design, what's your favourite part of the job?
It's the freedom that you know you're free to do whatever you think and like. It's the freedom of choosing your own direction. The freedom of having that kind of freedom is the best thing a man or a woman can have. You feel that you don't owe anybody anything or you have to please everyone. That is a great emotion. And, there's still sentiments involved in this job. For example, if your husband buys you a piece of jewellery or writes you a beautiful letter by hand, you'll probably be touched and give him a kiss. It's a beautiful sentiment, it is a nice feeling. I like that. 
Now in this freedom that you find in jewellery design, what are some of the challenges that you've faced and how do you overcome them?
Because I lost my parents when I was young, I have a lot of difficulties growing up. But for me, difficulty is trivial. I seem to react very positively to problems, which is a word that I don't like by the way. I try to reduce my problems one at a time. We all have the same problems worldwide but whatever countries you may come from, the objective is to solve the problem and be better.
So I have only one problem now. For me, nothing is good enough and I always have to make it better. For example, I could probably give you better service, to make sure you're truly comfortable. And that is beautiful, you know...trying to improve to do it better and better.
Roberto Coin produces more than 600 pieces of jewellery each year. How do you find the balance in creating what you like and knowing what works?
I follow fashion, a lot. And being a critique of fashion, clothes, styles, etc, I also understand that different countries do have different preferences. So I pay attention a lot more to the market now than in the past. It is still my taste in designing according to my interpretation of what works but I do diversify by paying more attention to what's out there.
It is difficult to create 600 to 700 models each year but we have beautiful machinery and 10 of the best model makers in the world in my opinion. The secret is we understand manufacturing and creating.
What do you think are some key pieces that a woman should invest in?
Well, if you ask me, it's probably the ring. I like women to wear a beautiful ring because it tells me the story of who you are. Then, it's the earrings—you can change hundreds of earrings a day and it shows off your improved style. But if I have to choose one item, I'd like you to have an important ring.
What is the best advice you can share about starting your own business and building your brand?
I started and did things the opposite manner. That's probably why I stand out because I did it in a different way than the rest. I'm a little bit of a contrary. First of all, I already built my success, so I had money and a business. Then I fell in love with creativity but this was where the challenge was. One thing for sure, I already have in mind what I was going to design and it had to be of extremely good quality. The fact that I was not born into the industry means that I did things which was never done before, like investing in sophisticated computer system or 3D printing. Above all, you have to make sure you're being yourself. And unless you give quality, you're not going to be a success. Unless you provide good service, you won't be able to succeed. Unless you understand trial and error, you will not find success.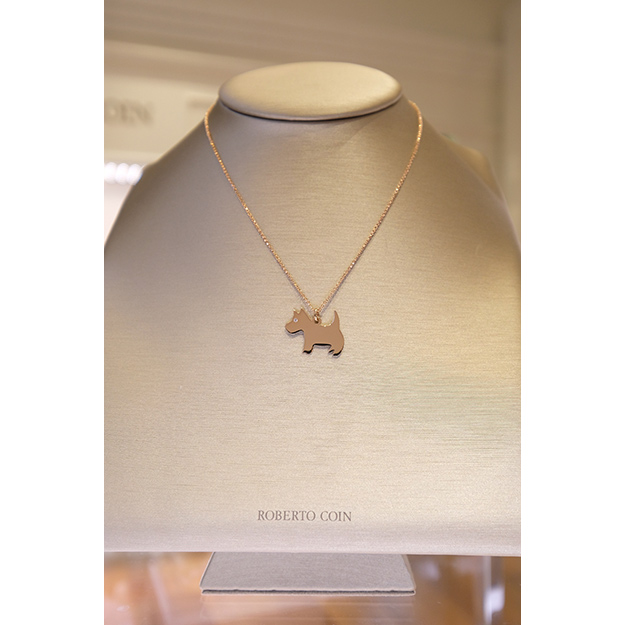 Tell us about the collaboration with SPCA Selangor. How did this come about?
I've been supporting charity all my life and I believe very much in kindness. The animal world is something which has always featured strongly in my collection, Animalier. I also have a book on the Animalier coming out soon and I do follow the Chinese zodiac. This year being the year of the Dog, it was the right time to show my support. We need to save God's creation and that is the message that I want to send. I have three dogs and four cats at home.
Oh, what is your favourite memory about your pets?
Well, they always surprise you in many different ways. There is this cat at home that doesn't go to sleep if my wife is not back from her outings. And the cocker spaniel has shown the other dogs that arrive later how to get along with the cats. So now the cats and dogs live together like a family. It's amazing how they can change the rules shall we say.
The Roberto Coin x SPCA Selangor pendant is a limited edition and it's only available at Roberto Coin's boutique in Starhill Gallery KL. Priced at RM2018 each with proceed going to the said beneficiary.