Joy is finding a little time away from home for an exquisite experience with the Maison and its Golden Oasis collection
Last month, Malaysia was shrouded in blankets of misery as the annual haze made a return with a vengeance this year. Every where I look, gloom and dread seemed to be the order of the day/week/month (pick your bout of suffering). The only way to escape was to pack up my bags and go on a short getaway visiting our northern neighbour. Hi, Bangkok! All thanks to Piaget, who came to the rescue at the most opportune time.
Piaget flew guests in from the region for a chance to get up close to the gorgeous Golden Oasis collection that was showcased at the Park Hyatt Bangkok. In attendance included the likes of Korean actress and brand ambassador Kong Hyo-Jin, digital influencer Nicole Warne and Thai actress Sririta Jensen. We landed in Krung Thep on a beautiful day where the clear skies were a sight for sore eyes. As if walking on clouds, my mood lifted up considerably. I made a mental note to embrace the Maison's motto and find "the sunny side of life" after the tumultuous weeks we've had in KL.
Art meets nature
Piaget's Golden Oasis collection is a work of art involving over 200 master artisans, who painstakingly spent hundreds of hours on crafting the perfect high jewelleries. It was to be the first time that all the pieces in the Golden Oasis collection is previewed to this side of the world. Hence, you can bet the luxurious brand brought out all the stops (and blings!) to wow us.
"We're very happy to be here, it's so dynamic, exotic and positive, Bangkok matches very well with the brand," said Chabi Nouri, the CEO of Piaget in an interview.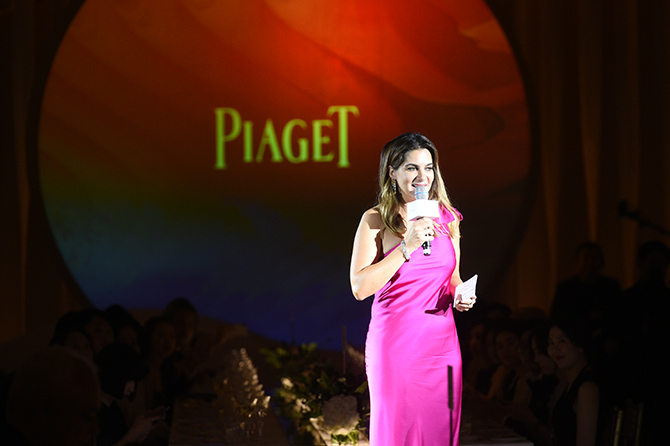 Walking around the ballroom of Park Hyatt, one can't help but be mesmerised by the vivid colours of the high jewelleries on display. Adding to the charm was the setting where the team had turned an otherwise plain hall into a real oasis with live cacti to boot. How apt! The Golden Oasis collection after all is inspired by the many facets of a breathtaking desert landscape. From flora to fauna, you can see the design vision in each bracelet, necklace, earrings and ear cuffs. And of course, the brilliance of the stones that capture the vivid light and intense hues from dusk till dawn.
"Since many decades ago, we have worked with very specific colour combination stones," explained Nouri. "Be it heart stones or precious stones, it's always in very vivid colours—as you can see in this Golden Oasis collection." The Blue Waterfall watch is set with intricate marquise-cut blue sapphire, while the Vegetal Laces ear cuff boasts rich green emerald. Of particular interest are the yellow diamonds featured in the Golden Hour necklace—a personal favourite of Kong Hyo-Jin. It took Piaget's gemologist one year to gather the stones for the jewellery set as fancy vivid yellow diamonds are rare by nature. Only one out of 10,000 falls under the fancy coloured category and of those, only six percent can be graded as fancy vivid.
"At Piaget, we like to have confident choices and a confident taste, which is something that our clients probably resonated with too," said Nouri with pride. It is precisely this confidence that has driven Piaget to create such a strong legacy in both watchmaking and gem-setting. Driven by a strong conviction to innovate, be creative and uplift the spirit of Piaget, as evident in its audacious designs and beautiful expression of what the brand is about. "I'd say the good thing about Piaget is that we don't always do or repeat what we've done in the past. We're always looking to reinvent ourselves."
----------
As the gala evening wore on, I spotted Nicole Warne walking down the steps surrounded by an entourage of photographers and videographers. All eyes were glued on this ethereal beauty, who looked resplendent in her little black dress and the Dancing Waters necklace. Her presence stirred a little musing in my head about what we find important in our lives. I recalled my conversation earlier with the New York-based digital influencer who had flown in specially for the event.
Her first encounter with Piaget's Golden Oasis
"I first saw the collection in Monaco and it was beautiful. I remember being so taken in by the vivid colours and how playful and youthful it felt. It's such a beautiful reflection of the brand and the sunny side of life."
Her synergy with Piaget
"They're bold and audacious, and they celebrate joy in freedom, in life—that's something that I try to live my life by everyday. To be independent and empowered is such a good feeling."
Her accessorising style
"I love fine jewellery and I do love layering. I like it when the pieces are lightweight enough to layer but it never feels too much. Like, you wear a watch with three bracelets or wear three necklaces at any one time. That's the biggest key to what I look for in a jewellery collection."
Her favourite gemstone
"It would definitely be diamonds. I do love yellow diamond cos that's my engagement ring. I also love any coloured gemstones really."
Her move to New York
"I've never lived in a different city but I've always been drawn to New York and its energy. I thought if I don't do it now, I never will. Luckily – I don't even know how – I convinced my husband to come with me. It's harder for him to adjust not being able to swim everyday but we've been so fulfilled in other ways, like on a creative level, just experiencing life and expanding our horizons."
Her sunny side of life
"If you ask me five years ago, it'd be a different answer completely. These days it's the luxury of finding time at home with my loved ones cos I live so far away now. So it's investing time and love into my friendships and family—that's the biggest priority in my life now. It's something that brings me happiness and keeps me grounded. I think it's so important to just surround yourself with good, likeminded people."