Its debut in the new millennium revolutionised the world of watchmaking. Below, delve into the history and secrets of a 21st century icon
In a world traditionally restrained by gendered norms, Chanel's J12 was a cut above. Coated in seductive ceramic, almost always in black or white, the timepiece possesses an enduring unisex appeal that is as inevitable as the time that it so artfully keeps.
Stereotypically, masculine timepieces were more mechanically complicated with larger dimensions and a more robust construction, while watches that were generally marketed towards women were dainty and downsized, often combining the decorative appeal of jewellery—and we're not just talking about jewellery watches. Case in point, the first wristwatch customised for a woman was a pocket watch attached to a bracelet.
2000 was the year that reset the rules of modern watchmaking. The J12 burst onto the scene in all-black ceramic, boasting a sporty design that was just as robust and elegant as it was androgynous. Though its use of industrial ceramic was novel, the watch proved that the hard-wearing material could be turned into something precious and opened a floodgate of inspiration for the use of alternative materials in horology. Meanwhile, its thoroughly contemporary appearance was an instant design classic, fusing the masculine and feminine in elegance and strength to push the boundaries of what a watch created for women—and men for that matter—could look like.
Interestingly enough, the timepiece was inspired by the two worlds of automobile and sailing––both male-dominated spaces—and took seven years of research. It was the brainchild of former Chanel artistic director Jacques Hélleu, who drew from the sleek chassis of race cars and regal silhouettes of yachts (that of the America's Cup J12 class) to inform his ideas.
J12 was the first automatic of the house, and the first-ever endeavour in the watchmaking space to successfully merge high fashion with serious horology. Though watches had already entered the Maison in 1987 with the octagonal Première, it was the J12 that earned Chanel a firm seat at the haute horlogerie table. Three years later, the glossy timepiece was reimagined in white, echoing Gabrielle Chanel's love for the clean colour and consummating its status as an object of desire. 
Since then, the J12 has continued to shine in timeless style through bold reimaginings––its latest iteration comes in vibrant rainbow tones inspired by electronic music––that see it transform and metamorphosise while staying true to its original identity. The house embraced its watchmaking potential in the 2000s with an atelier in the watchmaking valley of Switzerland, Le Chaux-de-Fonds, and went on to build partnerships with Audemars Piguet and movement specialists Renaud et Papi.
Then, another turning point that would further cement its status of an icon: on the dawn of its 20th anniversary, Amaud Chastaingt, director of the Chanel Watch Creation Studio, reinvented the J12 with its first manufacture movement, the Caliber 12.1, alongside new design updates.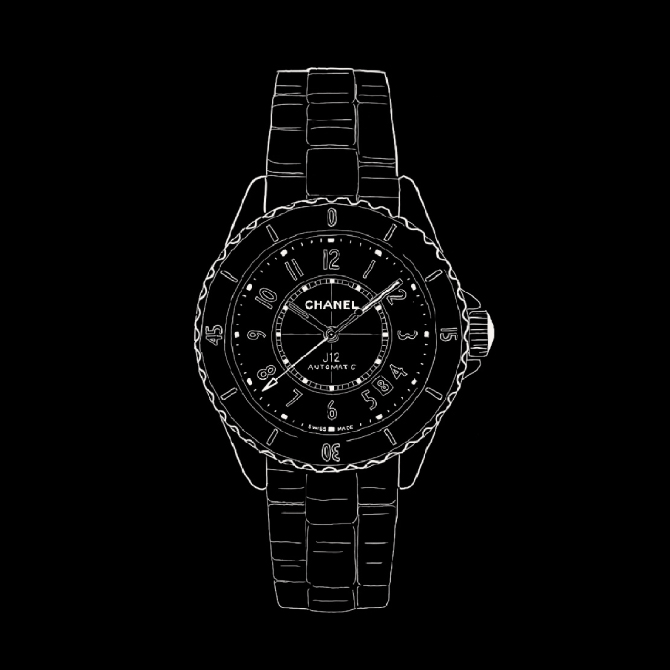 Though the reinvention was subtle, 70 percent of its original parts had been advanced. Most perceptibly, the J12's one-piece ceramic case—now seven times more resistant than steel—was equipped with a scratch-resistant sapphire crystal to show off its new COSC-certified chronometer. A guarantee of precision, the update elevated the watch by allowing it to stay in motion for 70 hours with its new power reserve. The process of refinement may have taken six years to create but it solidified the J12's timeless allure for the modern age. Trust us when we say every second counts, because it requires 50 pairs of hands to turn 191 pieces into this powerful timekeeper:
Personifying the audacity and creative freedom of Chanel, the J12 is an indisputable pillar of the house's collections. Over its 20-plus-year history and its 400 or some different executions in a range of sizes and movements, it's become clear that the J12 is a unisex watch that was ahead of its time. And as time continues its endless journey onwards, the timepiece will continue to stand out in its unique identity, bold designs and innovative savoir-faire. In the words of Gabrielle Chanel, "in order to be irreplaceable one must always be different" and here, it's never been truer. 
Discover the world of Chanel's J12 here.