The curtain-raising Salon Internationale de la Haute Horlogerie unveils the spectacular genius of watchmaking
Best Perpetual Calendars:
A. Lange & Söhne Tourbograph Perpetual 'Pour le Merite'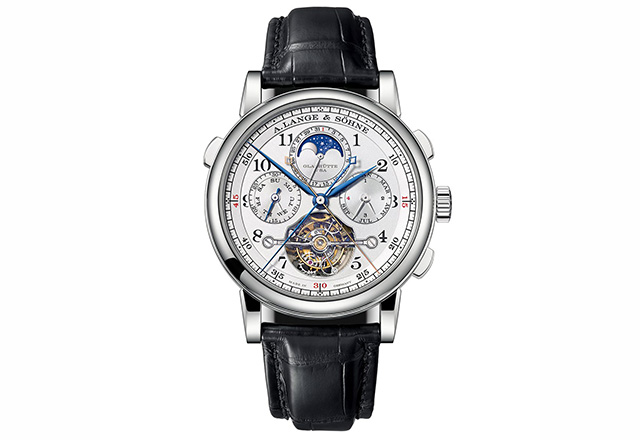 Inside the 43mm case of the Tourbograph Perpetual 'Pour le Merite', one finds the Lange manufacture calibre L133.1. This manual-wound movement, which offers a split-seconds chronograph and tourbillon, also incoporates a perpetual calendar, the first time the latter complication appears on the visionary "Pour le Merite" collection. As with its predecessor, this 1,319-component timepiece features a fusee-and-chain transmission, with the latter comprising 636 components alone. Another new introduction is a black-polished sculpted tourbillon bridge, which perfectly matches the curves of the aperture; the process of polishing required the creation of special tools and intense weeks of labour to achieve. A limited edition of 50 pieces are available in platinum. 
Audemars Piguet Royal Oak Perpetual Calendar Ceramic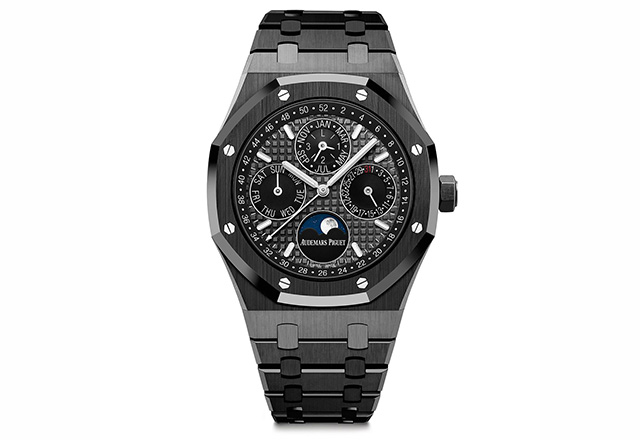 Bursting on the scene this year is the darkly mysterious 41mm Royal Oak Perpetual Calendar Ceramic. Ceramic, being virtually unscratchable, impervious to wear and highly resistant to thermal shock, is the material of choice. This timepiece required over 600 hours of R&D to develop, and takes five times long to machine and assemble over a conventional stainless steel Royal Oak due to the nature of ceramic. Within its lunar phase aperture one finds a photo-realistic moon, against a clear night sky. 
IWC Schaffhausen Da Vinci Perpetual Calender Chronograph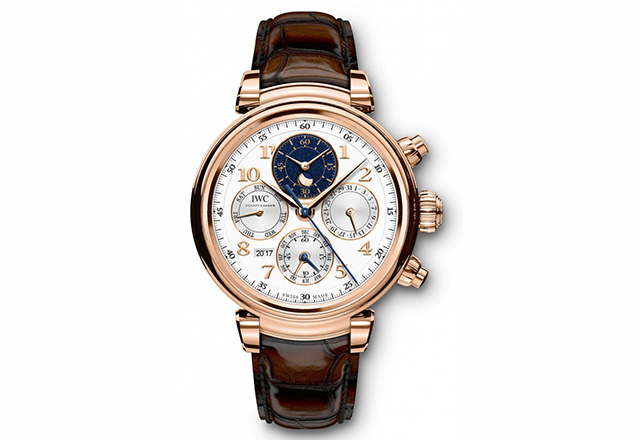 Paying tribute to its Da Vinci heritage, IWC Schaffhausen updates its case to recall its halcyon years of the 1980s, when its round-shaped case manifested the zeitgeist. Evocative riffs on the new round case include diamonds and snazzy moon phase animations. On its 43mm 18k red gold Da Vinci Perpetual Calender Chronograph, its 89630 calibre offers a chronograph for the hours, minutes and seconds. It also offers an accuracy on date telling up to 577.5 years, accounting for the leap years, with a divergence of just one day at the turn of each century (when the leap day is normally ommitted despite it being a leap year). 

Vacheron Constantin Celestia Astronomical Complication 3600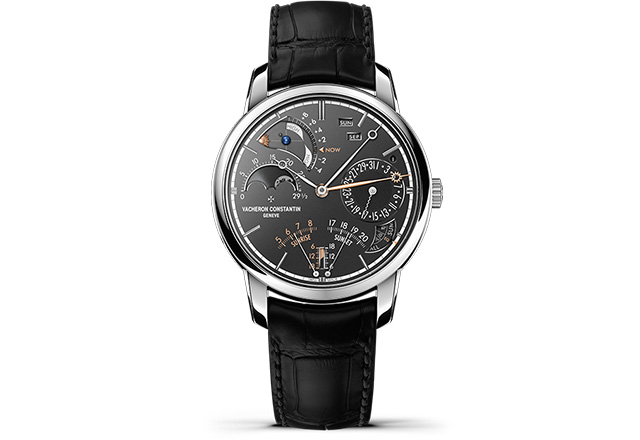 From the hallowed halls of les cabinotiers—the bespoke department of Vacheron Constantin—comes the Celestia Astronomical Complication 3600. This 45mm timepiece marries astronomy and horology within a white gold case. Drawing from the maison's own precedent-setting Reference 57260—the world's most complciated timepiece—a single master watchmaker took five years to create this. The outcome, after the extended labours, are 23 astronomical complications governed by three distinct gear trains; civil, solar and sidereal. The complexity in construction results in an incredible precision on the tide levels, sunrise and sunset times, as well as solstices and equinoxes. Six barrels offer a glorious three weeks of power reserve in this space-optimised reference, with the world's first transparent celestial chart as its crowning glory. 
Best Luxury Sports Timepieces:
Parmigiani Bugatti Aerolithe Performance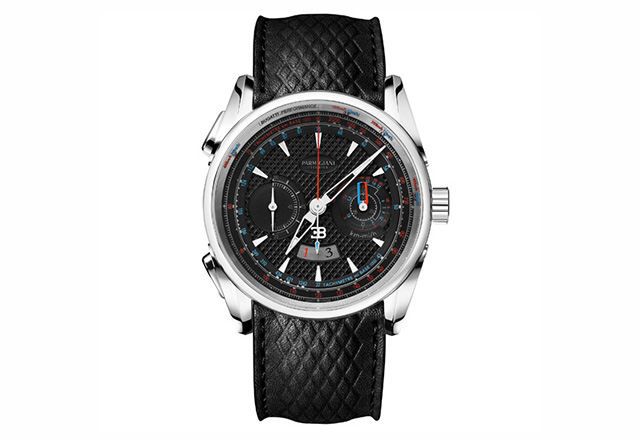 Inspired by the enigma of the 1936 Bugatti Aerolithe—"the car which fell from the sky"—the consumate watchmaking genius of Michel Parmigiani debuted its Bugatti Aerolithe Performance. Composed of a laser-engraved titanium case, this piece also features lugs whuch recall the dorsal seam of its mythic automobile inspiration which was latterly recognised as the most advanced car of its time, but had seemingly disappeared before the Second World War. Its timepiece tribute draws additional motifs from last year's Bugatti Chiron through a special tachymeter showing the automobile's ability to hit speeds from 100km/h (2.4 seconds) up to 400km/h (33.5 seconds). A flyback chronograph movement with 50 hours of power reserve provides additional adrenaline on the writst for its owners. 
Montblanc TimeWalker Chronograph 1000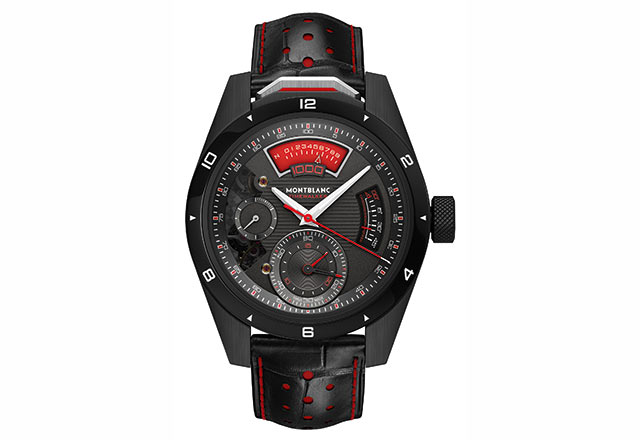 A new TimeWalker collection draws from the immense history of the venerable Minerva manufacture—now part of Montblanc's watchmaking operations—and results in a powerful new range of luxury sports timepieces. The cream of the TimeWalker crop is the 46.4mm Chronograph 1000 with three patents. Its ability to measure a 1000th of a second is expressed through clever engineering on the MB M66.26 movement. A separate chronograph balance, beating at 360,000 semi-oscillations per hour, captures the fractions of a second and indicates it on the aperture below the 12 o'clock. Limited to 18 pieces in satinated black DLC titanium. 
Richard Mille RM50-03/01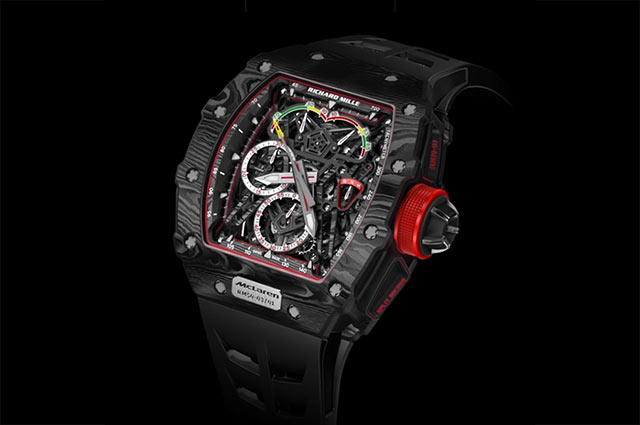 A scientific stunner, the RM50-03/01 rewrites the record books as the world's lightest chronograph, weighing only 40 grammes (with strap included), and blessed with a ludicrous resistance of 5000Gs. The secret of this is graphene, a material which was researched and discovered in 2004; hundreds of times stronger than steel and unfathomably light despite its atomic-scaled thickness. This timepiece, limited to 75 pieces, is inspired by the McLaren Formula One car layout, and may be traced to 1966 when a young Richard Mille attended the Monaco Grand Prix with his father to witness the debut of the McLaren racing team. 
Roger Dubuis Excalibur Spider Pirelli - Double Flying Tourbillon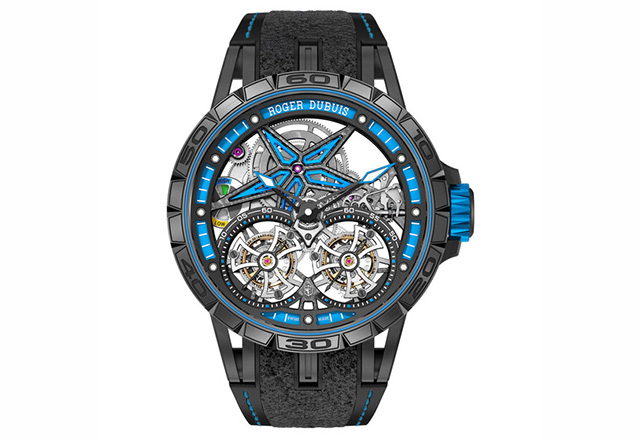 Here's your chance to own a piece of the winning tyres from Monaco's Formula One Grand Prix. Roger Dubuis, through its new partnership with Pirelli—the sole supplier of tyres to the Formula One—serves up the scintillating Excalibur Spider Pirelli - Double Flying Tourbillon, a world premiere courtesy of its new partnership. Enriched with wet blue accents to recall a specific Pirelli tyre, this timepiece is limited to eight pieces, each of which is priced at CHF280,000, and includes a special two-day VIP programme organised by Pirelli. 
Best Breakthrough Pieces:
Baume & Mercier Clifton Club
For the gentlemen who require their refined sports timepieces, the 42mm Clifton Club offers elegance and sporting prowess in a single package. Its self-winding movement offers 48 hours of power reserve and a 550Gs shock resistance with case options in 316L stainless steel or a sand-blasted amorphous diamond-like carbon (ADLC)-treated case. The maison's artisanal hallmarks are evident at a glance through polished and satin finishes, horn-to-horn beveling, as well as anti-glare sapphire, riveted indexes and superluminova, all within a 10.3mm-thick case which easily slips beneath a dress shirt cuff. 

Panerai Lab-ID Luminor 1950 Carbotech 3 Days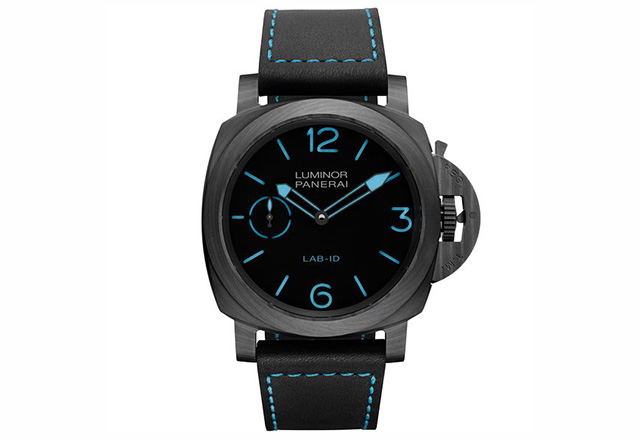 Breaking all conventions, Panerai's staggering breakthrough, the Lab-ID Luminor 1950 Carbotech 3 Days, is a timepiece which carries a 50 year warranty. The secret to its redoubtable longevity lies in its calibre P.3001/C, a carbon-based construction comprising silicon escapement, dry lubricated barrels, self-lubricating DLC plates and bridges as well as carbon nanotubes on its dial, offering the deepest possible black for perfect legibility. Each of the 50 pieces in this limited edition is hosued in a 49mm hypoallergenic, and corrossion-resistant carbotech case, priced at an indicative EUR50,000. 

Ulysse Nardin Marine Regatta Artemis Racing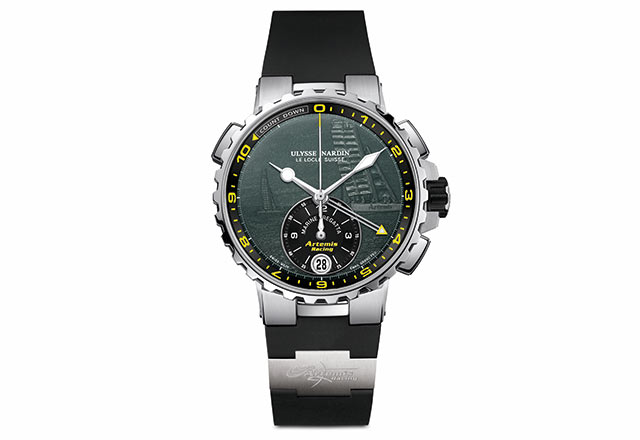 In the most intelligent proposal of a regatta watch thus far, the Marine Regatta Artemis Racing (CHF29,800 with a champleve dial) features a patented reversor mechanism enabling the hands on the timepiece to turn in both clockwise and counter-clockwise manner. This makes the timepiece the perfect accessory for avid yachtsmen the world over, with a simple push on the moulded rubber pushers triggering the countdown for competitors to manoeuvre their vessels to the starting line and, subsequently, offering the measurement of the racing times. Limited to 35 pieces. 
Van Cleef & Arpels Automate Fee Ondine Extraordinary Object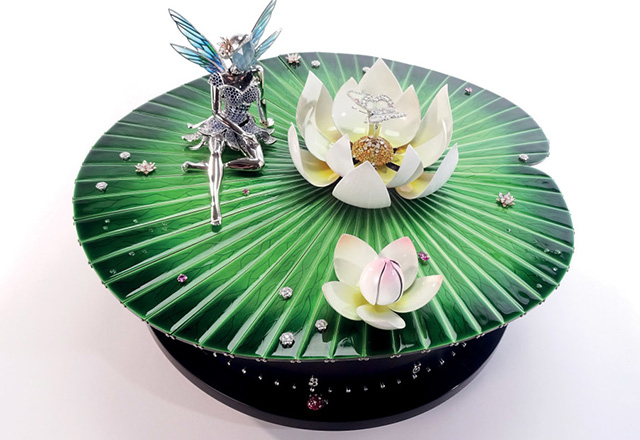 Known for dreamy insouciance and a cavalier attitude to time's rigours, Van Cleef & Arpels infuses its class-defining poetic complication into the breathtaking Automate Fee Ondine Extraordinary Object. Hailed by master automata-maker Francois Junod as "the most difficult project" in his career, this unique piece tell time with a mystery-set ladybug, while a key enables you to wind up the fantasy animation of an undulating lotus leaf, with the fairy figurine coming to life in tandem with a diamond-laced butterfly emerging from the flower. 
Best Mechanical Art:
Cartier Rotonde de Cartier Minute Repeater Mysterious Double Tourbillon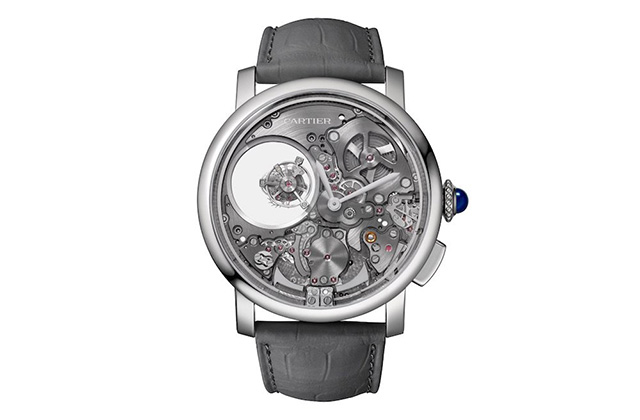 The 45mm Rotonde de Cartier Minute Repeater Mysterious Double Tourbillon is the first instance of this maison's fine watchmaking division combining a grand complication with its iconic mysterieuse complication. The challenge on this, according to Carole Kasapi, its head of movement creation, was to essentially combine a minute repater function with the double tourbillon, while keeping the case slim at a mere 11.15mm in height. Its eventual success is illustrated through the duelling symphony of two tourbillons rotating at one and five-minute intervals, granting greater timekeeping accuracy. It is limited to 50 pieces in titanium only, certified with the Geneva Hallmark and has an indicative pre-tax price of EUR420,000. 
Girard-Perregaux Tri-Axial Planetarium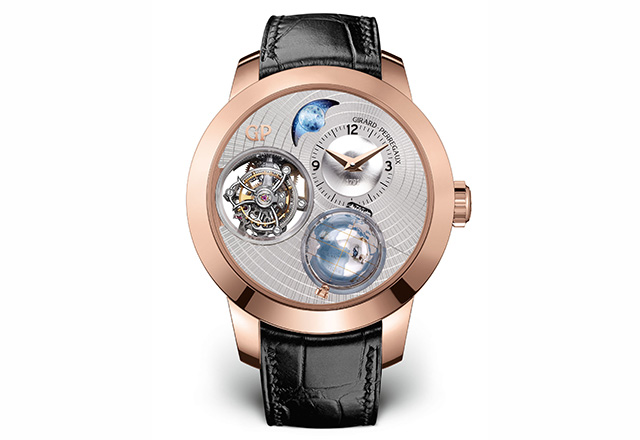 Inside of its 48mm pink gold case, the full richness of the Tri-Axial Planetarium comes to life. On a dial of guilloche, one can full appreciate the 13mm miniature globe which is hand-painted using cartography from 1791, the year of Girard-Perregaux's founding. This globe indicates the day on the front and night on the reverse. An attendant micro-painted lunar disc is also based on 17th-century impressions of the moon. The spirited Tri-Axial Tourbillon, first developed by the brand in 2014, returns in this 2017 proposal, providing its balletic enigma to an utterly dream-like timepiece. 
Jaeger-LeCoultre Hybris Artistica Mystérieuse Men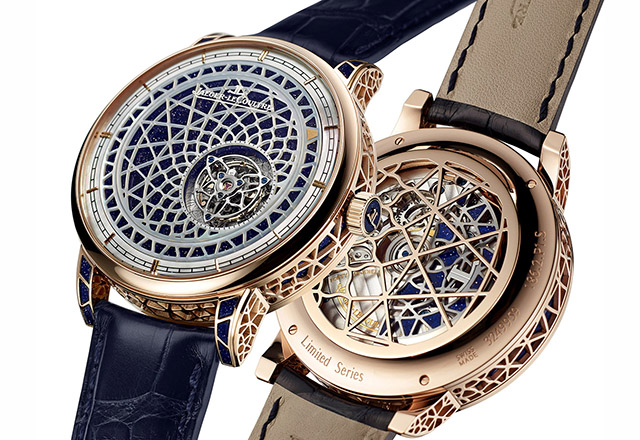 Mechanical art is given a new name with this year's Hybris Artistica Mystérieuse Men. The 441-component piece offers 360-degree visual sensations, using an architectural approach on dial, movement, lugs and case. Augmented by a stylised Gothic intepretation, time on this 42mm pink gold case becomes almost secondary, with the reworked tourbillon displaying the minutes and the hours denoted by a sole gold triangle indication. A mother-of-pearl lattice embelishes the glinting blue aventurine dial, offering a sense of depth and detail. 
Piaget Altiplano Tourbillon High Jewellery
To commemorate 60 years of its Altiplano, Piaget debuts the richly beautiful 41mm Altiplano Tourbillon High Jewellery. In this piece, the watchmaker combines its savoir-faire in ultra-thin and high jewellery through a rendition of its greatest hits starting with the 4.6mm-thick mechanical manual-winding 670P movement, with the flying tourbillon's titanium carrige weighing only 0.2 grammes. Its dial embodies the virtuosity of artisans with a guilloche pattern on gold layered with transparent enamel. Around it, five carats of diamonds illuminate the invisible infinity motif of dial and tourbillon carriage. Priced at an indicative CHF180,000 excluding taxes. 
Related stories:
Artistic craftsmanship: Piaget Altiplano Feather Marquetry
Pre-SIHH 2017: Seven remarkable new watches to look out for