Rimowa introduces a new pine green shade to their luggage collection
Rimowa's grooved suitcases have become synonymous with beautiful luggage that's not only aesthetically pleasing, but one that can withstand the strain of any travel agenda. To celebrate its 120th anniversary, Rimowa introduced a new visual identity with a sleek modern logo that's more understated with a refined font, plus a new monogram inspired by the original from 1898. Its sharp vertices reflect the spires of Cologne's famous cathedral, an icon of Rimowa's hometown and headquarters in Germany. With this new identity, Rimowa further enhances the luggage's strength and durability with new engineering techniques, and their latest product line promises increased resilience and stability.
Designed with sleek clean lines and a corrugated body, a Rimowa suitcase is a balance of aesthetics and functionality, making it the perfect companion to a fashionable jet-setter. For Holiday 2018, Rimowa introduces a new rich green shade and is only available in the Essential and Essential Lite collections. The suitcases with the new pine green hue make the perfect travel essential to a Christmas holiday. Taking off for a long vacation? Start planning your getaway with the extensive Essential line, it's available in three cabin sizes and four check-in sizes to fit your every need.
The smallest bag in the Essential collection weighs in at 3.1kg, a small price to pay for a sturdy travel companion to safeguard your precious belongings. Tailored for the discerning traveller, the Flex Divider system helps keep you organised with its adjustable straps, and the zipper compartments work well for loose and small items. The new green shade isn't the only update to the Rimowa suitcase, deep anthracite now lines the interior. Equipped with telescopic handles and a patented Multiwheel System, the Essential collection is engineered for smooth manoeuvrability and maximum comfort, allowing you to move swiftly and effortlessly through a busy airport — pivotal if you're running on a tight schedule during transit.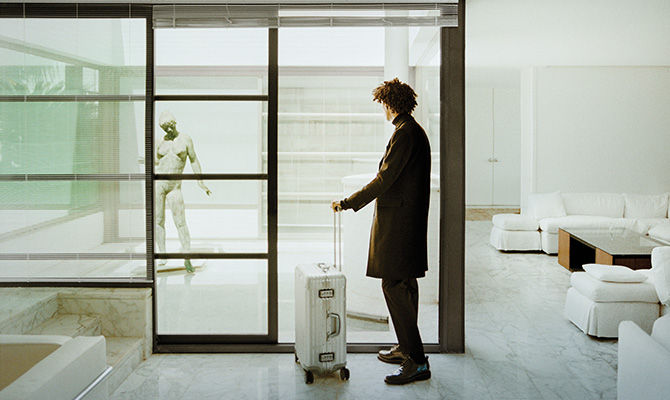 The luggage come in a variety of colours to suit your travel style with five glossy shades - pine green, royal blue, fresh white, jet black and chilli red. The blue and black colourways are also available in a scratch-resistant matte finish. Is a winter holiday on your horizon? Wear your festive enthusiasm with the new green shade paired with Rimowa's existing white palette for luggage that'll match the scenery.
Still can't decide on a colour? We're here to help. Let's start with a very simple question — how would you describe your style?