By now, you would have heard of the popular term. Glamping is a portmanteau of "glamourous" and "camping"—and that is rather easy to figure out. While sites in Kuala Lumpur itself have been few and far between, Malaysians have many glamping options throughout the country to choose from—from Pahang to Sabah to Johor. You will need to travel quite a bit for that, however. Glamping allows us to unwind and take well-deserved breaks. This list highlights the locations you should consider that's in and near the capital city; including a rooftop spot.
1. Castra by Colony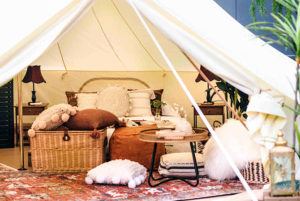 Castra by Colony
Welcome to KL's first ever urban glamping space—located on the rooftop of Colony Star Boulevard KLCC, the coworking space. Castra by Colony features a campsite with its own 4,000-square feet private garden lounge and barbeque deck as well as tents equipped with amenities, such as premium beds and linens, en-suite bathrooms, and outdoor patio seating.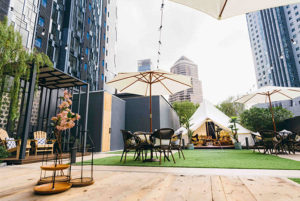 Castra by Colony
The design of Castra by Colony is inspired by Mediterranean aesthetics. Other things to note include Bose outdoor speakers, fully stocked minibar, and en-suite power sockets with unlimited Wi-fi. If you're staying there, the space will provide amenities for up to 10 guests. It's also suitable for events, with a rooftop space that can accommodate 100 people.
Address: Star Boulevard KLCC, Jalan Yap Kwan Seng
Contact: 018 213 8086
Website | Facebook | Instagram
2. Tadom Hill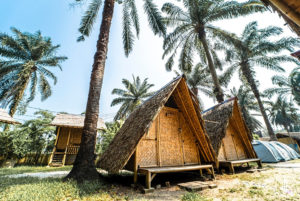 Tadom Hill Resort
This spot is only a 45-minute drive from the city centre and is located near the Kuala Lumpur International Airport. Be amazed by the bamboo-inspired accommodations and tropical beauty of the southern part of Klang Valley. Tadom Hill takes major pride in being a establishment that's environmentally-friendly and sustainable. Activities you can try at the site include diving off five-metre bamboo platform, abseiling, archery, utilising bamboo rafts, and Flying Fox.
Address: Bukit Tadom, Kampung Labohan Dagang, Banting, Selangor
Contact: 012 5225 728
Website | Facebook | Instagram
3. Tiarasa Escapes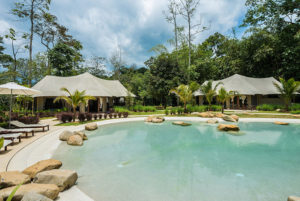 Tiarasa Escapes
This glamping spot—spanning seven acres—is designed by award-winning landscape architects, WHZ Environmental Design. It is also rather accessible from KL; less than an hour's drive away from the city centre. Here, you will find majestic trees and fruit-laden orchards. As for the tents, you will notice Bornean elements. The treetop accommodations are decorated with whimsical tribal furnishings, mandalas, dreamcatchers, as well as private teepee and hammock. Whether alone or with loved ones, Tiarasa Escapes is the place to… escape from the hustle and bustle of the concrete jungle.
Address: Jalan Enderong, Sum Sum Ulu, Kampung Janda Baik, Pahang
Contact: 012 887 7777
Website | Facebook | Instagram
4. Glamz at Genting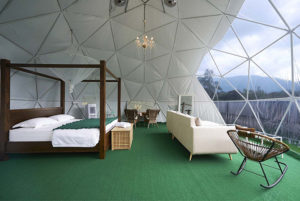 Glamz at Genting
In addition to being an event space, Glamz has also established itself as a go-to location for glamping. After all, the word "glam" is—literally—embedded in its name. Your time here allows you to be one with nature. Accommodations include the likes of the Dome Room, Family Dome, and VIP Dome with a private jacuzzi.
Address: Lot PT22637, PT22638, PT22639, PT22640, Bentong, Pahang
Contact: 012 664 5269
Website | Facebook | Instagram
There you go! Four different sites that are perfect for glamping. Time can only tell if more will appear in KL in the next few years—but these are some of the best glamping destinations to check out in Kuala Lumpur for now; if you don't feel like travelling too far.