The annual Apple event has concluded and we finally have official news of what iPhone 7 is going to be like
While some brands dish out a few new smartphone models in a year, it takes Apple almost a whole year for a new series of iPhones. And after that whole year of supposed leaks and rumours, here's what you need to know about the upcoming iPhone 7 and iPhone 7 Plus.
• The iPhone 7 will come with a 4.7-inch screen while the iPhone 7 Plus gets a 5.5-inch screen.
• The iPhone 7 and iPhone 7 Plus will come in 32GB, 128GB and 256GB models starting at US$649.
• For the first time, the phones will be both water (up to 1m for 30 minutes at a time) and dust resistant.
• iPhone 7's battery will last two hours longer than the iPhone 6 models while the iPhone 7 Plus battery will last an hour more than the iPhone 6 Plus. 
• The phones will come in five colours: Silver, gold, rose gold, a matte black finish and a glossy jet black finish.
• The 12-megapixel camera on the new phones will be 60 per cent faster than its predecessors due to an optical image stabilisation and a 6 element lens with f/1.8 aperture. However, only the iPhone 7 Plus will have a dual lens camera (wide angle and telephoto) and a new 'Portrait' effect to add depth of field to photos. 
• New stereo speakers that offer an immersive sound two times louder than the iPhone 6s.
• Our worse fears were confirmed as Apple announced that the traditional headphone jack is gone and can only be connected via the Lightning port. The good news is the new iPhones will come with EarPods with Lightning connector as well as a 3.5mm headphone jack adapter so that you can still use your old ones.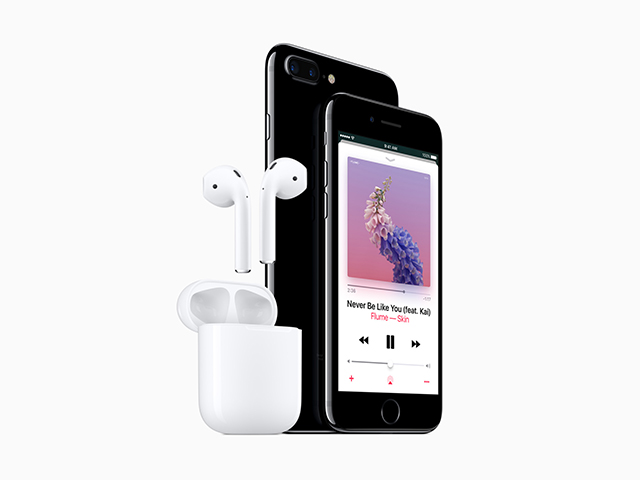 • Should you prefer a third option, Apple is also releasing wireless headphones called AirPods.
The biggest question on every Malaysian's mind is of course, when do we get it? The phones will be distributed to parts of the world in two waves but unfortunately, Malaysia is not in the list for both. The first wave will arrive on 16 September (which includes Singapore) while the second wave will arrive on 7 October. Based on previous Apple releases in Malaysia, however, it shouldn't be too long after the second wave for the iPhone 7 models to arrive on our shores. 
Related stories:
Apple Watch's collaboration with Hermès is the juiciest bite
Apple reveals new iPhone SE and a smaller iPad Pro