Lives have been lost, hundreds have been wounded, thousands have fled their homes, and the numbers are only adding up—here's how the world is responding to Russia's invasion of Ukraine and what you can do to help
Update on 2 March 2022: This article has been updated with additional donation links (see: 'How can you help?' at the bottom of this page) to aid the escalating war in Ukraine, following unfruitful peace talks with Russia. 
---
Original article dated 28 February 2022:
After months of escalating tensions, Russian President Vladimir Putin launched a military attack on Ukraine last Thursday (24 February). The world watched in horror as nearly 200,000 Russian troops invaded Ukraine's borders, with multiple reports of bombings and missile strikes on the country's infrastructure and border guards. According to Reuters, this is the "biggest attack on a European state since World War Two."
Here's what you need to know about the Russia-Ukraine crisis.
What is happening in Ukraine?
On Thursday, Russian leader Vladimir Putin made a televised address announcing a "specialised military operation" aimed at demilitarising Ukraine. Minutes after, Russian troops entered the country from the north, east and south borders of Ukraine, apparently targeting the capital of Kyiv and the cities of Kharkiv and Kherson.
Over 130 civilians and military personnel have been killed and at least 300 others have been wounded as of Saturday, less than 24 hours since the offensive—what Ukrainian officials described as a "full-scale invasion" of the country. Thousands more have fled their homes to seek asylum in neighbouring countries including Poland, Modolva, and beyond.
Following the attack, Ukrainian President Volodymyr Zelenskyy imposed martial law on the country. He called on citizens to defend their nation, offering weapons to everyone who wants them and declaring an overnight curfew for Kyiv. Meanwhile, Foreign Minister Dmytro Kuleba has implored the world to impose devastating sanctions on Russia.
As of the time of writing, Russia has slowed its offensive but is still pushing forward on Ukraine. Putin has also placed his nuclear forces on alert. Some countries have already started supplying weapons and/or humanitarian aid to Ukraine, including the United States and EU countries. High-level talks between Kyiv and Moscow are set to take place on the Ukraine-Belarus border today (28 February).
What is the cause of the invasion?
The historical context behind the Russia-Ukraine war is complex and dates as far back as the origin of the two countries. For the sake of brevity, the ongoing attacks are most closely linked to two key developments: Ukraine's ambitions to become a part of The North Atlantic Treaty Organisation (NATO) and the European Union (EU); and Russia's recognition of the eastern Ukrainian regions of Donetsk and Luhansk as republics.
Since ousting their last pro-Russia president in 2014, Ukraine has actively made the quest for NATO membership. In December 2021, Putin demanded that NATO rule out admitting any new members from among the former Soviet states—which includes Ukraine—and that NATO forces pull back from positions in other countries near Russia. The U.S. and NATO rejected the demand, whilst Ukraine maintained that "Russia cannot stop Ukraine from getting closer with NATO and has no right to have any say in relevant discussions."
On Monday (21 February), Putin formally recognised the two contested regions in Ukraine as republics. Analysts saw this as a move to challenge Ukraine's government in order to replace it with a pro-Russian regime. Russia's ensuing invasion appears to affirm this view.
Why should you care?
Regardless of political views, the attack is costing innocent lives and disrupting peace throughout the region. Civilians from both countries have risked their lives taking to the streets to protest against the war across the globe. In Russia, protesters were reportedly met with heavy police presence, with authorities aiming to stop demonstrators from gathering and detaining those already on the streets.
Our colleagues at BURO Russia have also released a joint statement with other local media against the attacks:
"We want our country to immediately stop hostilities on foreign soil, so that our planes do not bomb foreign cities, so that our soldiers do not kill or die in this war. We call on all those who make decisions at the state level to stop the war."
At the end of the day, this war is a violation of mutual respect for the independence, sovereignty, equality, territorial integrity, and national identity of all nations; of the settlement of differences or disputes by peaceful means instead of force; of democracy; and of basic human rights.
Beyond the physical and mental impact on those directly involved in the crossfire—which may continue to devastate future generations—it has far-reaching consequences on the world's economy, global security, and the environment. Lest Malaysians forget, Malaysia Airlines MH17 was shot down on July 17, 2014 in Donetsk—one of the two areas contested in the longstanding conflict.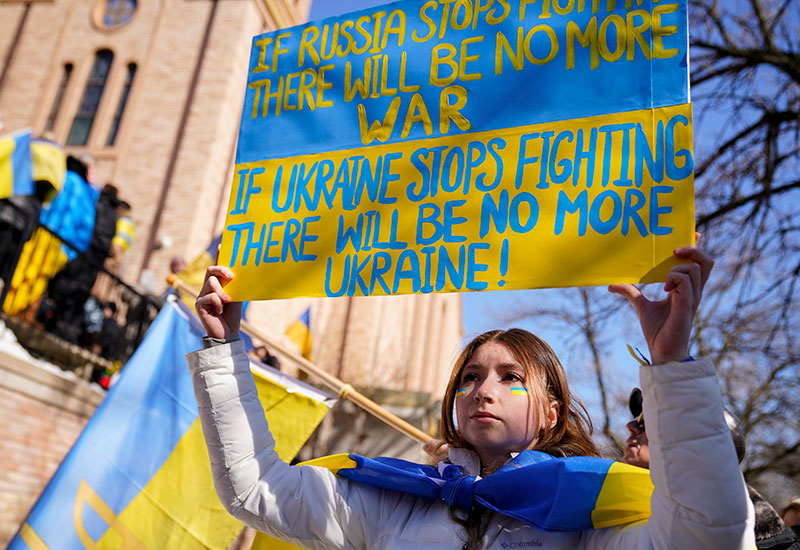 Who has responded to the attacks?
Various governments including the US, UK, France, Italy, Canada, South Korea, Japan, and Singapore have condemned Russia's actions and called for peaceful negotiations. World leaders aside, activists, celebrities, and public figures alike have also expressed their stand against the attacks on Ukraine. Here's what they had to say:
Actress, philanthropist and UN Special Envoy Angelina Jolie:
Nobel Peace Prize laureate and activist Malala Yousafzai:
Serbian artist, philanthropist, writer, and filmmaker Marina Abramovic:
Former President of the United States Barack Obama:
How can you help?
1. Donate
There are a number of NGOs and organisations actively working to provide food, shelter, and medical supplies for civilians and frontliners affected by the crisis. Here's a non-exhaustive list of organisations you can donate to:
The UN Refugee Agency (UNCHR) is providing life-saving protection to Ukrainian families who are forced to flee their homes. Donate here. 
Nova Ukraine, a Ukraine-based non-profit organisation which provides citizens with everything from baby food and hygiene products, to clothes and household supplies. Donate here.
People in Need is providing humanitarian aid to over 200,000 people on the ground. For those most in need, they provide food packages, emergency shelter, safe access to drinking water, hygiene items, and coal for heating. Donate here.
International Medical Corps is on the front lines and prepared to help citizens with emergency health care services, as well as mental health and psychosocial support. The agency is also keeping the pandemic top of mind throughout the crisis by priotitising Covid-19 awareness and prevention services, to help keep displaced citizens safe from the pandemic. Donate here.
Care International, a Geneva-based non-profit organisation, is responding to the crisis by providing Ukrainians with food, hygiene kits, psychosocial support services, access to water, and cash. Donate here.
Save the Children helps provide children and families with immediate aid, such as food, water, hygiene kits, psychosocial support and cash assistance. Donate here. 
The International Committee of the Red Cross works closely with the Ukrainian Red Cross Society to provide emergency assistance such as food, water, and other essential items. It also supports hospitals and primary healthcare facilities with medical equipment and emergency preparedness. Donate here. 
Doctors without Borders is working to set up emergency response activities in Ukraine and dispatching teams to Poland, Moldova, Hungary, Romania, and Slovakia. Teams are also ready to respond in Russia and Belarus. Donate here. 
UNICEF is working to scale up life-saving support for children and their families. Donate here. 
UN Crisis Relief has set up the Ukraine Humanitarian Fund, a country-based pooled fund to help humanitarian NGOs and UN agencies in the Ukraine to assist the most vulnerable communities and people, and to provide them with urgently needed food, water, shelter and other basic support. Donate here. 
IMPORTANT: To ensure funds are channeled to the right cause, visit WeLiveSecurity for helpful guidelines on how to avoid charity scams exploiting the war in Ukraine.
2. Support independent journalism
The Kyiv Independent describes itself as "created by journalists who were fired from the Kyiv Post for defending editorial independence." You can help keep the curtains up for the independent Ukrainian English-language media outlet by donating to its Patreon or GoFundMe fundraiser.
Ukraine World is an independent English-language multimedia project that emerged from a volunteer initiative helping international journalists during the Euromaidan Revolution of 2013-2014. Support it by donating to its Patreon.
3. Stay informed
Several prominent Ukrainian designers have taken to Instagram to broadcast what's happening on-ground in the country:
If social media is your first source of information, follow these accounts for well-informed posts from the Ukrainian community:
4. Use your platforms to spread awareness
Every effort to share credible information on the ongoing war and donation efforts contributes towards putting an end to the destruction caused in its path. When in doubt, reach out to your Ukrainian friends and amplify their voices. 
"The war has been coming a long time, but no one expected the extent of its horror," says Lviv-born Iryna Wozniak, whose parents and grandfather steadfastly remain in Ukraine. "For my fellow Ukrainians on the ground, I cannot fathom the depth of your despair. To all Ukrainians: remember that our spirit is indestructible."
The Ukraine Crisis Media Center has also listed several alternative ways to back the country's efforts to resists Russian military aggression, including supporting boycotts, joining local rallies, and reaching out to local political representatives.