Dewakan marks the first time that a Malaysian restaurant has been listed as one of the winners of Asia's 50 Best Restaurants
Darren Teoh is one of the most notable chefs in Malaysia, and with good reason too. Dewakan's constant ability to impress with every visit is proof of that. And now, that ability has finally awarded it a spot on the Asia's 50 Best Restaurants list. 
The 2019 awards ceremony that took place in Macau last night revealed Dewakan to be placed 46th while simultaneously bagging the Best Restaurant in Malaysia title. 
For the unfamiliar, Dewakan first opened in 2015 and received its name from the words "dewa" and "makan", which means "god" and "food". What makes the restaurant a favourite go-to for authentic Malaysian cuisine is Teoh's passion and belief in indigenous local ingredients and maximising those flavours; the result is a unique Malaysian identity in the culinary world. For example, he would use ingredients such as ulam raja, bunga kantan, kulim and other local organic vegetables. 
Meanwhile, strong contenders Odette of Singapore and Gaggan of Bangkok respectively took the No. 1  and 2 spot. Both restaurants, as well as Tokyo's Den, made it to the World's 50 Best Restaurants list in 2018, with Gaggan taking the title of Best Restaurant in Asia. It'll be interesting to see how the list will turn out this year.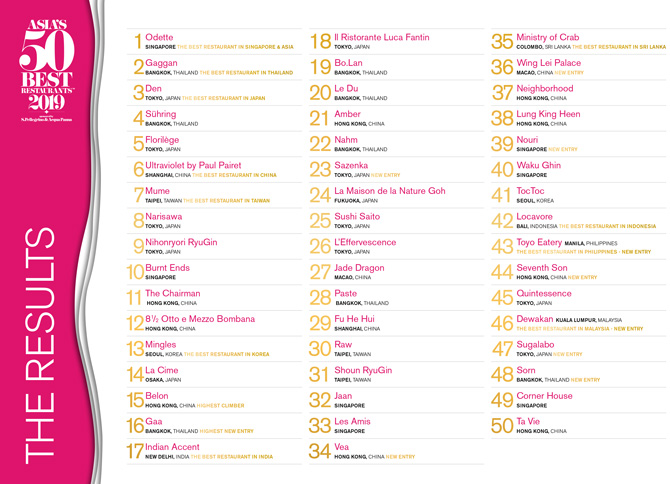 Here, now, the full list of winners for Asia's 50 Best Restaurants 2019:
Odette, Singapore
Gaggan, Bangkok
Den, Tokyo
Sühring, Bangkok
Florilege, Tokyo
Ultraviolet by Paul Pairet, Shanghai
Mume, Taipei
Narisawa, Tokyo
Nihonryori Ryugin, Tokyo
Burnt Ends, Singapore
The Chairman, Hong Kong
8 1⁄2 Otto e Mezzo Bombana, Hong Kong
Mingles, Seoul
La Cime, Osaka
Belon, Hong Kong
Gaa, Bangkok
Indian Accent, New Delhi
Il Ristorante Luca Fantin, Tokyo
Bo.Lan, Bangkok
Le Du, Bangkok
Amber, Hong Kong
Nahm, Bangkok
Sazenka, Tokyo
La Maison de la Nature Goh, Fukuoka, Japan
Sushi Saito, Tokyo
L'Effervescence, Tokyo
Jade Dragon, Macao
Paste, Bangkok
Fu He Hui, Shanghai
Raw, Taipei
Shoun Ryugin, Taipei
Jaan, Singapore
Les Amis, Singapore
Vea, Hong Kong
Ministry of Crab, Colombo, Sri Lanka
Wing Lei Palace, Macao
Neighborhood, Hong Kong
Lung King Heen, Hong Kong
Nouri, Singapore
Waku Ghin, Singapore
Toctoc, Seoul
Locavore, Bali, Indonesia
Toyo Eatery, Manila
Seventh Son, Hong Kong
Quintessence, Tokyo
Dewakan, Kuala Lumpur
Sugalabo, Tokyo
Sorn, Bangkok
Corner House, Singapore
Ta Vie, Hong Kong
Coming up: The World's 50 Best Restaurants of 2019. 
Dewakan
Lower Ground Floor
KDU University College, Utropolis Glenmarie
Jalan Kontraktor U1/14, Seksyen U1,
40150 Shah Alam, Selangor
Opens for dinner from 6.30pm to 10pm, Monday to Saturday. 
Telephone: 03-5565 0767 
For bookings, email [email protected] or make a reservation at the website.
Website | Facebook | Instagram
For more info, visit the official website for Asia's 50 Best Restaurants.