We take the second-generation Audi Q7 3.0 TFSI quattro® out for a spin
At first sight, the Audi Q7 poses an impressive figure with its formidable size—it has the largest interior space within the premium SUV segment after all. Compared to the first-generation Q7, the new model has taken on a sleeker and more dynamic aesthetic in its exterior. Our test-drive model is a standard Audi Q7 3.0 TFSI quattro® with the optional S line package, which features a bolder styling with sportier 20-inch wheels and more aggressive-looking front and rear bumpers.
It may not be obvious from its appearance, but the new Q7 weighs up to 325 kilogrammes lighter than its predecessor, with only inches shaved off in size. It measures 5.05 metres long, 1.97 metres wide and 1.74 metres tall, forming an interior that is comfortable for up to seven people. The third row seats can be folded down to increase cargo space from 770 litres to a very spacious 1955 litres.
Employing the use of intelligent design, Audi's principle of lightweight construction and intelligent design results in a vehicle that is physically imposing, yet delightfully easy to drive despite its size. The power comes from its latest generation 3.0 TFSI V6 petrol engine, which is able to produce a maximum output of 333 hp and 440 Nm of torque between 2,900 and 5,300 rpm. Coupled with Audi's iconic all-wheel drive system, the Q7 is claimed to be capable of accelerating from 0 to 100 km/h in just 6.3 seconds—1.6 seconds faster than its predecessor. I couldn't exactly put the speed claims to the test given our usual (heavy) traffic situations, but I was still able to experience the power and easy handling of the car during my daily commute. But considering its power, engine is hushed and silent, making for a comfortable drive.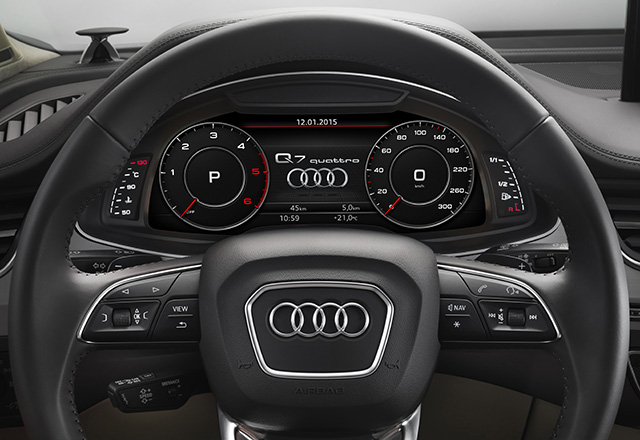 It was nice being in touch with the Audi drive select system again (read my last test-drive review with the Audi A6 here). In the new Audi Q7, besides the standard Comfort, Auto, Dynamic, Efficiency and Individual settings, there is also Allroad, which lifts the ride height by 25mm and catered for mixed terrains, as well as Lift/Offroad, which prepares the vehicle for extreme terrains by lifting the height to the maximum 60 mm.
The adaptive air suspension adjusts to the mode you select, ensuring comfort and dynamic handling. The Comfort mode remains my go-to mode for its—for a lack of a better word—comfortable driving experience: easy pick-up, throttle response was swift and smooth, and so was the steering handling. I took the car for a spin to Look-Out Point, Ampang, putting it to the uphill test. For this drive, I set it to Dynamic mode, and the Q7 proved to be every bit the powerful drive that it claims to be. In this mode, the steering and throttle response are firmer, and driving dynamics are enhanced. One can easily switch between modes with the dedicated drive select button on the dashboard.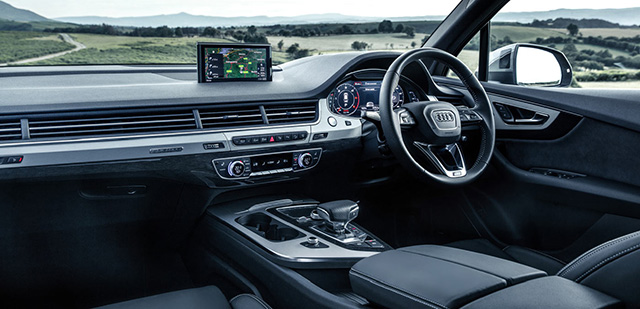 The size of the Audi Q7 may be a little intimidating for those who are not used to it, but the 360 degree cameras makes maneuvering the car a lot easier when it comes to parking in tight spaces, especially with the virtual overhead view, which gives you a bird's eye-view of the vehicle from the top. This turns on automatically when the gear is set in reverse, or it can be activated via the park assist button on the dashboard.
Perhaps the only minor gripe I have with the car is the start/stop system. It is a nifty technology that switches off the engine when the car comes to a standstill, at traffic lights for example, and starts immediately when you hit the acceleration paddle. This improves fuel efficiency, but the pick-up when the car starts moving again isn't as smooth as I'd like. However, this feature can be turned off, so it is really a matter of personal preference.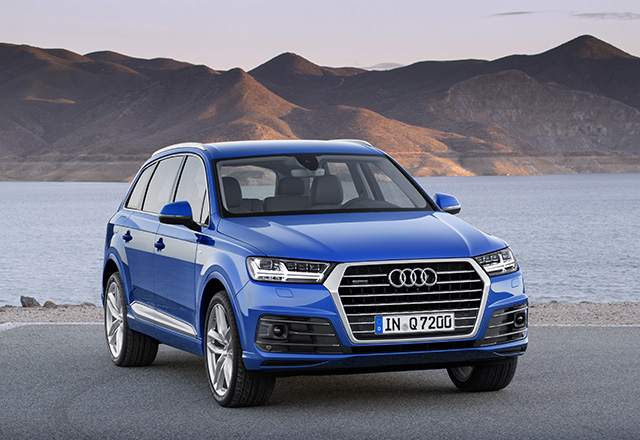 To round things up, the new Audi Q7 is a more than worthy successor of its original model. If you are looking for a ride that will fit your dynamic lifestyle, the Q7 will fit the bill with its comfortable driving, sporty capabilities, functional and exceptional built, as well as elegant yet suave good looks—both inside and out. 
Available in 10 colours, the Audi Q7 3.0 TFSI quattro® retails from RM589,000. For more information, visit www.audi.com.my.


Source:http://www.buro247.my/lifestyle/motoring/behind-the-wheel-of-the-audi-a6-3-0-tfsi.html
You may also like...
Review: Behind the wheel of the Audi A6 3.0 TFSI
Designed for greatness: The all-new Audi Q7