We asked the founder of Wanderlust + Co for her essential travel tips and what to do in the Maldives
Remember Wanderlust + Co founder Jenn Low whom we interviewed about her business back in April? Well, this time, we had more questions that are even more in need of her two cents—travelling. Whether it's her personal account or Wanderlust + Co's Instagram, both feeds are bursting with mesmerising travel photos from around the world, so who better to ask for a travel diary than Jenn Low. 
Three holiday destinations that should be on everyone's travel bucket list?
New York; because it feels like the centre of the universe. Santorini; for those picture-perfect sunsets. Maldives; because it's filled with pure bliss and practically a heaven on earth. 
What makes the perfect holiday?
A great destination always helps but it's mostly about the company, moments filled with laughter and the experience. Also, it helps if you pack great shoes—nothing kills holiday vibes quicker than sore feet! 
Tell us your best memory from travelling.
This is going to be cheesy but it's when my husband proposed in the middle of Central Park in New York. It was raining and I was taken by surprise when he got down on one knee—it was perfect!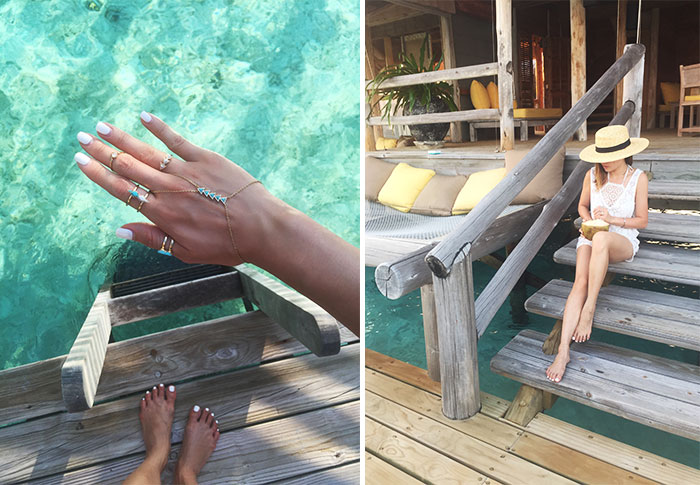 This may sound ironic, but do you believe you have a case of wanderlust?
Big time! There are simply no words to describe seeing places you used to read about when you were a child. Plus, for most of us who are addicted to our phones and emails, the quiet time on the plane can be extraordinary. 
Best and worst parts about travelling.
The best part is how your new experiences – the things you see, encounter, eat – change you and expands your mind in ways you wouldn't have quite imagined. It can sometimes take you out of your comfort zone and challenge you in ways you wouldn't be in the comforts of your own home and space. The worst, though, is the jet lag and the plane air (so bad for your skin!). 
Your five essential travel tips.
• Google obsessively.
• Research via well-travelled friends or influencers as they are likely to have pre-curated answers for you.
• I have a permanent packing list flagged on my phone. It makes life so much easier to have a reference list for everything you need on standby (bonus tip: always pack a portable charger!).
• There should generally be an affordable flat-rate pre-paid SIM card that you can get at your destination. Get it! You won't regret it (you'll need the Google maps and Uber app).
• Recently, I've been addicted to using Instagram's location tags when I'm in a new neighbourhood. Instagrammers have a knack for seeking the cool and underground spots so I follow that trail.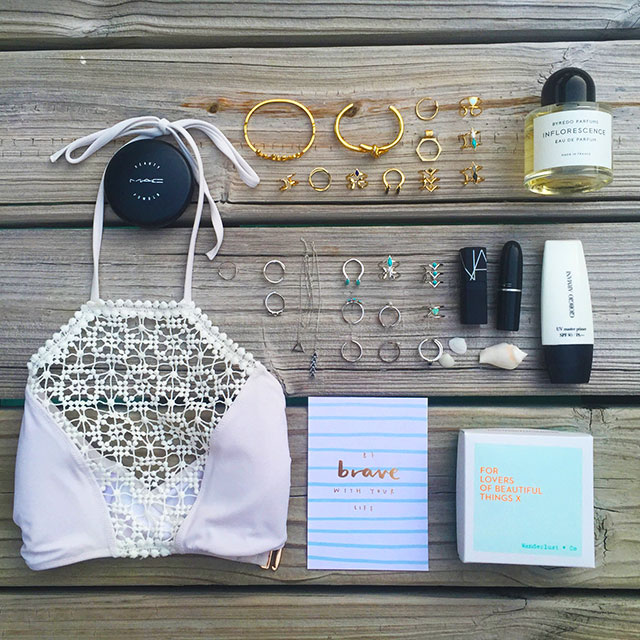 Three unique travel must-haves that only you would pack.
My favourite Byredo fragrance called Inflorescence. A TON of jewels—I love layering up all our Wanderlust + Co hand chains and ring things. Sunblock that doubles as a makeup base (double duty action!). 
Ultimate favourite holiday destination so far?
Maldives! I was there in April and it was a quick getaway to recharge.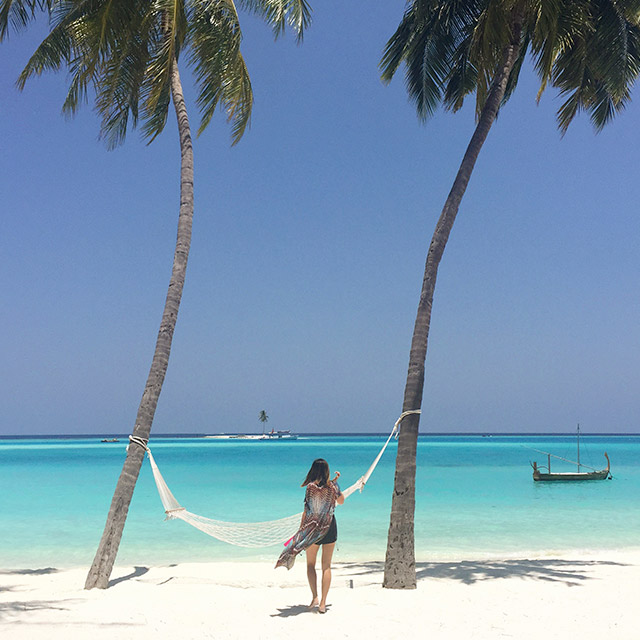 Maldives, how fun! Where did you stay and would you recommend it?
Gili Lankanfushi, and yes! The staff is top-notch and their service is next to none. Each pair of the resort's guests is allocated a personal butler to assist throughout the stay. 
Where did you eat at?
Since Gili Lankanfushi is an all-inclusive island experience, we just dined at the resort but the produce all came from the island's organic farm and the fresh catch is from around the area. 
What is on the must-do list while in the Maldives?
Snorkelling and diving, of course! Sunrise yoga and massages from the resort spa were both unbelievable; but otherwise, there's just endless turquoise beauty everywhere you look—literally for your viewing pleasure.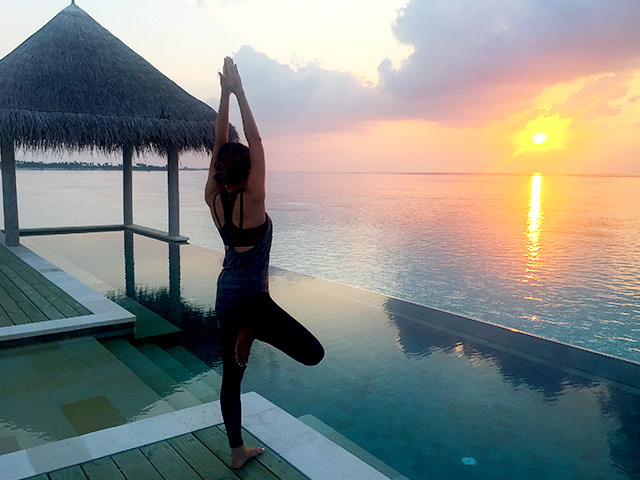 We doubt there's much shopping to be done there, right?
No places to shop (sadly) but the Internet is reliable so you could order online and have parcels waiting for your return. We flew via Singapore to Male, and took a boat from Male to the resort island. 
Best souvenirs from the Maldives?
Take pictures. Lots and lots of them!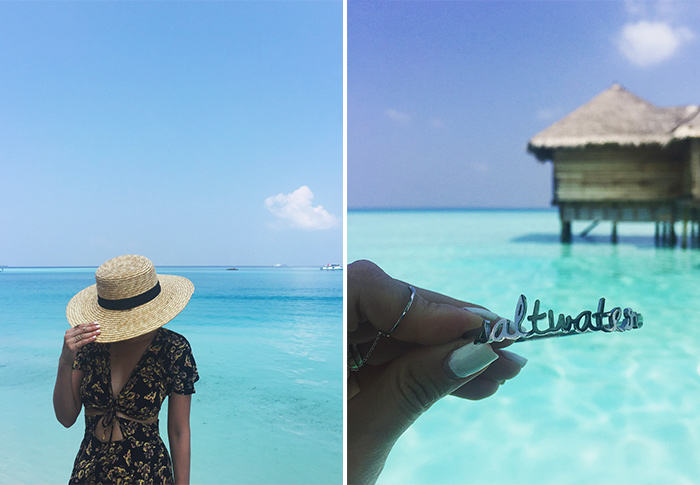 Lastly, name one travel app you always use.
I would usually say Uber, hands down. It's not a travel app but such an essential in most corners of the world. But with the Maldives, this didn't apply—unless you can now book boats via Uber? :)
Related stories:

Travel diaries: Hanie Hidayah shares her recommendations for New Orleans
#BossGirl: 24 Questions with Jenn Low of Wanderlust + Co.
Stephanie Chai on her top 5 beautiful resorts around the world
Orlando Bloom shares his best travel tips