We discovered what makes Nike Joyride a new "running innovation" in Seoul
I admit, I was equal parts nervous and excited upon getting assigned to this trip to Seoul to check out Nike's latest running innovation. The former because I know that I'll have to run (obviously, it's a running shoe launch) and my sorry as* has not ran on gravel, or on any other trail, for the longest time now; and the latter because I was keen to see what Nike's new silos entails after the launch of Epic React.
With a fun tagline and an all-new approach to running shoes, the Nike Joyride may have redefined my running experience—full review below:

1. Is Nike Joyride really made for intimidated (and seasoned) runners?
"Made for reluctant runners", said the PR rep from the brand at the event in Seoul. What seemed to be a smart marketing tactic targeted to sway a percentile of the non-running, boutique-gym-only demographic is working pretty well to Nike's advantage.
I get it—a mere 5k run can feel like a marathon to some, let alone double of that. But Nike Joyride is one of those shoes that you can put on for an extra bit of courage when it comes to giving that evening jog around your neighbourhood a go.
Coming from a former wannabe-runner (10k runs were the most I could do before I busted my meniscus), the shoes were a real kicker to explore. It was difficult to get me back on track without worrying about sore knees the next day, but these made the 5k run we had to embark on in Seoul that much easier.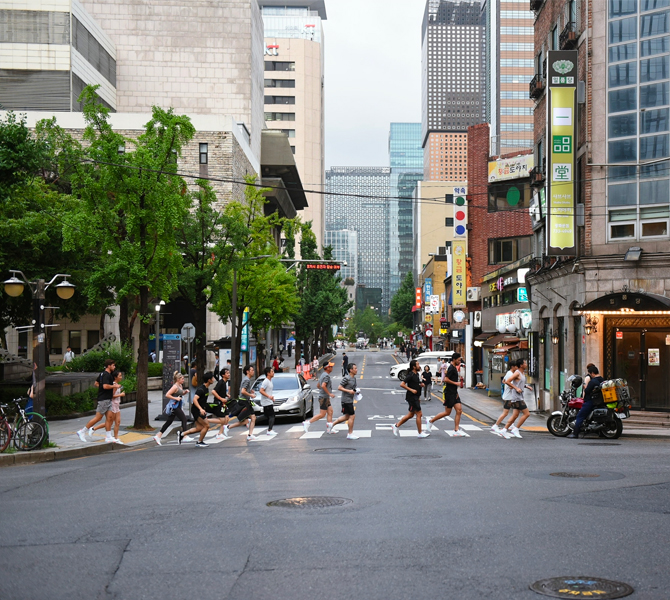 2. Walking on clouds—but better
To back up my claim from the first point, here's some technical info: the technology behind the Nike Joyride is the first of its kind for the brand—it took a decade of R&D to hit an innovation breakthrough with this pair. Hundreds of materials were tested before deciding on the material, size and shape of the beads that are in each cavity of the footbed.
This new cushioning system is made of thousands of TPE beads (a plastic and rubber copolymer) placed in zonally-tuned pods to allow the foam to expand in all directions. Think personalised cushioning, but with a unique twist.
"Under the same amount of pressure, the Joyride beads can undergo 20% more compression, and that means more cushioning, comfort and protection," said William Moroski, Senior Product Manager of Nike. "From heel to toe, a pressure that a foot goes through is specifically measured to control the amount of beads in each part. This controls transition, stability and cushioning throughout the entire run."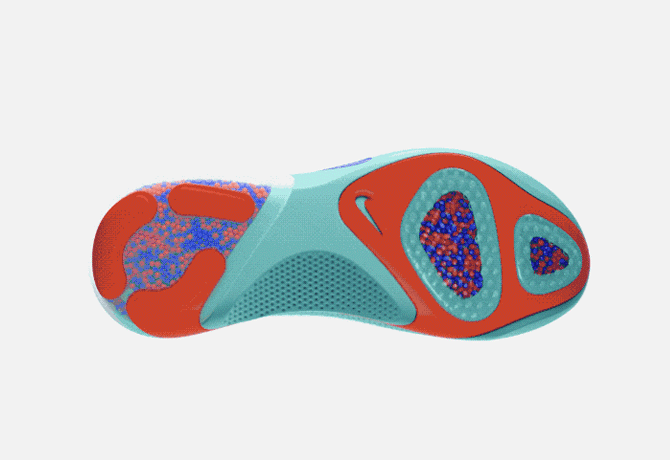 3. First impressions
The first thought that ran through my mind after stepping around in the Nike Joyride was that there's a very distinct sensation. The unique texture of the insoles (thanks to the beads) reminded me of a reflexology mat, but tailor-made for running.
According to Moroski, the only thing that separated my feet and the beads is really a "membrane" that allows the air to flow in and out, which also allows for extra compression.
Design wise, it's all in the details with the Nike Joyride. From the transparent heel counter to show off the proprietary tech (look at the beads, ma!) to the snazzy white-blue-orange colourway, there's no doubt that it can complement your running gear and everyday wear.
Fun fact: keep your eyes peeled for the Nike Joyride NSW Setter—made for avid non-runners who have extra space in their Nike arsenal; dropping this August 15
4. A run feels effortless
I could feel my feet warming up to the shoes during the first 2.5k—no chafing or tightness just yet. The roads were wet on the way to the launch event (it rained earlier that day), but the Nike Joyride held up well on the slippery ground.
Jogging uphill pushed my mental strength a fair bit, but the energy return was impressive and I didn't feel drained despite the circumstances (it was my first run after a two-year hiatus *gulps).
A brief respite between the first and second leg gave the Nike Joyride more time to mold to the shape of my feet and toes. After completing the 5k, my feet didn't feel sore—which is usually the first sensation I'm aware of, especially after a run.
Running on gravel was a breeze, and the shoe's cushioning and stability were proven in between sloped and uneven terrains—my feet didn't slide around the shoe, as it usually would as I have very narrow feet.
5. Is it made for walking, too?
Just because a shoe is great to run in doesn't mean it's entirely made for walking. I tested Nike Joyride's walking efficiency en route to Kuala Lumpur from Seoul, and again earlier this week on a busy day (comprising events, running about town, the like).
I was happy to note that my big toe, back of the ankles, and sides of my feet were completely unfazed after the entire day—we're talking after 15,000 steps. I'm guessing this has something to do with the understated design quirks of the shoe:
A piece of foam was added on the top to minimise lace pressure on the ankles
An extra plastic piece on the upper right of the Flyknit upper holds the big toe inside so it doesn't pop out in the front when running/walking
The heel tab is pretty soft, and getting in the shoe is made easy with a stretchy internal collar
Final thoughts
Despite slightly achey knees the day after that 5k, I have to say that the Nike Joyride lived up to my expectations. The right shoes make all the difference when it comes to convincing me to get back into running, and it definitely helps that it's light on the eyes (and soles) as well.
I probably won't be dialing up the distance in these, but an occasional 5k wouldn't hurt either. (Hit me up in a month to see if I hold true to my words or slack my butt off). My personal preference is the Joyride's cushioning over the Epic React's, then again the latter is made for running further and that's not something I'll be doing anytime soon.
If you've always been inspired to take running up but have never got the guts to, or you're a seasoned runner who's on the hunt for a new pair of running shoes, the Nike Joyride is a solid choice.
More colourways of the Nike Joyride Run Flyknit below:
Nike Joyride Run Flyknit is priced at RM735; available only on Nike.com this August 15