Firestation.fit's new campaign invites women to share their 'Brave' stories that can really move your hearts. Trainer Tanya Tolman tells us the story behind it
All it took was one session at Firestation.fit for our #FitnessFriday series to fall in love with the great and positive energy that both the trainer and gym have to offer. Continuing with that amazing vision, Firestation (or sometimes fondly called Fire) is preparing for the launch of their second outlet and has just released a new inspiring campaign called 'Brave' where women share their stories of overcoming obstacles and becoming a stronger individual. We spoke to Tanya Tolman, a trainer at Firestation and one half of the creative minds behind 'Brave'.
Tell us about yourself.
I've been living in Malaysia for about 10 years, and my family—which includes four children— love it here, so we kind of made it our home. I've always been very passionate about sports and fitness, and back in the US, I used to be a kickboxing instructor. Then we came here and eventually met Dave and Tracy, the owners of Firestation and who are now our best friends, and helped set up Fire at an early stage—before it was even an idea to be a gym because it was initially just about fire training—which motivated me to be a trainer. 
What classes do you teach at Fire?
I do the Stride classes for adults on Mondays and Fridays, and the kids classes called the Sparks program. The latter actually came about because my husband and I are so into fitness that we wanted our kids to get in on it too! I love spending time with my kids but it was hard to balance that with my time at work, so I decided to do both. 
So how did you and Tracy meet?
That's kind of an interesting story. Our eldest daughters are the same age at school and everyone kept telling us that we need to meet this family because they're also very into fitness. And when I met Tracy, we instantly hit it off. We found out that we're both part Samoan who married a Maori boy—our kids look the same in a way because they have the same ethnic makeup—we share a passion for fitness, and we're both boring stay-at-home mums with a fun side.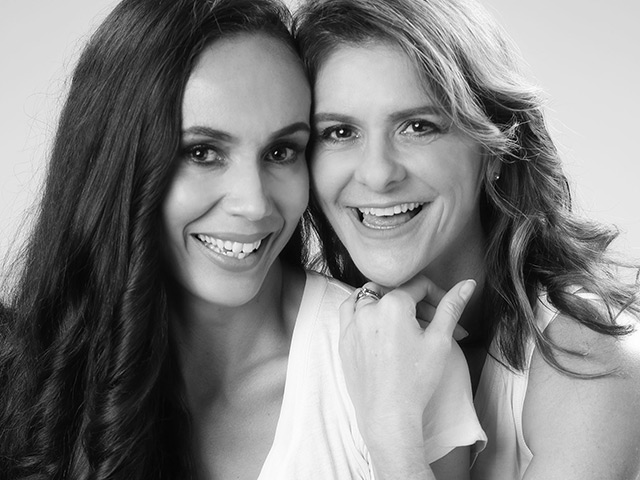 Tell us about the 'Brave' campaign.
The main premise of it is women coming together and sharing a story of bravery that can inspire people and send a message that fitness isn't just about the six packs or the looks—it's more. It can empower you from within and the most important things—inner beauty, strength and bravery—are what perseveres at the end of the day. When you feel good inside, the results will show and you don't need to be a perfect size zero to let your beauty shine through. I want women to be inspired to do something they love—whether it's coming to Fire, which I hope but if it's not, it's fine too—and just recognise their strength and live life to the fullest. 
The one thing that Tracy and I truly believe in is that one story of a brave woman can be a very powerful thing that influences other women in an amazing way. Sometimes we as women don't have that voice or a platform to share these inspiring stories and tend to just keep it between friends. I know the power of it because I felt empowered by these women and their stories, and we want to share that with as many people as possible. 
'Brave' is a passion project created by you and Tracy—how did it come about? 
I'd say Tracy is a big part of making this happen but from my end, I've been working with these women during training and through conversations, I've heard how a lot of them were initially intimidated by the website's flashy marketing—ultra sexy rockstar trainers with really fit bodies—and didn't want to come because it looked hard. 
It was a slightly slow trickle to get these women to come but once they knew any of our trainers, we showed them that our gym is open to different types of training styles and that everyone has different fitness levels—and that is okay. People soon noticed that there was a gap that Tracy and I wanted to fill because we wanted people to come and experience fire fitness and not be turned off by it. We started discussing on how we can start a project that represents our clients who are of different shapes, sizes, age groups, and fitness levels.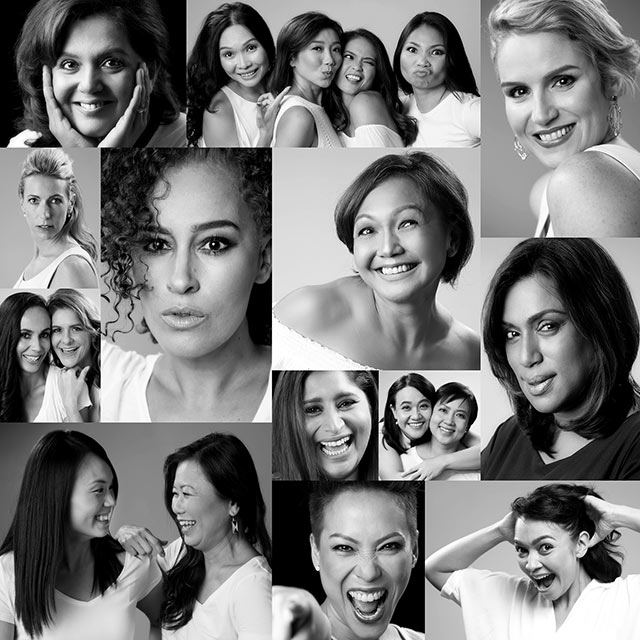 Then, our clients started sharing their experiences about what coming to Fire meant to them, how it changed their lives, boosted their confidence and helped them overcome obstacles; from there, we soon saw these small empowerment stories that were so inspiring to us. It wasn't just about the physical changes but also on the inside.We thought that these people have to share their stories with the world and that's how it came about.
I'm a trainer who's supposed to be inspiring others but instead, they were the ones who were inspiring me.
How will the 'Brave' campaign be executed?
We'll upload a new story every week, which will either be in the form of a video or photo essay. Some of the women felt more comfortable sharing it through the written word so we did a photo session with them. We hope to continue the campaign for a long time, but it depends on how popular it gets. It looks good so far though as it's currently our most popular social media rollout since the day we first teased about the campaign. 
Which 'Brave' story has left the strongest impression on you?
Oh, that's so hard. Personally, the first two videos that we'll be rolling out were the most meaningful for me. For Sakina (whose video was released on 1 September), it's an even more personal touch as I've seen her journey from her very first class and how she took charge of her own life and completely changed her lifestyle. 
Shannim's story, which is coming out on 15 September, is actually one of the instigators for the 'Brave' campaign. She first shared it in an email with Dave, purely intending to tell the team how Fire has changed her life when she was at a new low. After having a baby, she spent years of sleepless nights just struggling until her friends drove her to Firestation and she began to find a passion for living. She became a more engaged person but as she started to feel this empowerment, memories of her past abuse resurfaced and made her face it. 
I had a phone call with her and both of us were just in tears. I thanked her for sharing it and said, "It's so brave of you..." and that's how we thought, Brave. How very brave of her. 
We told her we wanted to share this story but we wanted to do it the right way that is respectful and protects her. We wanted her to feel completely comfortable with the idea. But she was very open about it and didn't find it shameful. 
Shannim felt that sometimes bad things happen to you and you don't know why but maybe the real reason is for you to make it purposeful. 
She can now look at those painful memories in the face and tell them, "You have no power over me anymore. I'm sharing this and empowering other people." So that was an amazing story. 
Lastly, we're turning the question back on you—what is your 'Brave' story?
It's me and Tracy coming together to do something really out of the box that no one else in the fitness industry has done. It was a bit hard to our 'directors' (our husbands) because they wanted to know the bottomline of what it has to do with getting people to come to Fire. But to us, it felt right and important to share these stories that will resonate with people. Besides, positive energy will always attract the right people. 'Brave' might not necessarily get more people walking into Fire but at least, it will leave people feeling better than before, and most importantly, empowered. 
Five lucky readers stand a chance to win 10 passes each to Firestation.fit worth RM450 (redeemable at their outlets in Batai and Plaza Mont Kiara). Just fill in the form below to stand a chance to win.


Source:http://www.buro247.my/lifestyle/health-fitness/what-a-juice-cleanse-can-do-to-you.html
Giveaway terms and conditions:
- This giveaway ends at 11:59pm, GMT+8, 16 September 2016. The winner(s) will be announced on 19 September 2016. 
- The winner(s) of this giveaway will be notified via email.
- All information must be entered to qualify for this giveaway.
- Inability to contact the winner(s) within 1 months of notification will result in disqualification and selection of an alternate winner(s).
- Prizes not claimed within one month of notification email will result in forfeiture.
- This giveaway is only open to residents in the Klang Valley.
- Buro 24/7 Malaysia will not entertain any complaints on the quality and quantity of the prizes after the prize is in the possession of the winners.
- Buro 24/7 Malaysia shall not be liable for any loss, including but not limited to direct, indirect or consequential loss or damage, personal injury or death which is suffered or sustained (whether or not arising from any person's negligence) in connection with participation in this competition or accepting or utilising a prize.

Source:http://www.buro247.my/lifestyle/health-fitness/what-a-juice-cleanse-can-do-to-you.html
Related stories:
#FitnessFridays: Team HIIT workout at Firestation.fit
#BuroBeKind: 7 Malaysian female celebs talk about cyberbullying