Three weeks in, I'm feeling stronger, fitter and lighter. My food choices have also started to change, for the better
Mon, 25 Jan
It's a public holiday today (Happy Deepavali!) so I start my day with a hot Pilates session, which I thoroughly enjoy as I find that the heat allows for a deeper stretch. I'm meeting up with some girlfriends for dim sum brunch, which is out of clean eating territory. I opt for braised chicken feet and steamed prawn dumplings - almost everything else on the menu seems to be deep fried or ensconced in some puff pastry. One of the girls suggests a run this evening so I join her for a 6km run—what better way to work off the dim sum and train up for We Run KL at the same time. 
Tues, 26 Jan
I have a Chinese New Year work lunch (another one of those 8-course meals) but I think I've become slightly better with my portion sizes - weirdly though, I kind of miss having a salad at lunch so I look forward to dinner, which was a mix of cauliflower, sweet potato and carrots. Root vegetables are my favourite. I somehow thought I could squeeze in a run before an event tonight but didn't have the time to so I head home and do Dave's workout. This week's workout is called Full Body Hit, which incorporates jumping jacks, plank and rows, toe taps and jump squats, which I can't do 45 seconds of without having to stop. Dave calls them the 'king of fat burning exercises' - if I can get over my thighs burning.
Wed, 27 Jan
After reading my Week 2 review, a friend texted to say that I should try Raisin' The Roof at Plaza Damansara as they have dairy-free, and gluten-free options. A quick look on their Instagram account reveals that they do dairy-free 'Nice Cream' - I'm sold! I meet local designer, Cassey Gan, for lunch there and order a tempe wrap, which turns out to be a lot more filling than it looks and left no space for Nice Cream. There will be a next time.
Thurs, 28 Jan
I must have been a good girl (yes, I have been!) as today's food delivery comes with a bag of granola and raw desserts - three bliss balls and a slice of what looks like a purple sweet potato pie. I generally don't eat refined sugar so these sweet treats totally made my day - the raw chocolate avocado chia pudding I made this morning can wait. Today's meals come from Foodmatters, a company I've not heard of but I like how the packaging includes nutrition facts (total calories, fat, carbs and protein) - the Mexican Bean Salad with Steak I have for lunch hits the spot. I find myself feeling pretty peckish today. I've been staying away from granola as I'm trying to keep my carb intake down but since it was part of the treats sent today, I decide to have some granola, since I'll be going for a run after work anyway. But unfortunately, the weather decided otherwise so I head home and do Dave's HIIT workout.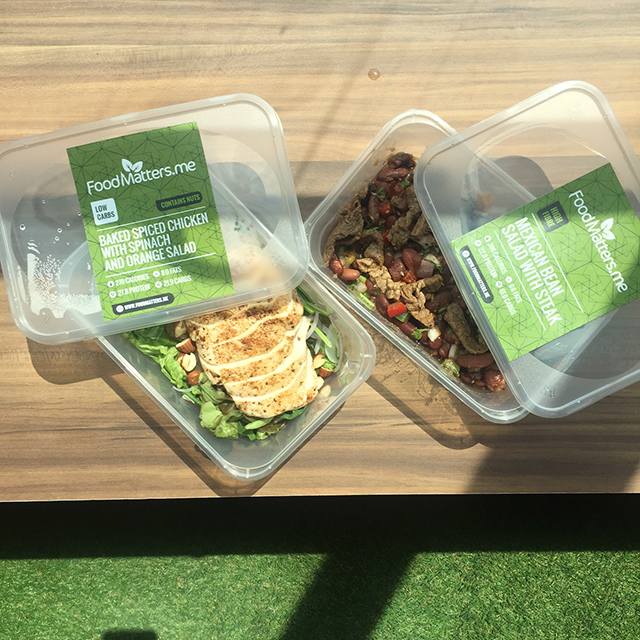 Fri, 29 Jan
After a couple of weeks searching different places for dairy-free, soy-free protein powders, I finally manage to get my hands on some plant-based protein powder. I'm starting to train up for my first half marathon and the only time I get to run is at night, but by the time I'm done with my run, it's too late to have a proper meal so this is just what I need. I mix it into my green smoothie and find it a tad too sweet.
 Sat, 30 Jan
I try out a new gym near the office this morning that offers a mix of functional and high-intensity training. Post-workout, I have a baby spinach salad with beetroot and a poached egg but the salad is also baby-sized so I head home and have a protein shake - I will be running this evening anyway so I don't worry about consuming too much protein. On this diet, I also get to have 3 alcoholic drinks per week so I make plans for drinks tonight - until I get a text from Shan about a fun run tomorrow morning at 6am, which is not so fun, but I decide to go anyway as I need to start working on my distance.
QOTD:
"YOU HAVE TO EARN YOUR CARBS."
Sun, 31 Jan
I'm on the road by 5.30am thinking about how things have changed - once upon a time, I'd be driving home at this time after clubbing... We do a 10km run, my first in over a year and it feels good. Cross-training has definitely improved my fitness levels. I stretch it out at a hot Pilates class post-run and then meet up with friends at a salad bar for lunch. They have a flexi-menu that allows you to pick what you like - there's beetroot, sweet potato and even kimchi! I think I've found my new favourite lunch spot.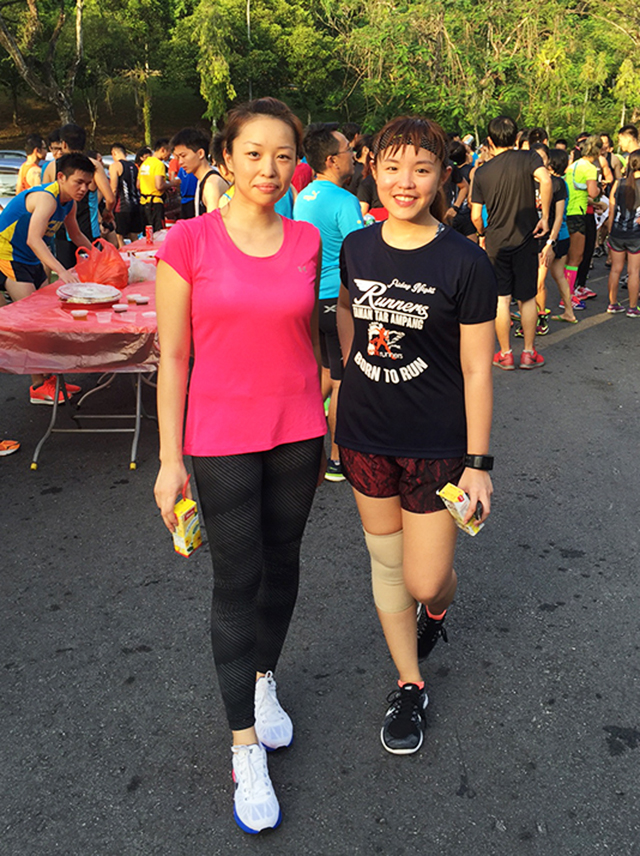 Related stories:
Tried and tested: PurelyB's 30-Day Weight Loss Challenge - Week 1
Tried and tested: PurelyB's 30-Day Weight Loss Challenge - Week 2
For more info on the 30-Day Weight Loss Challenge with Dave Catudal, click here. PurelyB is offering a special 10% discount for both the basic and premium programmes with the code 'BURO247'. Promotion valid till 29 February 2016.
Check back next week for my final review on Week 4 of the 30-Day Weight Loss Challenge with Dave Catudal. Got a question? Connect with me on Instagram at @caimei.k