I've always said I would never be a vegetarian. Lesson learnt: Never say never
I like my greens and most of the time, I follow a pretty balanced diet - a balance of healthy and unhealthy. On the Buro team, I'm definitely in the minority group that would perk up at the idea of McDs (not sponsored) for lunch and groan at the next #FitnessFriday session. But since I joined, it'd be a lie if I said working on Health and Fitness stories hasn't influenced me one bit. With that half determination and half detestation, I suggested to challenge myself to be vegetarian for a week.
Now, there are different types of vegetarianism. Those who can eat eggs but not dairy products (ovo-vegetarian), those who can eat dairy products but not eggs (lacto-vegetarian), and those whose diet can include both eggs and dairy products (ovo-lacto vegetarian). And then there are vegans, who exclude any animal byproduct. Alternatively, there are flexitarians. Correction to my headline: I became an ovo-lacto vegetarian for a week.
Day 1 - 17 October 2016
It has begun. Breakfast is easy since I'm usually a coffee and anything wholemeal type of person anyway. To get my Monday going, I whip up some oatmeal with a generous topping of Ready, Set, Goji! by Granola Geeks and a dash of honey. Feeling like a changed human already.
Lunch is exciting because: Bibimbap at a nearby Korean restaurant (and because I have supportive colleagues to cheer me on this challenge and give in to my suggestion). That little burst of happiness dips a little when they order a seafood pancake. It's okay because: bibimbap (clearly in half-denial).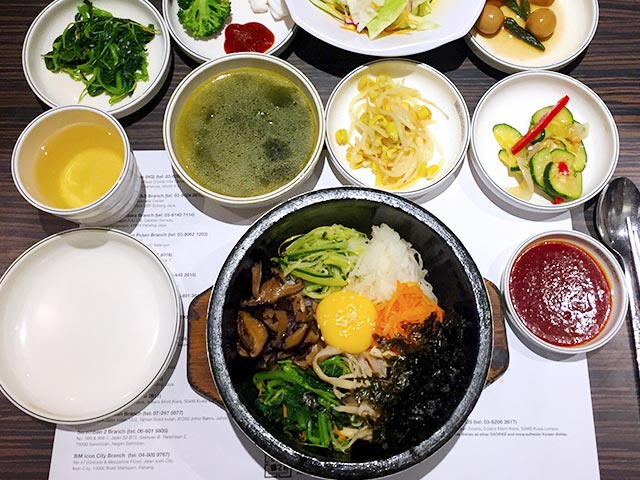 My family just got back from Singapore so I meet up with them for dinner and surprisingly, they suggest to eat at a Chinese vegetarian restaurant in Section 17—and I haven't even broken the news about my diet change. Kuan Yin Vegetarian Restaurant is a pretty good place if you're ever craving for such dishes. With 'fake' char siu, tofu, 'fake' fish maw soup and several others, I feel absolutely satisfied. I'd say it's a pretty satisfying start.
Day 2 - 18 October 2016
Breakfast is coffee with biscuits. Simple and quick.
After splurging a little for Korean food yesterday, the team decides to have mixed rice from the coffee shop, which I'm all for it. My choice? Rice, curry vegetables, a heap of stir fried okra, and a scoop of tofu. Yes, being vegetarian is easy.
Yesterday, I thought my family was on par with me for this but today, my mother forgot. Then again, my relatives from Hong Kong have come down to KL and that means, taking them to one of our recent favourite places to eat, Restaurant Goon Wah at Damansara Jaya (opposite Atria Shopping Centre). Braised pork with mantou, claypot lou shee fun with minced meat, and the shop's popular XO fish head noodles are some of the dishes they order, to my absolute despair. The only thing I could eat was the fried rice (with special request to exclude meat and seafood) and the stir fried vegetables. Well, my family and relatives look happy. Good for them. Can you feel my bitterness?
Day 3 - 19 October 2016
Today and tomorrow will be special as Raisin' The Roof has kindly agreed to support my vegetarian journey by sending me three square meals for these two days. I march into the office to find a brown paper bag filled with goodies for breakfast, Homemade Chocolate Crunch Granola Bowl with almond milk, lunch, Pistachio Falafel Wrap (their bestseller, it seems) and a dessert, Sweet Potato Brownie. The granola bowl has some pieces of strawberry as well, which serves as a nice balance of sweetness to the chocolate's slight bitterness.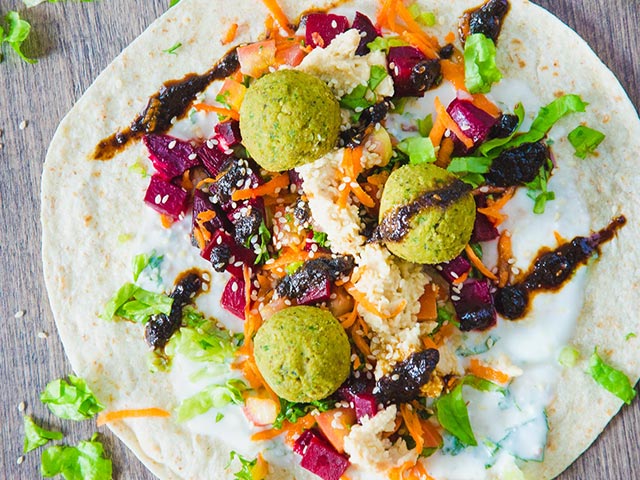 I've never had a falafel before. A traditional Middle Eastern item, it's usually a deep-fried ball or patty made from ground chickpeas and beans that's served in a pita or wrap. As it comes highly recommended, I had similarly high expectations for it as well—especially since Raisin' The Roof's version is baked as a healthier alternative. Looking at it through the box it came in, I am intimidated by it, seeing more vegetables than falafel. Disclaimer: I'm not much of a salad person. But, the combo is surprisingly tasty.
3pm rolls around and feeling hungry, I decide to have my Sweet Potato Brownie. It's flourless, as well as gluten- and dairy-free. Guess it's true that sweet things can be tasty and guilt-free. I don't really taste the sweet potato and if I didn't know it, I would think it's just a chocolate brownie through and through (except with a very dense texture). The office doorbell rings and Raisin' The Roof has sent my afternoon drink and dinner. I share the Turmeric Almond Milk with our designer, Yi Suen. She's adventurous but she doesn't like it after all. I'd say it has a very strong medicinal-like taste at first sip but it rubs off on me after a while as I get used to its strong burst of flavours.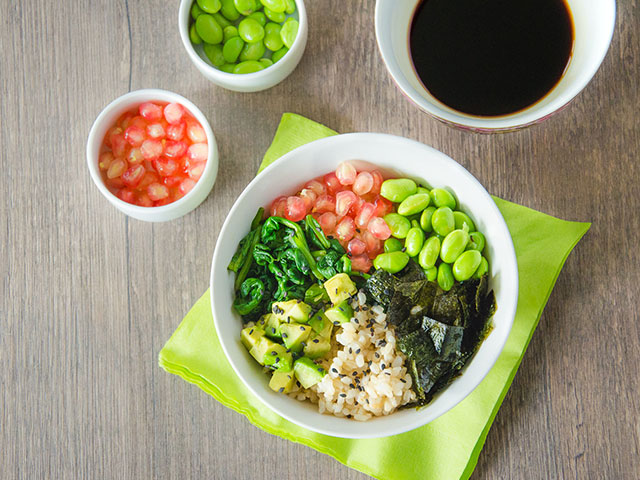 The Brown Rice Sushi Bowl is a vegan option and while I had the choice to top it with an egg, I went with mushrooms instead. This is definitely my favourite dish so far from Raisin' The Roof, and one which I'd go back for. I never thought I would like brown rice but it was cooked to perfection and had a slightly chewy texture. The mushrooms and vegetables were either stir fried or blanched which was delicious but made for a stark contrast to the sweet pomegranate (would opt without it next time). There's also edamame (love!) and avocado (mmm...) in the bowl. So far so good.
Day 4 - 20 October 2016
Four more days of this. My spirit is lifted again thanks to breakfast, which is Raisin' The Roof's Avocado Toast with Egg served with Way Better Bread. Another vegan option which I un-vegan-ed it by opting for an additional sunny side up egg. As mentioned earlier, I absolutely love my grains and their Way Better Bread is honestly way better than my average wholemeal slice. It's flourless, baked in-house, and is just all nuts, seeds and oats. The combination of it with avocado and sunny side up egg is something I wish I could eat every morning.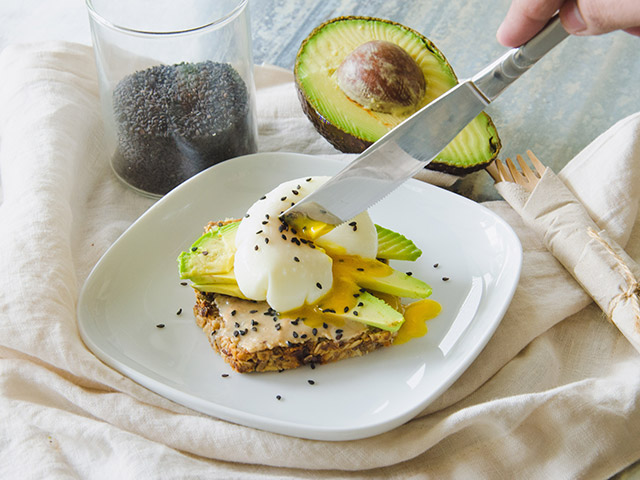 Lunch is Sweet Potato and Black Bean Wrap with their famous raw vegan chili sauce. Dipping the wrap with the sauce almost fooled me into thinking I was having Mexican food. A welcomed thought. Unfortunately, I was "too full" to finish the salad on the side.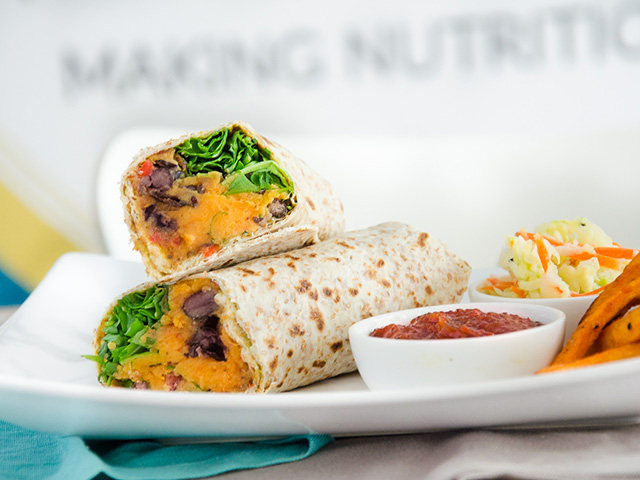 Mid-day delivery is here and the lovely guy brought me The Green Smoothie, which I happily down for the rest of the afternoon, and my Strawberry Lentil Salad for dinner. Urgh, salad. But, how can one be vegetarian for a week and not have salads, right? Or that could be the masochistic side of my brain (probably the left side because it's definitely not right to do that). It's 6.15pm and I'm already hungry (is it the smoothie's fault?) so I give in to the salad. It's not bad... except it has rockets, which I absolutely can't stand. Dessert is a homemade, raw, vegan, gluten-free Snickers Bar—decently sweet and crunchy.
Unfortunately, the half-salad isn't enough to satisfy my hunger. I meet with my mum and grandma, both who keeps forgetting I'm vegetarian as they wanted to eat Nando's (#torture) and both who keeps questioning why would I do this to myself. I longingly stare at their Peri-Peri chickens as I nibble on my garlic bread.
Day 5 - 21 October 2016
Three more days. I head to The Cafe by Hic at D7, Jalan Sentul as the Singaporean juice brand has invited me and my colleague, Su Fen to try out their smoothie bowls and cold-pressed juices. I find out about Blue Magic juice, which essentially uses blue magik powder that is derived from spirulina and is all-natural, and it might just be my next go-to drink. Hic Juice's smoothie bowls are dense in texture yet light in taste with a generous helping of fruits, granola (which tastes amazing) and health powders. As we shared four different flavours, I guess I'm done for breakfast and lunch.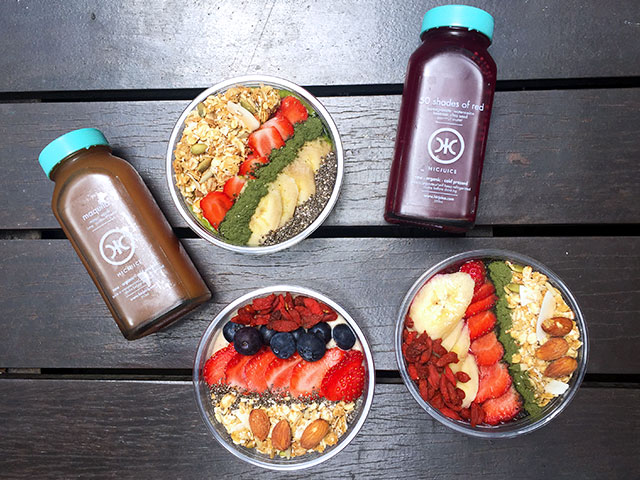 I meet some friends for dinner at a nasi kandar place in PJ. I'm happy that it's not a salad bar (no judging please) and I'm happy to just have rice with dhal and several veggie dishes. Intrigued by my challenge, my friends ask if I actually feel any difference. I'm told I'd get better skin but incidentally, I have a few extra pimples, which I believe is from the stress of not being able to eat meat. But internally, there definitely has been some change, such as smoother bowel movements. What is more surprising is how 'light' I feel every day since, despite some days where I didn't have enough sleep; which brings me to another odd observation where I had restless nights when I first changed my diet.
I reach home and look it up and found a study by a group of researchers from the Perelman School of Medicine at the University of Pennsylvania investigating how diets can affect sleep patterns. It somewhat matched my situation as it found that those with less variation in what they eat tend to have shorter sleeping hours. In addition, they're also the people who tend to consume less selenium (found in nuts, meat and shellfish—the latter two which are no-nos in my diet) but more lutein or zeaxanthin, which are found in green, leafy vegetables. The study recommended that a varied diet tends to be a marker for good health as it includes multiple sources of nutrients.
Day 6 - 22 October 2016
It's Saturday and I'm already excited for it to be Monday (says no one ever except me today because that's when I'm released from veggie prison). To cheer me up, my boyfriend suggests brunch at a burger place in Desa Sri Hartamas called Buns Burger Bar as they served veggie options. I order the portobello mushroom burger and it was heavenly, which is surprising as I would never have chosen a vegetarian burger otherwise.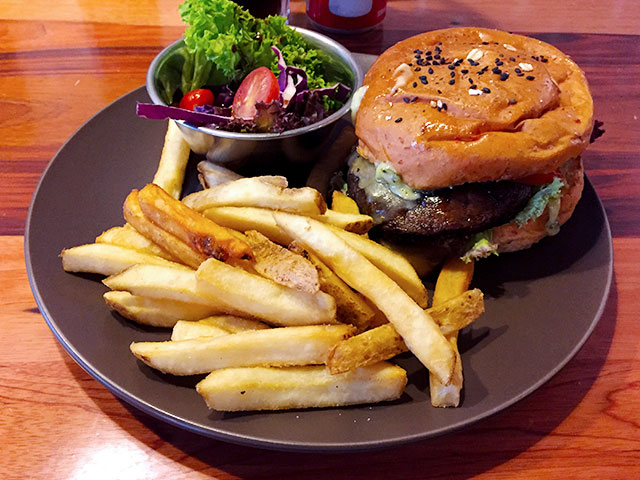 Dinner is depressing (for me) because it's a wedding and as per Chinese-style ones, there's more than a handful courses and more than half of them involves meat or fish. So it is essentially just rice with vegetables, beancurd and mushroom. And tea. To calm my nerves.
Day 7 - 23 October 2016
It's the LAST day! Breakfast is the traditional kaya and butter toast with Milo. Nothing fancy but still so good. What I'm more excited about is the Japan Charity Bazaar which I included in my 7 Things to do this weekend post. There are a few food stalls but the only savoury dish I can order is the vegetarian yakisoba, which is so good that I buy another packet after my first one. Come nightfall and I already know how I'm going to celebrate: Claypot curry vegetables and stewed tofu. I swear I can eat that every day.
Conclusion—Three days back to meat, fish, and everything else
I write this with a very happy and proud heart. I thought I wouldn't be able to do all seven days and though I whined and complained a lot, I realise it's not that hard to change my diet, especially since healthy cafes are growing in KL and while unfortunately, my schedule didn't allow for a #cafehop last week to try them all, it's comforting to know they'll be there when I need them. And need them I will as I think going vegetarian once a week (#meatfreemondays, anyone?) isn't so bad. While I 'suffered' from short nights of sleep at the beginning, I think my body adjusted itself for the second half of the week and honestly, I really enjoyed my body feeling more upbeat and energetic, which was the opposite of how I felt—sluggish and 24/7 food coma—prior to my vegetarian diet on stressful days.
Just no more vegetarian salads, please. 
Related stories:
Tried and tested: PurelyB's 30-Day Weight Loss Challenge – Week 1
10 Superfoods for your ultimate shopping list
Reasons to become vegetarian, part one