enfin by James Won's new dinner degustation menu honours Chef James Won's mission to celebrate food heritage and culture with contemporary offerings which are sure to keep tastebuds amazed
How do you win hearts in an ever-competitive dining scene? What do you do in order to stay on top as a force majeure in the Malaysian dining scene? How do you continue to entice loyal patrons? There is only one answer: be like Chef James Won who continues to respect the produce grown, the Malaysian culture and heritage, all while being innovative as well. After all, there's a reason why he's the only Malaysian to be inducted into the exclusive Krug Ambassade Network. No one can be like Chef James Won, of course—he's one of a kind. Step foot into enfin by James Won and you will begin to understand why. Breathe in the otherworldly aura of le meilleur des meilleurs.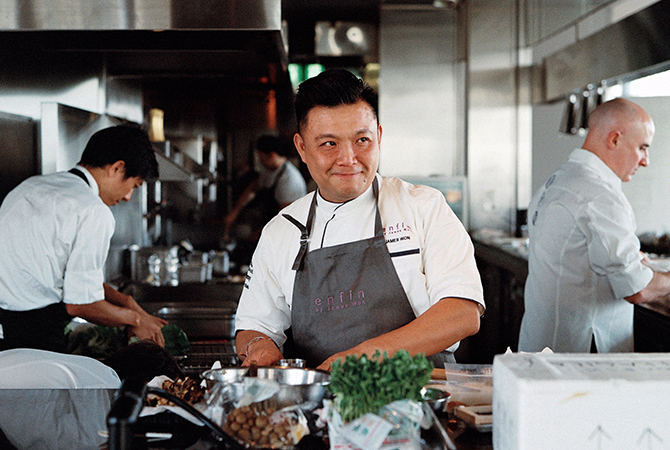 In a realm of a multitude of brilliant dining establishments in the country, enfin by James Won succeeds, not just with its luxurious and ritzy space, but with the new lunch and dinner degustation menu. Every dish—masterfully crafted and thought out by Chef James Won and his culinary team—unveils the establishment's evolution in food philosophy as well as encourages dialogue with food photography. Embark on this Chef James Won-guided Monte Carlo-esque journey and immerse your senses with some of the best dishes from the menu.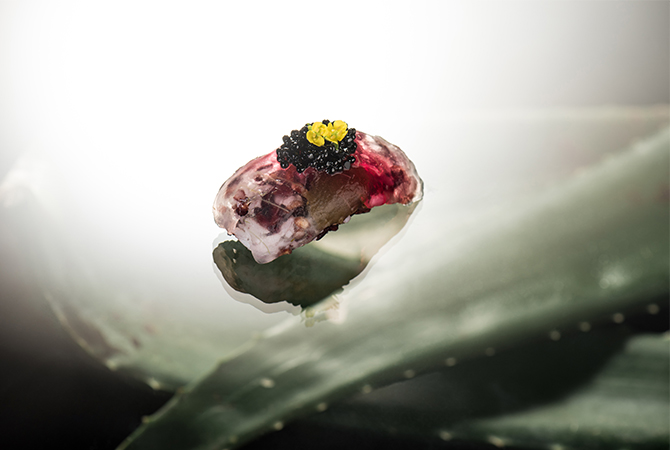 The first impression matters, and the amuse bouche that begins this adventure is the aloe nigiri (yes, you read that right). Layered between white sturgeon caviar on top and Bario rice puff below as well as fermented chilli, the aloe nigiri starts things on a right note. As exquisite as it looks, pop the flawless entity in the mouth as a whole and take in the ethereal fusion of all things heavenly. It's fresh, crunchy, zesty, and most importantly, it's a real amuse bouche banger. Chef James Won and his team spent utmost effort on producing the reddish juice (10 days, at least). The result? Savoury, sweet, sheer brilliance.
READ MORE: While not everyone is fortunate enough to meet Chef James, these are some celebrities that we have encountered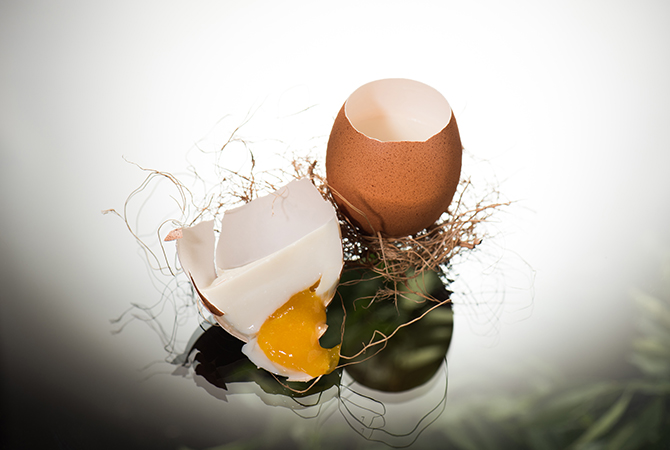 According to Chef James Won, egg is a major identifier in all his masterpieces. Simply named The Egg, you would be forgiven if you expected any form of egg (shell, aside) in this dish. The amalgamation of ingredients utilised here is top-notch and sublime. Cement this in mind: the white of parmesan tofu, yolk of sea urchin, and mandarin curry. This amuse bouche sequel exudes creativity, fun, and flair without compromising on the full-bodied flavours one gets with every teaspoonful scoop. Malaysian flavours come to mind with the curry, but the level of spiciness is mild to none. Expect surprise and suspense, but handle the eggshell gently—it's glorious but fragile. The Egg—without egg—is rich in its taste and will end up as one of the most luscious dishes anyone would ever have the privilege of experiencing.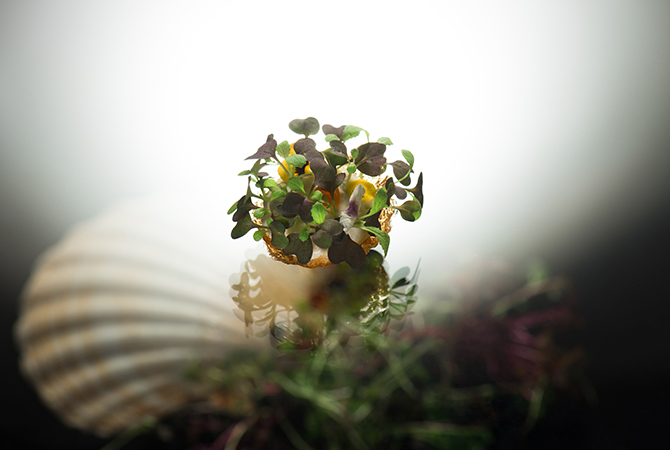 Nothing radiates big Malaysian energy more than keropok, or crackers. The scallop chip— with hazelnut, cress from the enfin farm, crème fraiche, ikura, and Szechuan pepper—is ultimately Malaysia in a bite. It's light but the pepper kicks in to add a little bump to the overall taste. While one wouldn't necessarily have expected keropok at first sight, any ambiguity vanishes on first taste. Leave it to Chef James Won to uphold Malaysian heritage with such an innovative little dish. Consider your bouche amused?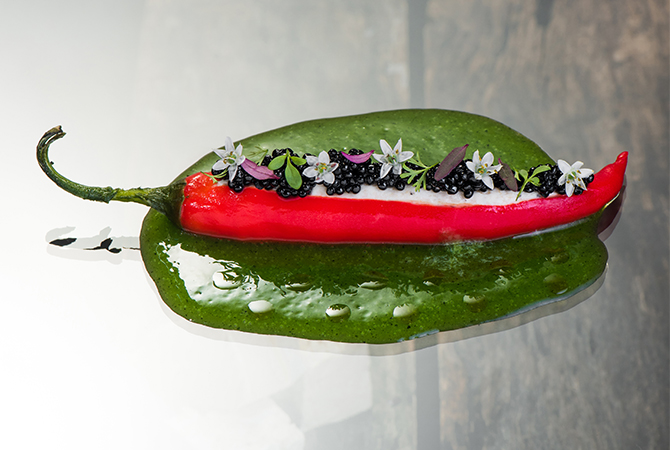 Part of the new degustation menu's goal at enfin by James Won is to uphold the local legacy of Chef James Won's upbringing. This Yong Tau Foo pays homage to his Hakka heritage and family, while fusing with influences from other cuisines. Chilli, caviar, tofu and mushroom farci, fermented chilli, salted fish, and bonito green broth make up the ingredients involved in the creation of this celestial dish. Cooked with duck fat, as opposed to traditional pan-seared and boiled methods, you will taste elevation with every slice. The green mole isn't just aesthetically-pleasing, but tastebud-satisfying too. The lightness adds sensation to the overall dish and the "tofu" is just delightful—it's soft and mellow. One important note: make sure to take a gustatory bite of every ingredient on the plate. One bite of nostalgic goodness.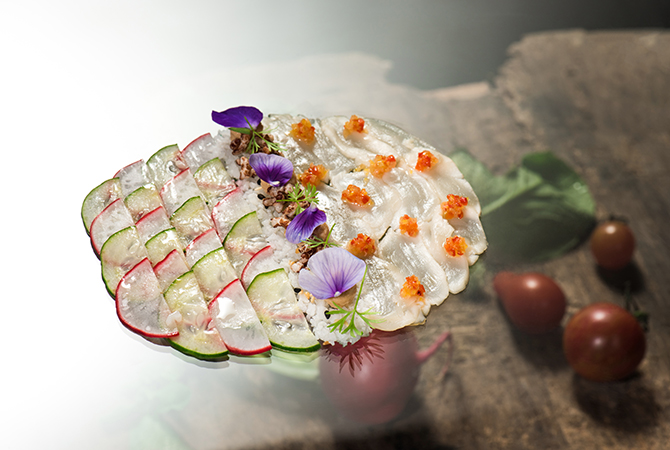 What comes to mind at the sight of this dish? Beauty? No doubt. Precision? Definitely. An art? Yes! The Hokkaido Scallop Ceviche is plated elegantly and every position is thoroughly planned. The colours are appetising and divine. Served with fermented lemon, Espellete pepper, Bario puff, sesame and chilli confetti, burnt cauliflower, cauliflower couscous and laksa oil, the dish is invigorating, vivid, full of zest, and piquant. The fresh Hokkaido scallop presents juicy qualities that successfully delight anyone fortunate enough to have a taste. The cucumber and radish are sliced with precise rhythm. Chef James Won's artistic and whimsical characteristics are clearly showcased. This isn't Met Gala's camp, this is enfin by James Won, a class on its own.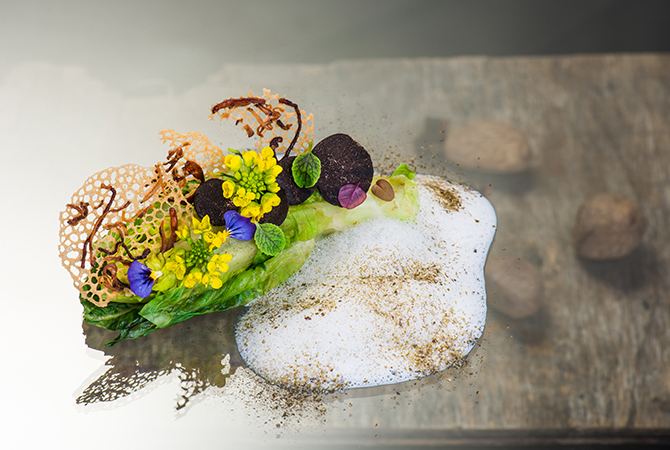 If there is ever a dish to represent the land of Malaysia, this is it. Aptly named Terroir of Malaysia, the recipe consists of heart of gem lettuce, toasted seaweed, cordyceps mushroom straw, buah keluak and truffle crème fraiche, cress and blossoms, oyster and charred chicken glace. The verdict: superlative, gorgeous, and pure perfection. Expect ambrosial, temperate, moist, and toothsome bites. The buah keluak provides extra zap with its unique aftertaste whereas the truffles act as the positive catalyst to an already well-rounded dish. Every bite is impressive and it's safe to say that Chef James Won's succeeded in showcasing Malaysian land on a plate. With a new Malaysia, comes a new dish to represent the beauty of the country.
READ MORE: Get more insights on Malaysia a year after the 2018 General Elections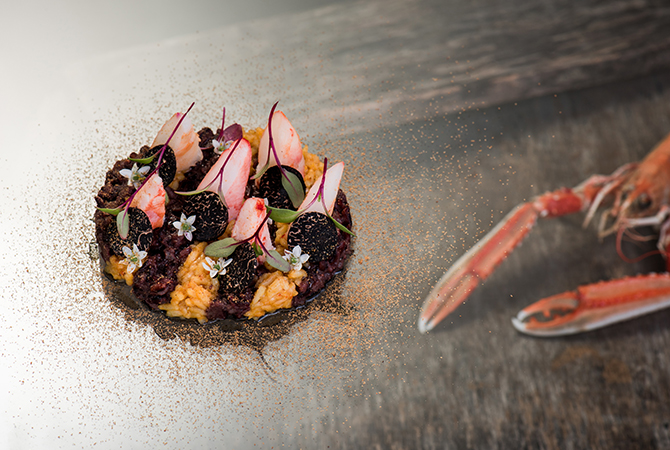 How do you spawn a dish that tastes like chicken rice without the presence of chicken? Just ask Chef James Won, though he might not want to spill his secrets. The Hawker Risotto isn't just a typical dining soirée, but a magical concoction that's reminiscent of Malaysia from presentation right down to ingredient—Brittany blue lobster, Sabah prawn coral bisque, seasonal truffle, Highland Bario risotto, mushroom and kerisik, and burnt shallot dust. When eaten independently, the different well-seasoned grains are amazing and creamy. However, when eaten as a whole, expect opulence (and chicken rice). Fresh plump lobster bits intensify the overall experience. Rare, singular, exceptional. There aren't adequate words to describe a dish such as Chef James Won's risotto. One thing's for sure—it's a great progress as one continues through the course menu.
READ MORE: If you feel a little more patriotic after this, here's more about Malaysia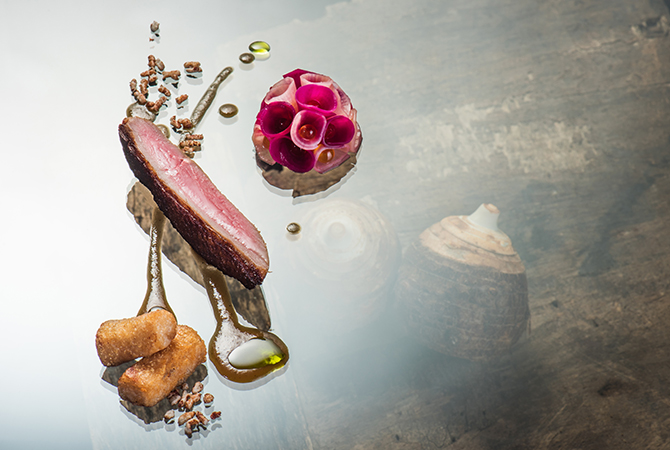 A personal favourite and also highly recommended by Chef James Won is the Bidor duck, the crème de la crème. This dish—with Ipoh white coffee, cacao glace, Bario rice puff, yam, pickled beetroot, radish, and ikura—is uniquely Malaysian. The duck breast is seasoned to perfection and so tender that it's melt-in-your-mouth transcendence. The succulent dish is a definite crowd-favourite and the dish to represent enfin by James Won. With the amount of effort that goes into preparing each dish (at least four days), tasting the succulent meat is akin to embracing the love and affection of Chef James Won and his team. Every bite is so powerful that it gives a magnanimous sting of heavenly satisfaction. Take your tastebuds on a journey of a lifetime and be sure to appreciate the dish's elements. If there's one dish to live for, this is it, without an ounce of uncertainty.
READ MORE: Not everyone can cook like Chef James Won, but here's an alternative
After all the superb dishes, there is only one way to end the culinary rollercoaster and Chef James Won sure knows how—with the Le Dôme à la Enfin. Made with single Origin dark cocoa multi-layer mousse from Varlhona and accompanied with sponge, sauce, vanilla crème, and raspberries as well as chocolate and raspberry layer dome, the flavours are intricate. Even though the dish might appear simple, do not be fooled. The raspberries are filled with goodness in the form of chocolate. If the Chef tells you to start any way you desire, that's what you do. The dessert is luxurious, and an absolute winner. It's not too sweet either, which is a bonus. The smoothness of the dark cocoa mousse just hits all the right spots and as a result, it's the perfect way to end the degustation menu.
READ MORE: Check out this round-up of places in KL for dessert
The Malaysian dining scene can be cut-throat and demanding but enfin by James Won has succeeded in topping its own accomplishments with its latest offerings. More often than not, there might be one or two macabre dishes, but not here. Every single offering was prepared with so much attention and care to the ingredients and resulting taste. The degustation menu isn't only worth the buck, but manages to pay respects to Malaysia without attempting to go hem on local classics. Mission accomplished. Eating here brings a whole totality and perspective with its originality. Tens, tens, and tens, across the board.
For more information on enfin by James Won or to make reservations, visit here.