Kouzu is proof that great food and good fun are not mutually exclusive
Let's start off being frank. The following is a list of some preconceptions that may dampen your interest in a place like Kouzu:
1. A trendy bar-restaurant-hybrid probably does not serve serious food
2. Dark walls and a colourful mural equals a hipster hub
3. Modernised grub served on small plates will do no justice to the cuisine
A combination (or all) of the above could ring true for certain restaurants but Kouzu is in the field of proving people wrong. There is no denying the pull of the vivid mural that wraps itself around the restaurant's interior. It's the kind that makes a perfect backdrop for birthday celebrations, girls' nights out, and anniversaries of sorts. But unlike bustling touch-and-go joints with cramped seating and blaring speakers, Kouzu fills its hall with ambient lighting and spacious furniture—meticulously programmed for a real dining experience.
Go for the atmosphere, stay for the food
Kouzu subscribes to the concept of small plates. With a Japanese slant worked in, it serves what is fondly known as "Japas" (Japanese-style tapas). Smaller portions make for excellent menu sampling, especially for groups of four or more. The variety spans from the unerringly Japanese salmon sashimi to an unmistakably modern "mango de la mer"—a cheese-topped seafood bake with the tangy addition of mango cubes. 
We started our meal with the blue fin tuna salad. Rarely do salads make a lasting impression as a meal opener. Rather, they act more like a prerequisite of greens that "adulting" involves. But Kouzu's starter of charred tuna, mixed leaves, saffron mayo and homemade balsamic vinaigrette struck us as something special. Generous morsels of perfectly torched fish meant a balanced ratio of proteins to vegetables. Thanks to that, a piquant kick of saffron and a punchy vinaigrette, we happily kicked our meal off without a single dry fibrous mouthful.
The next dish allowed the tuna to shine even brighter. Elevated by the slice of foie gras it's perched on, the pan-seared tuna was given a creamy richness that its solid lean flesh so clearly craves. Beautifully pink in the centre and an even sear on all four sides, it was obvious that the kitchen knew what it was doing. A sweet teriyaki sauce tied the dish together.
We soon arrived at the crux of the meal: the part with carbs. On our table were the Japanese escargot pizza, a crispy unagi roll, and the Ishiyaki Stone Bowl that came highly-recommended. By this point in time, our bellies were already considerably satiated, having tucked into some sliced beef on a hot stone and spring chicken karaage prior. Thankfully, the Japanese rendition of pizza sits somewhere between the weight of a bruschetta and a cracker. The thin base and absence of cheese allows the ingredients to steer the show while making it a good segue into heavier plates.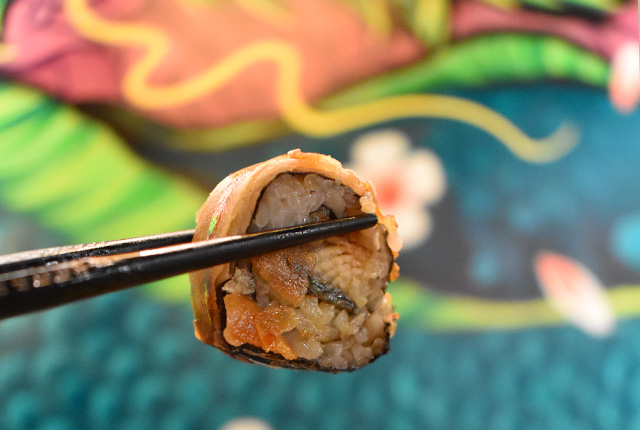 In loyal deference to Kouzu's spirit of surpassing expectations, the crispy unagi roll sidestepped being just a novel update to a sushi roll. It boasted thick pieces of eel swaddled in deftly prepared vinegar rice and nori—all encased in a light batter, then fried for a delicate textural crunch. Next, Kouzu's entry into the competitive rice bowl scene in Kuala Lumpur is certifiably formidable. Even before the taste test commenced, bonus points were awarded for the bounty covering the barely visible rice beneath. A medley of seafood, meat and mushrooms manufactured decadent spoonfuls but it was the smaller components that rendered this bowl unforgettable. The runny yolk that coated grains of warm, starchy rice; brightly coloured roe that pop like the tiniest of umami bombs; and an irresistible crunch courtesy of charred bits from the hot stone bowl composed a dish so hearty and moreish, it alone could warrant a return. 
Whomever claims small plates do not fulfil is hugely mistaken. Following what we would normally consider mains, we continued to indulge in a bevy of authentic yakitori platters that appeared in steady succession. Still glistening from the heat of the grill, these skewers were again a testament to the chefs' skills. Timed to the second, our beef, lamb and rock lobster (all prone to chewiness) landed on our palates, achingly tender to the bite. Flavours were on point, and the cook, impeccable.
Kouzu has frills where it matters and none where they're not needed. It was an overkill of neither, but a brilliant balance of both the contemporary and classic. Refer once more to the list in our opening paragraph, now cross every item off because this restaurant means business.
Book a table your table at 018-366 3987 or through their Facebook page.
Kouzu is located at 18, Lorong Datuk Sulaiman 1, Taman Tun Datuk Ismail, 60000 Kuala Lumpur and opens daily from 4pm to 1am.
UPDATE: Kouzu has opened a second outlet in Bangsar. Find them at 19G, Jalan Telawi 3.
Related stories:
A Michelin star dining experience with Chef Alfredo Russo at The St. Regis Kuala Lumpur
7 Reasons why you should visit Mr Chew's Chino Latino Bar
Hawker or haute: The best Malaysian dishes at two very different price points