How can a place called "fire" not bring the heat?
It's no wonder the chefs at Fuego, the vibrant South American restaurant at Troika Sky Dining have been busy. Perched at a vantage point, the consistently fully booked, al-fresco dining hit lets you sip on cocktails while watching the sun go down behind Kuala Lumpur's most prominent skyscrapers. And in the unlikely case that the view fails to dazzle you, the food certainly won't. 
We recently braved the weekday traffic into the city centre for a taste of the new offerings Chef de cuisine, Shaun Lazaroo has cooked up. Let's just say the jam was well worth it. Ahead, eight things you should not miss out on when dining at Fuego:
Smoked eel guacamole
Wood smoked garlic, pickled fennel, chilli, smoked eel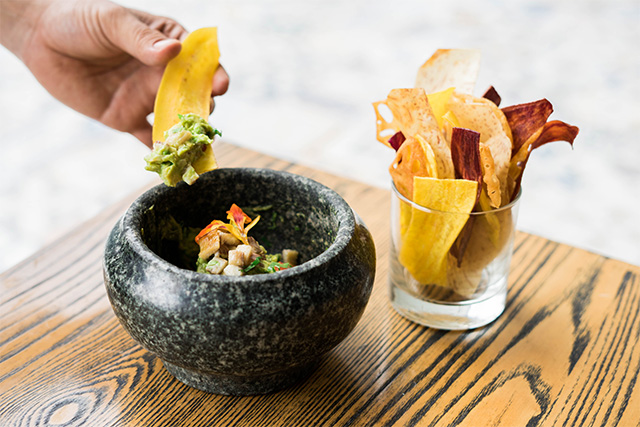 Making guacamole more addictive than it already is seemed impossible until smoked eel entered the picture. Fuego's luscious avocado dip is accented by wonderfully briny chunks of eel, a subtle smokiness from the fish and in-house wood smoked garlic, and a piquant kick from the pickled fennel. Even the chips served alongside it added a nuance of flavour—sweetness came from the plantain and sweet potato chips while lotus root and yam imparted an earthiness.
Snapper ceviche
Coriander tiger's milk, konbu soaked wakame, pineapple ancho chile dressing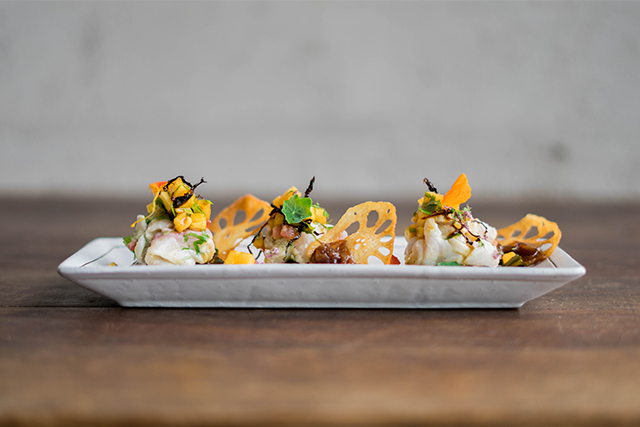 Hailed as the national dish of Peru, ceviche is given a little upgrade here. Seated above ribbons of wakame, the snapper is beautifully cooked in a marinade called "leche de tigre" or tiger's milk—typically made of lime juice, onions, chillies, salt and pepper—with cilantro as a central ingredient while the pineapple and ancho chile dressing supplements extra zest and zing. 
Prawn ceviche
Habanero chile, avocado salsa, cayenne dusted baby corn, -20°C popcorn rocks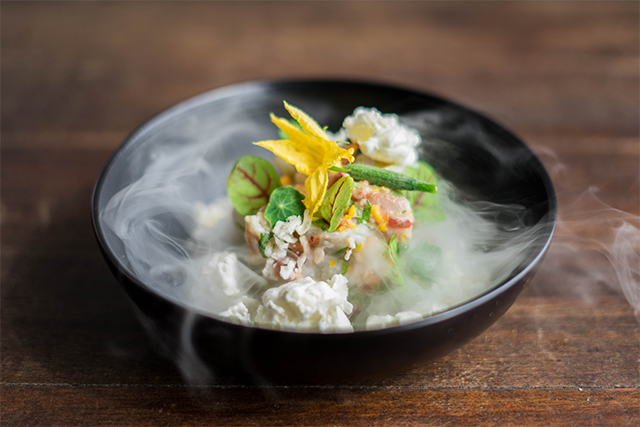 Two types of ceviche were served back-to-back but both were as different as can be. If the previous had a little upgrade, this one underwent an enormous revamp. Juicy morsels of prawn peeked out from the mound of avocado salsa surrounded by fog-emitting popcorn rocks—a molecular gastronomic hat tip that melted into a creamy dressing. To circumvent the mush-factor, cayenne dusted baby corn lent a much-needed crunch to the dish.
Lamb arepa
Slow cooked braised lamb, carrot and jalapeño pickles, watercress, dill
A popular South American curbside delight was next in line. Sandwiched between a griddle cake made of maize flour were tender cuts of gently braised lamb punctuated by the distinctive tangy heat of pickled jalapeño. Juicy, hearty and fresh (on account of the generous sprigs of dill and watercress stuffed into the roll) all in one, it's not hard to understand why it would be a favourite grab-and-go.
Corned beef croquettes
6-hour slow roasted corned beef, beef glaze, onion and parsley gremolata, baby coriander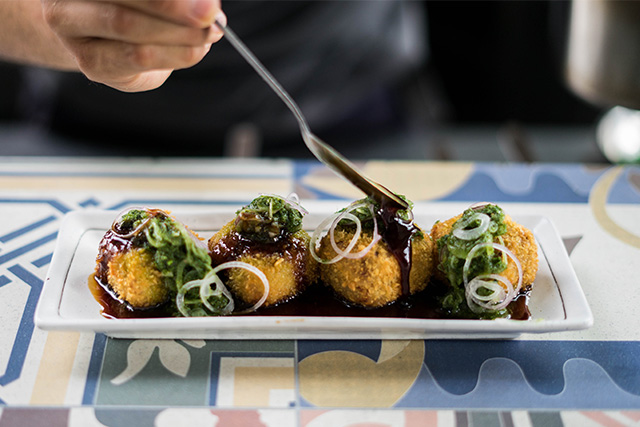 In the spirit of true culinary excellence, everything that can be made from scratch is made from scratch here at Fuego. Brisket corned (cured with "corn-sized" grains of salt) in their own kitchen is slow roasted for six hours. Then, nuggets of the flavourful meat are encased in batter and deep fried. Finished with a rich, viscous glaze that soaked through the bottom of each ball, and a punchy onion and parsley gremolata, this made for an addictively easy to eat but substantial order.
Cauliflower steak
Shiso gremolata, parmesan and almond soil, lemon zest, cumin and toasted pistachio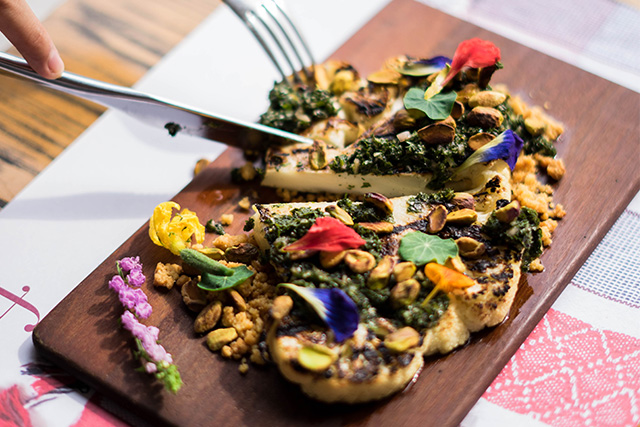 Speaking of substance, the cauliflower steak was out to prove a point that night. Miraculously, the vegetable had all the makings of a good steak: a great sear, achingly supple flesh (we were told that it was soaked in milk prior to grilling), and buckets of flavour. Sure, we missed the bovine pungency here, but between the shiso, parmesan, almond, lemon, and pistachio, there was arguably even more flavour to dissect than in a hunk of red meat. 
Grilled zucchini
Grilled zucchini, inhame cubes, pickled baby zucchini, parmesan foam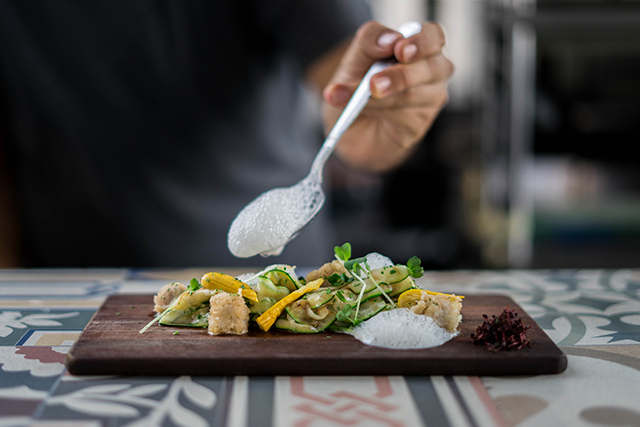 Twirling up the silken streamers on our forks, conversations segued into carb-replacements. Accompanied by a frothy parmesan foam, parallels between a belly-warming pasta dish and this zucchini platter were inevitably drawn. The revelation of the night for us, however, were the inhame cubes—yam cubes, in plain English. Inspired by the Chinese yam basket dish but rendered in bite-sized pieces, the airy crunch was even more enjoyable after the riff. Order us a heaping bowl of inhame, stat. 
Orange sandwich
Orange ice-cream, muesli, white chocolate, pineapple juice, coconut sorbet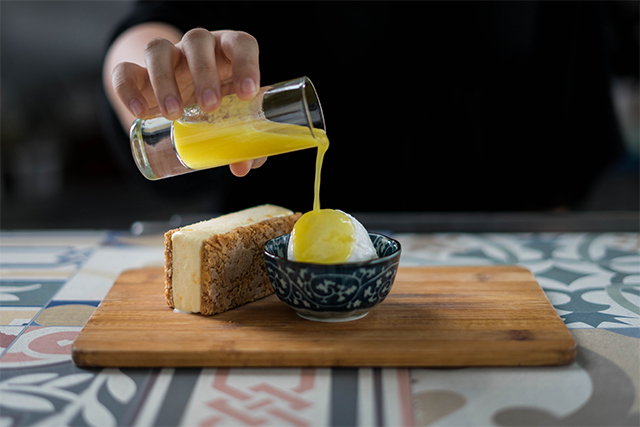 To wrap things up, a dessert that looked like a guilty nighttime snack of cookies and milk was served. A generous slab of orange ice-cream, a shot glass of pineapple juice, and a scoop of coconut sorbet celebrated tropical flavours with aplomb. And because each component is made in-house from natural ingredients, none of that medicinal, artificial, and overly sweet taste of cordial was present here. Clean fruity notes underscored by a mellow clue of creaminess was a perfect end to our meal.
---
Yearning without action is futile; place your booking now at +603 2162 0886 or visit www.troikaskydining.com. Fuego is located at Troika Sky Dining, Level 23A, Tower A, The Troika, 19 Persiaran KLCC, Kuala Lumpur.
To note, Fuego operates in two seatings:
Sunset: 6.30pm-8.30pm
City Light: 8.45pm onwards
Related stories:
Your new personal dining experience at The Troika's Cantaloupe
8 Romantic bars and restaurants for a memorable date night
7 Reasons why you should visit Mr Chew's Chino Latino Bar