Have you ever thought of concocting your own banana bread? We have compiled three variations for you to try below
What comes to mind when you think of bananas—apart from Gwen Stefani's Hollaback Girl and the song from Minions? How about Bananas In Pyjamas or Bret Michaels on The Masked Singer? The elongated fruit has so much significance in pop culture and the world in general (hello, Tower of God). Banana bread is, of course, one of the most popular delicacies to bake; it's really easy too.
It's clear by now that the COVID-19 pandemic has taken the world by storm. Due to the global health crisis, many of us are self-isolating at home and practising social distancing. In this juggernaut of a battle against the novel coronavirus, quarantine has become the norm. Cue the unsurprising boredom. Let's be honest—it's completely normal to feel bored and unproductive at home. We don't always have to be productive because this isn't a race.
Baking has become one of our go-tos during the age of coronavirus. In addition to trends such as Dalgona coffee and the toilet roll cakes, banana bread is another one you'll see a lot on social media. Here are three scrumptious recipes for you to try:
1. Leanne Ward's Healthy Banana Bread
This banana bread recipe is concocted by Australian dietician Leanne Ward as a healthier version of the usual banana bread. According to Leanne, she "added protein, healthy fats, and fibre from the addition of the protein powder and chia seeds to help stabilise [the] blood sugar levels a little and also provide more satiety".
Ingredients you require are:
Four medium mashed bananas
One can of sweetened condensed milk
2.5 cups of self-raising wholemeal flour
3/4 cup of honeycomb protein powder
1/4 cup of chia seeds
Steps:
1. Line a loaf tin with baking paper after pre-heating the oven to 180º Celsius.
2. Mash 3.5 medium bananas in a large bowl. Make sure to reserve half a banana split long ways. This will be utilised for the top of the loaf.
3. Stir and combine the flour, protein powder, and chia seeds—in a separate small bowl. You can also add two teaspoons of cinnamon here but it's optional.
4. Stir gently to combine after pouring the dry ingredients into the wet ingredient bowl. Try not to over mix.
5. Press down the half banana on top of the batter right after filling up the lined baking tin with batter.
6. Bake in the oven until browned on top and cooked through. This will take approximately 25 to 30 minutes.
7. Remove from the oven and allow to cool. Make sure to keep leftovers in an air-tight container in the fridge.
2. Donal Skehan's Moist Banana Bread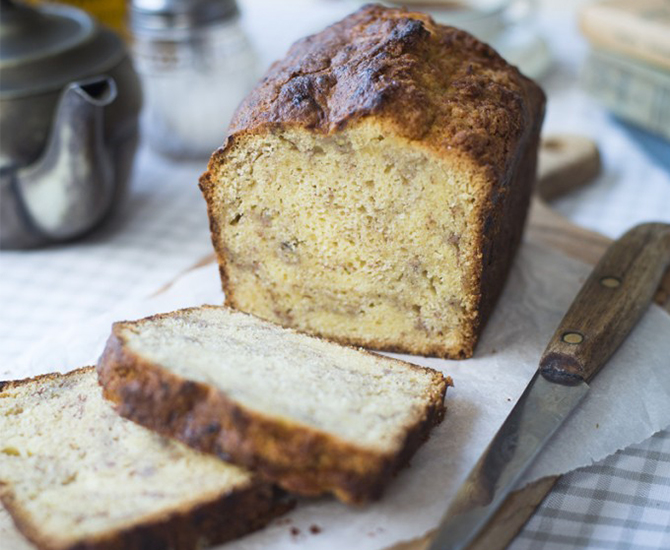 Inspired by his aunt, Donal's version is really fun to try. With only six steps and simple ingredients, you will be able to bake the banana bread easily. He also has a video that you can watch here.
Ingredients you require are:
110 grammes of butter
190 grammes of caster sugar
2 large eggs
240 grammes of self raising flour
1 teaspoon of baking soda
1/2 teaspoon of vanilla extract
3 large bananas
Steps:
1. Pre-heat the oven to 180° Celsius and grease a loaf tin.
2. Place the sugar and butter in a bowl. Cream them using a hand held mixer. Do this until the mixture is light and pale.
3. Mix one egg and a little flour thoroughly. Continue to do the same with the other egg and the rest of the flour with the addition of baking soda. Ensure that the concoction is mixed through and smooth.
4. Mash the bananas with the back of a fork after peeling. Mix through in a bowl with vanilla extract.
5. Pour the mix into a well-greased loaf tin before placing in an oven for 50 minutes. To stop it from browning too much on top, you can cover with tinfoil after 25 minutes. This is only if you need to.
6. Check if the banana bread is ready by inserting a metal skewer into the centre of the loaf. It's considered done if it comes out clean. Take the banana bread out of the loaf tin and put on a wire rack to cool. 
3. Dominique Ansel's Banana Bread
Known as one of the most popular pastry chefs in the world, Dominique Ansel has taken to Instagram to reveal a banana bread recipe from his latest book, Everyone Can Bake. Watch him bake above and start baking yourself with the steps below.
Ingredients you require are:
400 grammes of granulated sugar
250 grammes of all-purpose flour (additional for dusting)
3 grammes of baking soda
2 grammes of ground nutmeg
5 grammes of salt
5 grammes of baking powder
3 large eggs
400 grammes of  bananas (peeled and mashed)
200 grammes of unsalted butter (melted, additional for greasing)
Steps:
1. Pre-heat oven to 175° Celsius. Butter the bottom, sides, and edges of the loaf pan before pouring in some flour. Shake until the pan is evenly coated. Proceed to tap out any excess flour.
2. Mash the bananas with a fork in a large mixing bowl. With a spatula, mix the dry ingredients and the eggs together until well combined. After that, stir in the melted butter until completely through.
3. Pour the batter in the prepared pan—filling it to two centimetres from the top. Bake until the cake is golden brown. This will take approximately an hour. With a cake tester or paring knife, check if they come out clean.
4. Let the cake cool in the pan for 15 minutes. Turn the cake out of the pan while still warm.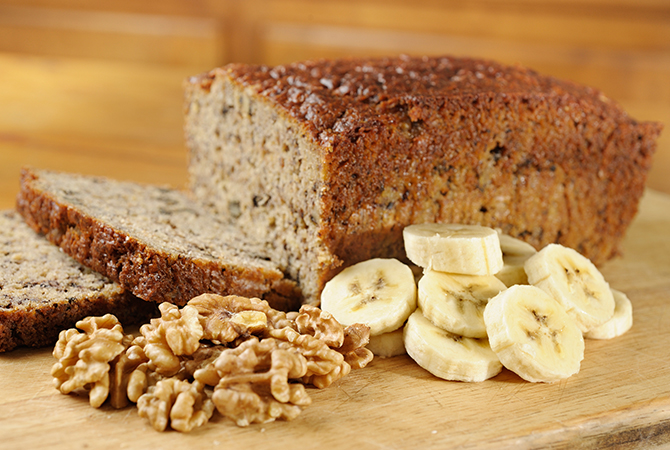 There you go! Banana bread is one of the most iconic delicacies to make at home. If you haven't, now's your turn to try baking one for yourself. Don't worry if you don't succeed on your first attempt, you have all the time in the world to work on your skills. If you don't have adequate ingredients, why not figure out possible substitutes? You might just end up with your very own tasty banana bread variation. Meanwhile, stay safe and continue to practise social distancing!
For more recipes to try at home, click here.