Team Buro gave two out of the five new drops a try. Here are our verdicts
It's T-minus two weeks 'til 2020, and if you've set your New Year's Resolutions and one of them is to practice a more active lifestyle, we've found the perfect motivational boost for you to get excited to head to the gym—trendy workout clothes! Below are five new sport collections that are now in stores.
Nike Icon Clash collection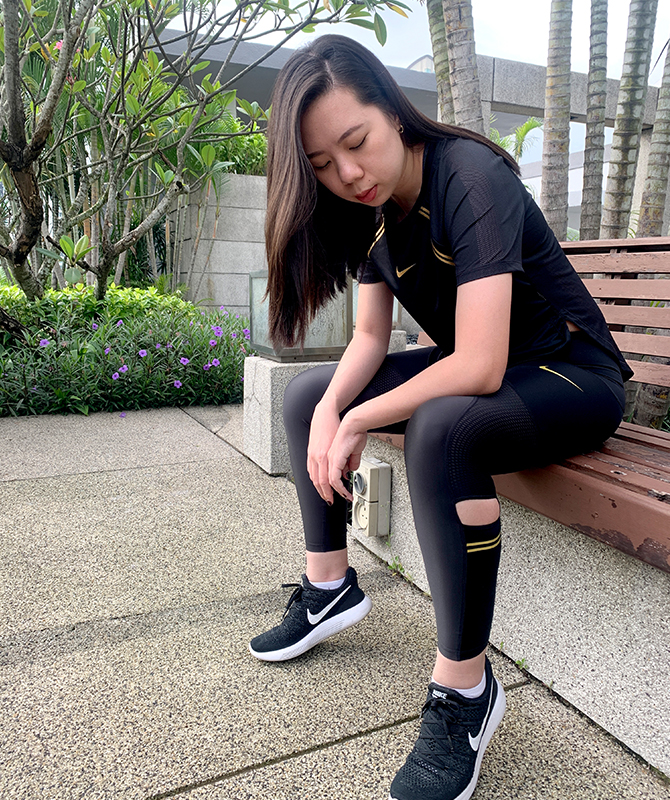 "What's the first detail that comes to mind when you think of a basketball court? If your answer is court lines, that's exactly what the Nike Icon Clash is all about. Inspired by basketball designs, this season's line-up are made up of pieces that can be worn to the gym and out and about. I got my hands on the short-sleeved running top and Nike Speed 7/8 running tights, and while they are comparably "safer" compared to some of the more striking separates in the collection, take a closer look and you'll notice the gold-trim details and striped mesh fabric that amp up the style factor. I put the co-ords to the test during a HIIT workout, and although I usually prefer a high-waist fit for my leggings, I really liked how comfortable I feel in them, thanks to the mesh panels and cut-outs that enhance the breathability—much needed for an intense class!" — Joan Kong, Fashion Editor

Adidas Pulseboost HD Winterised shoes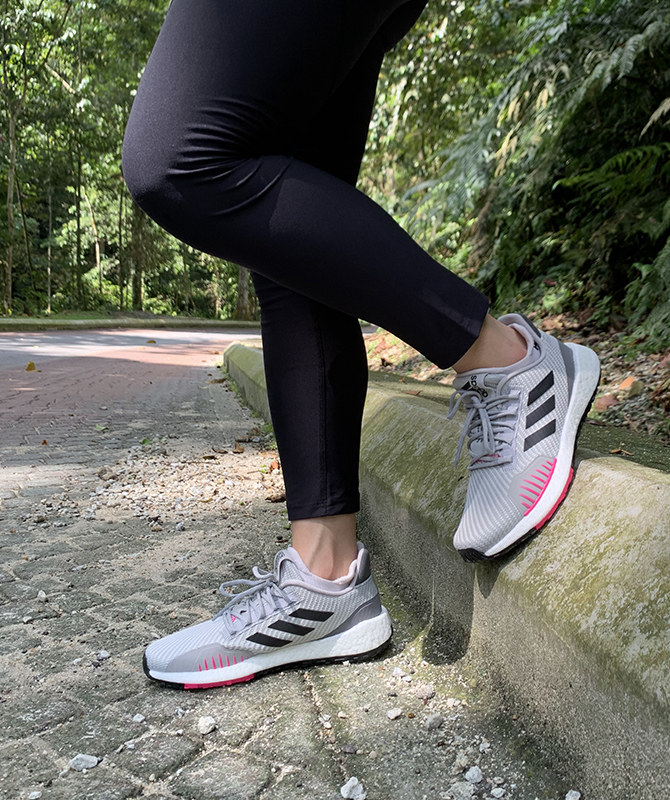 "One of the things that I hate about running—aside from my lack of stamina—is that I'm always at the mercy of the weather. Some days the clouds stay away with a cooling breeze in the air but on many occasions of late, the sky turns dark and droplets of rain come pouring down hard every evening. The monsoon season is no fun at all. I can't clock in a decent run without experiencing the dread of wet socks and cold toes. Enter Adidas' new Pulseboost HD Winterized shoes. This pair of low-profile shoes is enveloped in a water-repellent Ballistic Nylon upper and the latest Boost tech sole, which translate to better, drier run especially when the weather is not on your side. If you're one of those who can't go through a week without a few laps in between—rain or shine—do consider the Adidas Pulseboost HD Winterized for these reasons: 1) The rain-proof treatment; 2) Solid and comfortable fit (especially for my wide feet); 3) high-density cushioning; and 4) Continental rubber sole that lends a great grip" — Gwen Ong, Associate Editor
Puma x Sophia Webster
After three well-received collections, Puma and British footwear designer Sophia Webster have partnered up for one last time, and this round, they ventured into the urban jungle. A perfect mash-up of sporty silhouettes with street-style, the designer tuned up the wild side with a line-up filled with bright and bold hues, pops of metallic and animal prints. Highlighting some of the sportswear brand's popular kicks including the Suede, Nova, Aeon, and Cali, some designs feature leopard-motif soles, a panel of glitter, and a combo of pastel hues for that girly finish. The best part? These pieces also come in kids' size, so you'll be able to twin with your mini-me!

Onitsuka Tiger x Sulvam designer Teppei Fujita
Onitsuka Tiger announced its line-up of designer collaborations as part of its 70th anniversary celebration this year, and its latest drop, is in partnership with Teppei Fujita of Japanese label Sulvam. Inspired by the concept of fashion being free, the designer plays with a monotonous black-and-white base with white stitches embroidered all over. The same goes to the tracksuit, with an addition of the brands' logos embellished with tape on both sleeves.
Under Armour's Misty Copeland Collection
Having collaborated with Under Armour for the third year in a row now, principal ballerina Misty Copeland has always strived to create empowering performance-wear that women feel confident in, and her latest UA Signature Collection is no different. Similar to previous seasons', the pieces—which include sport bras, tops, jackets and leggings—come in an array of fail-proof colours, while cut-outs and mesh remain a mainstay throughout the collection.
All five collections are now available in stores.