Start planning for the year-end holidays by winning a staycation for two at W Kuala Lumpur — includes a 90-minute massage session
Take a quick glance at the calendar and you'll find that there are still a couple of public holidays to go before 2018 ends. And one of the best ways to spend those long weekends (where you only need to take one day of leave) is unwinding at a luxurious hotel in town such as W Kuala Lumpur. You could head out and hit the hottest bars, watch a super late night movie and not worry about driving back, go on a shopping spree — or you can take it easy and stay in. Here are some of the things you could be doing within W Kuala Lumpur. 
1. Unpack and unwind in the room
Kick back, relax and enjoy the room and its host of luxurious comforts: from the stunning views of the Petronas Twin Towers to the large TV screen with cable channels to the ever-tempting bathtub.
2. Go for a dip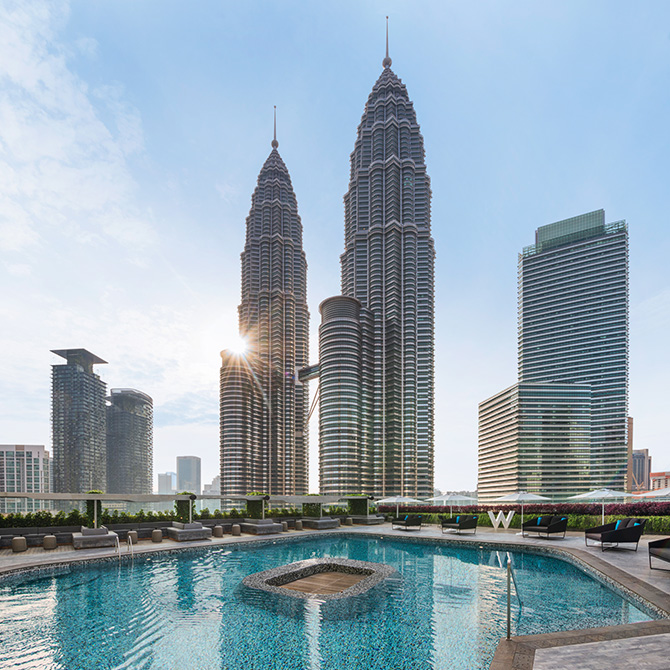 Or take that envy-inducing Instagram-worthy shot.
3. Work up a good sweat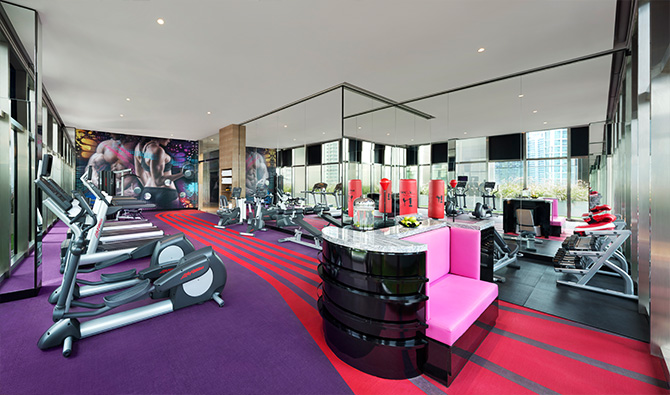 It's not for everyone but for those who have always found it difficult to make time to work out, the hotel's Fit gym would be a good fit with its state-of-the-art equipment and glorious views of the city skyline.
4. Be pampered from head to toe at the spa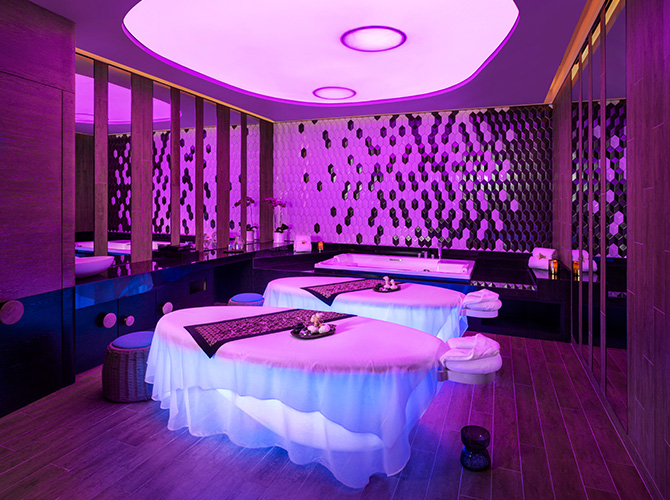 A 1,100-square-meter oasis, the Away Spa offers massages and treatments, vitality pools, chroma-therapy steam baths and bio infared saunas. Alternatively, head over to the Beauty Bar by 176 Avenue for manis and pedis as well as hair and eyelash extension services.
5. Eat in
There are plenty of good restaurants and amazing street food around KL but if you're feeling a little lazy to venture out, the dining options within the hotel are more than satisfactory. Flock is the all-day dining restaurant where expert chefs serve up Australian farm-to-flock dishes while Yen is the Chinese restaurant that offers a contemporary take on traditional Cantonese recipes, including dim sum. For something a little fancier, Saint Pierre, which has a Michelin star in Singapore, has also taken up residence at W Kuala Lumpur with its tantalising contemporary French menu.
6. Party in
Similarly, there's no need to go too far for great cocktails and an even greater nightlife scene. WooBar is ready to please with its fun concoctions and inventive bar bites while the Wet Deck pool bar promises an amazing up-close view of the Petronas Twin Towers and awesome sessions by guest DJs.
Sounds like the perfect local staycation? Win it for you and a deserving loved one as we're offering the following two prizes:
 3D2N stay in a Marvellous Suite with daily breakfast a 90-minute Inner Glow* massage at Away Spa for 2 persons
2D1N stay in a Wonderful Room with daily breakfast and a 90-minute

 

Inner Glow* massage at Away Spa for 2 persons
*Winners may choose one out of six options on the Inner Glow menu with an additional 'perk' which can be a shoulder massage, eye massage or oxygen mask to revitalize skin.
The giveaway is now closed. Congratulations to the following winners:
The giveaway runs from today till 29 November 2018. Winners will be announced on 4 December 2018 on this page. By joining this giveaway, you will be automatically subscribed to our Buro 24/7 Malaysia e-newsletter. Other terms and conditions apply*.

1. Employees of Buro 24/7 Malaysia and its related corporations ("Indochine Media Ventures") or Buro 24/7 Malaysia partners and/or sponsors for the giveaway (if applicable), and their immediate family members (including spouses, children, parents, brothers and sisters) are not eligible to participate in the giveaway.
2. Winners of this giveaway are chosen at random.
3. This giveaway is organised by Buro 24/7 Malaysia (hereinafter referred to as the 'Organiser'). 
4. The prizes for this giveaway are neither exchangeable for cash nor transferable.
5. All persons ('Participants') taking part in this giveaway agree that these rules shall be binding on them, and that the entries in this giveaway, including their name and likeness, may be used without restriction in any future publicity material by the Organiser.
6. The Organiser reserves the right to amend these rules or terminate the giveaway at any time at its sole and absolute discretion. All decisions made by the Organiser under these rules shall be final and no discussion or correspondence will be entertained. The Organiser may, but is not required to, justify any decisions relating to this giveaway.
7. The Participant acknowledges that the interest and good reputation of the Organiser are of paramount importance. The Organiser reserves the right to disqualify a Participant from the giveaway, or to withdraw the prize if it is believed the Participant is in breach of its obligations under the rules. The Participants shall not by act or omission, directly or indirectly bring the Organiser into disrepute.
8. All entries are sent at the risk of the Participants and in the event that there are technical difficulties experienced arising out of the internet or from any associated equipment or internet security is compromised, the Organiser may at its sole and absolute discretion disqualify the entire entry and shall not accept any liability doing so.
9. Giveaway entries may only be submitted via the stated medium of communication.
10. This giveaway is open to anyone above 18 years old.
11. Each entry must be completed in full. The Organiser reserves the right to disqualify any incomplete entries in its sole and absolute discretion.
12. Participants shall only submit one entry and multiple entries of the same shall be treated as 'spam' and shall be ignored.
13. Incomplete entries will be deemed void.
14. Winners will be notified by email.
15. Uses of 'aliases' shall be considered a form of deception and are prohibited.
16. The winner must produce their original IC / passport with legible IC / passport number in order to claim the prize. The winner may also be required to produce additional original proof of identity at the discretion of the Organiser.
17. All Prizes are accepted entirely at the risk of the winner, and the Organiser excludes all warranties in connection with the prize to the extent permitted by law.
18. All Participants release from, and indemnify the Organiser, its agencies, sponsors and representatives against, all liability, cost, loss or expense arising out of acceptance of any prize or participation in the giveaway including (but not limited to) personal injury and damage to property and whether direct or consequential, foreseeable, due to some negligent act or omission or otherwise. 
19. All personal particulars furnished are meant for identification purposes and will not be sold or given to any third parties. In the case of giveaways, our partners may wish to offer you services which require your personal particulars. These specific requests will be expressly stated within relevant giveaways, with a choice to opt out.
20. Inability to contact the winner by 11 December 2018 will result in disqualification and selection of an alternate winner.
21. Winners must collect their gifts from our office in Mont Kiara within 1 month of notification.
22. Prizes are final; no cash equivalent or alternative prize will be given. Prizes are non-transferable, non-exchangeable and strictly not for resale. If the winner is found to be selling the prize(s), the Organiser reserves the right to demand the return of the prize.