Thinking of bringing relaxation and comfort back into your life? We have just the prizes for you
The capital of Malaysia is amazing. Within Kuala Lumpur, there are a myriad of spots to explore—indoor and outdoor. If staying in sans the heat is more your thing, here's some good news for you. Not only are there long weekends ahead, we will be giving lucky Buro readers the perfect staycation (and spa) at some of the best hotels in the city with prizes worth RM11,000++! Have we caught your attention yet? Read on for the where and how.
Sofitel Kuala Lumpur Damansara
This 312-room hotel is located in the heart of Damansara Heights with guestrooms ranging from 43 to 105 square metres. Furniture pieces are designed using earth tones while French and modern touches adorn the décor. Even better, each room comes equipped with a premium selection of toiletries from Lanvin.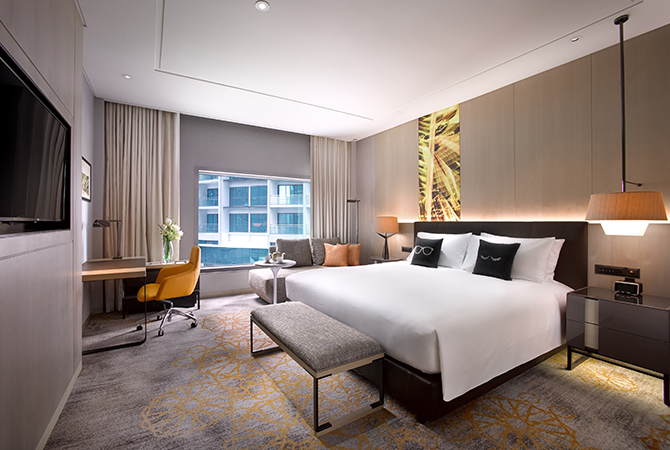 There are numerous activities to do while you're there. Cool down in the pool, stroll along the gardens, or work out in the 24-hour gym. Thinking of pure relaxation instead? Head over to So Spa where you can indulge in the So Hammam Ritual. What is it? The treatment cleanses the skin with Savon Noir Beldi olive-rich black soup, body mask, tea elixir, and Argan Oil.
Sheraton Imperial Kuala Lumpur
The newly-refreshed hotel now has 398 rooms as well as a bright and contemporary finish. It is really easy to get there too—strategically located at the main artery of the city centre, Jalan Sultan Ismail.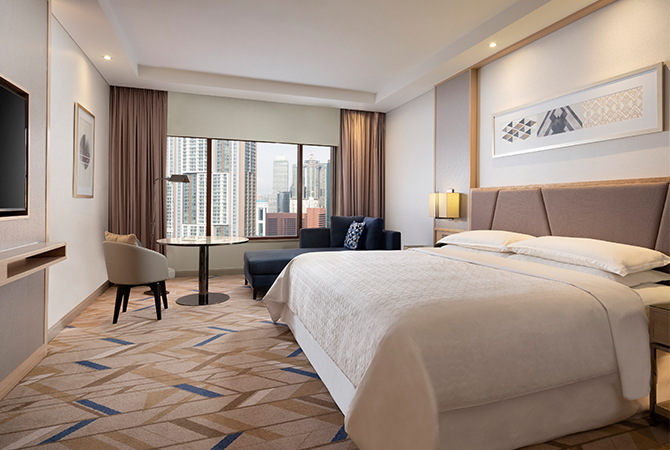 Apart from the hotel's vicinity to major landmarks such as the KL Tower and Pavilion KL, you can also treat yourself at the on-site spa, gym, and outdoor pool. If you're hungry and don't feel like heading out, there are three restaurants to select from: Celestial Court, Essence, and Villa Danieli.
The RuMa Hotel and Residences
The hotel's spa by Urban Resort Concepts (URC) is known for its distinctive approach to wellness and beauty. Before any treatment, you will enjoy a Kabat stretch and botanical inhalation as a welcome ritual. There are five signature therapies here, such as the UR Ageless, UR Active, UR Vital, UR a Warrior, and UR a Goddess.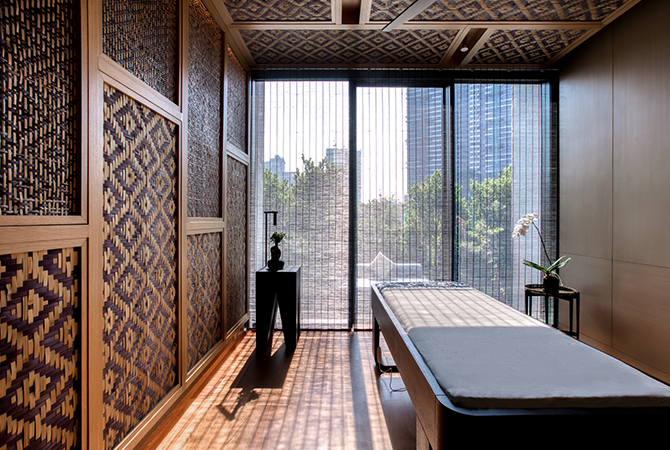 There are also treatments that incorporate the healing traditions of indigenous cultures, including the Malay art of Urut. You will also have access to Truefitt & Hill for the best in grooming and lounge at the pool bar.
W Kuala Lumpur
Spanning 1,100 square metres, there are two facilities for you to use—Beauty Bar and Spa. All five luxury treatment rooms and six bespoke massage beds come with soothing light so you feel comfortable. Whether it's a Shoulder Quick Fix or Scalp Massage, the Away Spa in W KL has everything for an immersive experience.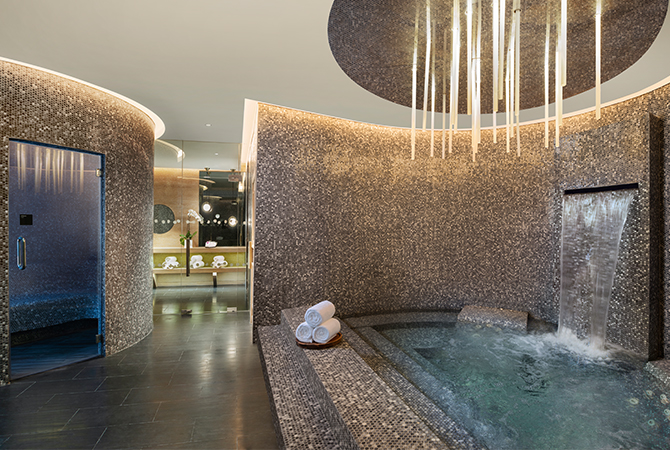 Once you're done with the spa, you can also head over to Yen for dinner. This is where you can feast on redefined Chinese classics. Helmed by Executive Chef Weng, expect contemporary takes on dim sum. There is also a wide array of seafood and some of the world's most exquisite Chinese teas.
The giveaway is now closed. Congratulations to the following winners:
Sofitel Kuala Lumpur Damansara
Nur Yasmin Nabila - 1 x 2D1N Stay at Luxury Room inclusive of breakfast for 2 pax
Chong Yi Peng - 1 x So Hammam Ritual at So SPA
Stephanie Teoh - 1 x Dining Voucher worth RM500 @ Nizza
Sheraton Imperial Kuala Lumpur
Angelina Wee - 1 x 2D1N Stay at The Club Suite including breakfast for 2 pax
Wednesday Tan - 1 x 2D1N Stay at The Club Suite including breakfast for 2 pax
Hannah Jonas - 1 x 2D1N Stay at The Club Suite including breakfast for 2 pax
Nurizzati Ramle - 1 x Classic Afternoon Tea for 2 pax
Arissa Lian - 1 x Classic Afternoon Tea for 2 pax
Wong Siow Chiun - 1 x Classic Afternoon Tea for 2 pax
The RuMa Hotel & Residences
Camie Ler - 1 x UR SPA Treatment (90 Mins)
Lin Ye Shan - 1 x UR SPA Treatment (90 Mins)
Iman Nadira - 1 x UR SPA Treatment (90 Mins)
Kammy CJ - 1 x UR SPA Treatment (90 Mins)
Tay Xin Lei - 1 x UR SPA Treatment (90 Mins)
W Kuala Lumpur
Lucille Joyce Dayan - 1 x AWAY Spa Voucher (90 Mins)
Mavis Ang - 1 x AWAY Spa Voucher (90 Mins)
Cheryl Jae - 1 x AWAY Spa Voucher (90 Mins)
Sammie Tan - 1 x Yen Voucher for Set Dinner
Lee Boon Leong - 1 x Yen Voucher for Set Dinner
Lee Yan Ling - 1 x Yen Voucher for Set Dinner
Total of 20 lucky winners will be selected.
GIVEAWAY ALERT: Stand a chance to win staycations and spa sessions in some of the best hotels in KL by following the steps below:
1. Hit the "Like" button and "Follow" Buro Malaysia's Facebook Page
2. Like this Facebook Post
3. Fill up the Giveaway Form as shown below
4. Share the Facebook Post with the
#BuroGiveaway
(Be sure your share settings are on Public)
5. Drop us a comment after completing the above steps!
Create your own user feedback survey
The giveaway runs from Today till 22 September 2019. Winners will be announced on 25 September 2019 on this page. The collection period is between 30 September to 4 October. By joining this giveaway, you will be automatically subscribed to our Buro 24/7 Malaysia e-newsletter. Other terms and conditions apply*.
*Terms & Conditions
1. Employees of Buro 24/7 Malaysia and its related corporations ("Indochine Media Ventures") or Buro 24/7 Malaysia partners and/or sponsors for the giveaway (if applicable), and their immediate family members (including spouses, children, parents, brothers and sisters) are not eligible to participate in the giveaway.
2. Winners of this giveaway are chosen at random.
3. This giveaway is organised by Buro Malaysia (hereinafter referred to as the 'Organiser').
4. The prizes for this giveaway are neither exchangeable for cash nor transferable.
5. All persons ('Participants') taking part in this giveaway agree that these rules shall be binding on them, and that the entries in this giveaway, including their name and likeness, may be used without restriction in any future publicity material by the Organiser.
6. The Organiser reserves the right to amend these rules or terminate the giveaway at any time at its sole and absolute discretion. All decisions made by the Organiser under these rules shall be final and no discussion or correspondence will be entertained. The Organiser may, but is not required to, justify any decisions relating to this giveaway.
7. The Participant acknowledges that the interest and good reputation of the Organiser are of paramount importance. The Organiser reserves the right to disqualify a Participant from the giveaway, or to withdraw the prize if it is believed the Participant is in breach of its obligations under the rules. The Participants shall not by act or omission, directly or indirectly bring the Organiser into disrepute.
8. All entries are sent at the risk of the Participants and in the event that there are technical difficulties experienced arising out of the internet or from any associated equipment or internet security is compromised, the Organiser may at its sole and absolute discretion disqualify the entire entry and shall not accept any liability doing so.
9. Giveaway entries may only be submitted via the stated medium of communication.
10. This giveaway is open to anyone above 18 years old.
11. Each entry must be completed in full. The Organiser reserves the right to disqualify any incomplete entries in its sole and absolute discretion.
12. Participants shall only submit one entry and multiple entries of the same shall be treated as 'spam' and shall be ignored.
13. Incomplete entries will be deemed void.
14. Winners will be notified by email.
15. Uses of 'aliases' shall be considered a form of deception and are prohibited.
16. The winner must produce their original IC / passport with legible IC / passport number in order to claim the prize. The winner may also be required to produce additional original proof of identity at the discretion of the Organiser.
17. All Prizes are accepted entirely at the risk of the winner, and the Organiser excludes all warranties in connection with the prize to the extent permitted by law.
18. All Participants release from, and indemnify the Organiser, its agencies, sponsors and representatives against, all liability, cost, loss or expense arising out of acceptance of any prize or participation in the giveaway including (but not limited to) personal injury and damage to property and whether direct or consequential, foreseeable, due to some negligent act or omission or otherwise.
19. All personal particulars furnished are meant for identification purposes and will not be sold or given to any third parties. In the case of giveaways, our partners may wish to offer you services which require your personal particulars. These specific requests will be expressly stated within relevant giveaways, with a choice to opt out.
20. Inability to contact the winner by 2 October 2019 will result in disqualification and selection of an alternate winner.
21. Winners must collect their gifts from our office in Mont Kiara within 1 month of notification.
22. Prizes are final; no cash equivalent or alternative prize will be given. Prizes are non-transferable, non-exchangeable and strictly not for resale. If the winner is found to be selling the prize(s), the Organiser reserves the right to demand the return of the prize.