London is giving us piece of its mind with statement jackets and powerful silhouettes
To say we were greeted with a chilly welcome in this next fashion capital would be only accurate if the weather was the subject in reference. In terms of London Fashion Week's first foray into the style game this season, it was nothing short of a warm reception.
The coats and jackets that cosied the shoulders of showgoers are almost making us resent the constant hot and balmy weather in our neck of the woods. Read on for seven of the best outerwear looks we wished we could sport right now.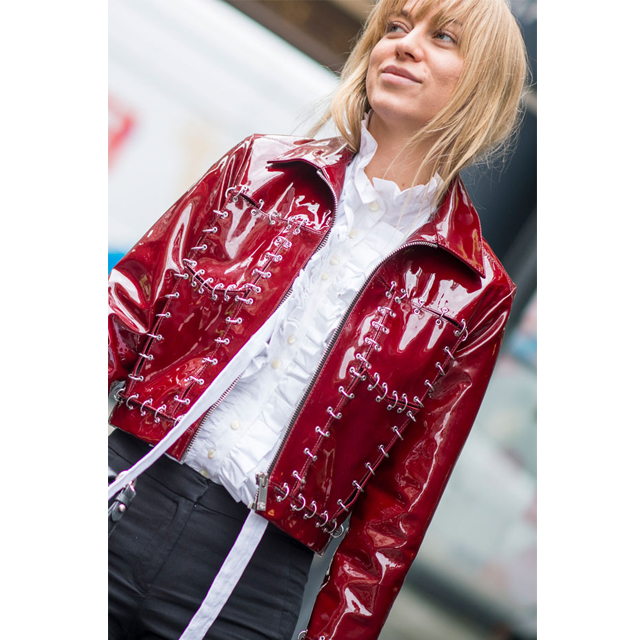 Red hot and reflective of the London's ubiquitous palace guards and double decker behemoths, this jacket with its high-gloss finish and excessive piercings reminds us of a slick baddie, all pierced and tatted up, that we can't help but love.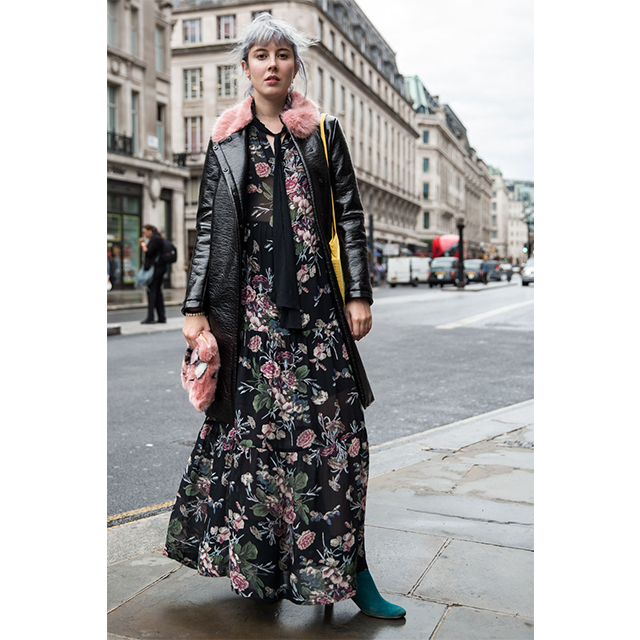 The black moto jacket is classic but a long-line coat in black leather delivers the edge with an alternative sense of cool. The addition of pink fur collar (with matching clutch) is an unexpected detail that illuminates the offbeat personality of the ensemble and its wearer.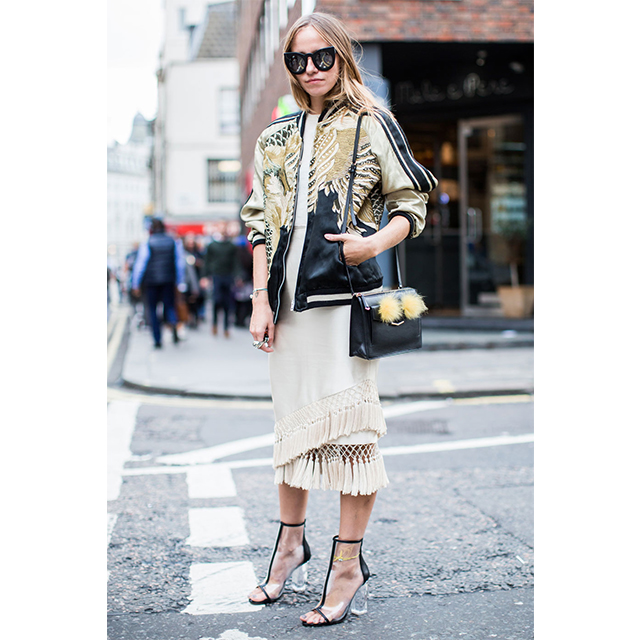 All the rage right now, of course, bombers are making an appearance in the English capital as well. This silky black number with gold panelling and feathered embroidery fits perfectly with the subtle chinnoiserie theme projected by the beige tassled skirt worn.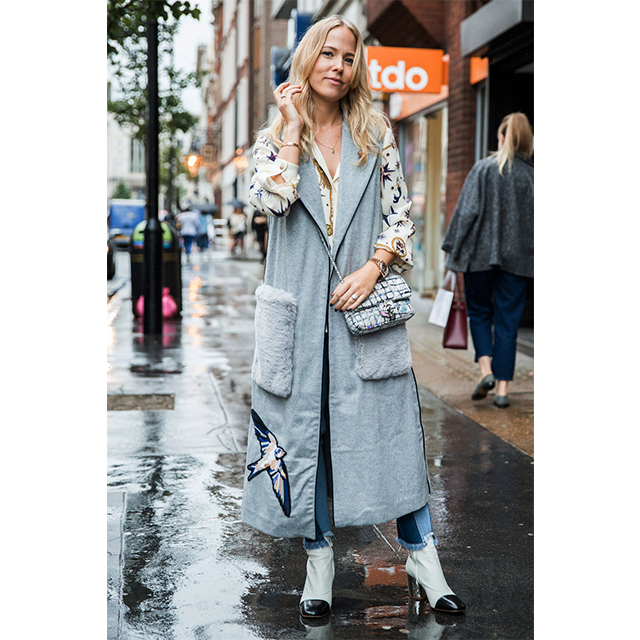 Here's one way we can wear jackets in our climate. Sleeveless styles eliminate chances of unwanted patches of perspiration while allowing for an extra element of structure through layering. We suppose wooly pockets wouldn't hurt when malls get too cold either.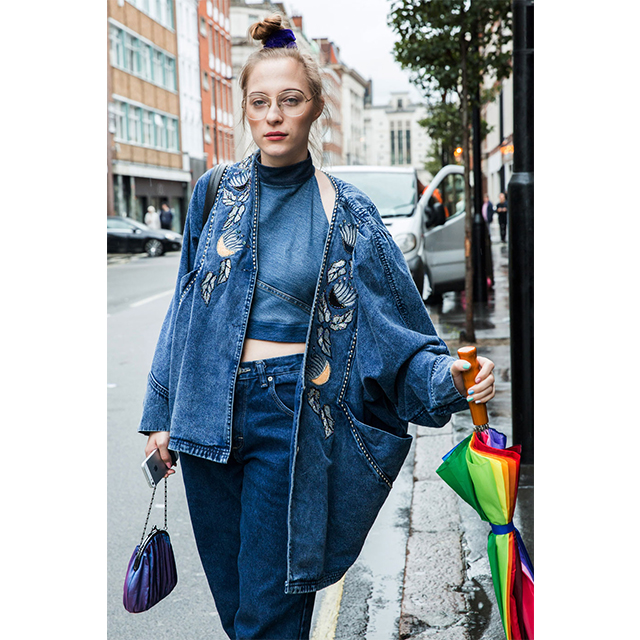 Ah, London reigns unchallenged in the realm of eccentric streetwear. Denim-on-denim-on-denim with a duochrome purse in one hand and a rainbow umbrella in the other, we have got to tip our hats to how they all work in undeniable harmony with the final crowning glory of a top knot in a blue scrunchie. (How do we be as cool as her?)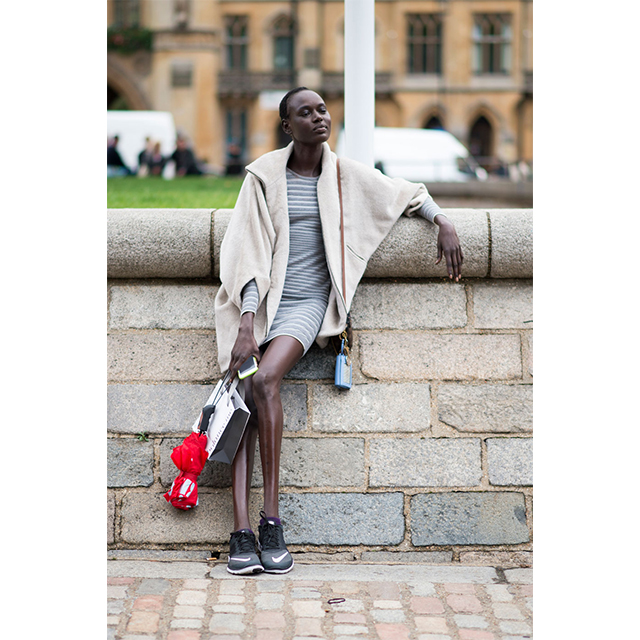 Strong silhouettes are usually a given when wearing coats. However, it doesn't hurt when a piece boasts a creative cut especially when used to dress up casual basics. The roomy batwing and cropped sleeves alongside the wide extended lapels complement and add shape to the tight dress underneath.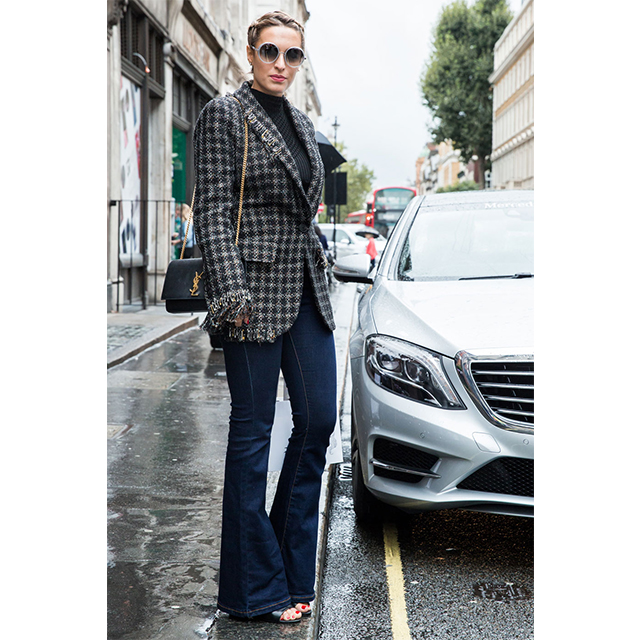 Finally, how could we feature London sans Savile Row. Well, we are not sure if this is from the famed tailors of Savile Row but it sure pays generous homage with the classic tweed and nipped-in waist silhouette.
Related stories:
London Fashion Week SS17: Highlights of Day 1
New York Fashion Week SS17: Day 8 Street Style