Discover the transversal story inspired by Nicolas Ghesquière's futuristic universe with 'Louis Vuitton x Printemps' and learn more about Faye McLeod, Visual Image Director at LVMH
From now to the 22nd of October, buying a ticket to Paris would give you a pass to two different destinations—the French capital and an extraterrestrial land with figures afloat in lunar fantasy.
The windows of Printemps Hausmann have been transformed into an otherwordly landscape illustrating the art of travel with Louis Vuitton by window dresser extraodinaire, Faye McLeod. Pay a visit and be whisked away to a cosmic universe with a stratum of sand, ochre stone and intense blue light spanning across a theatre of eleven windows.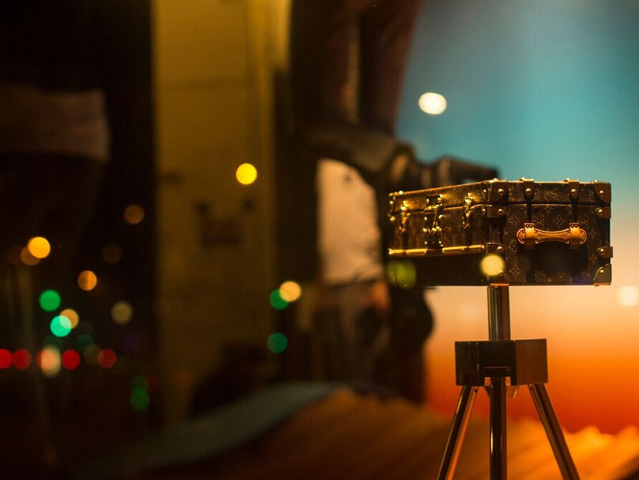 The collaboration between the illustrious Parisian department store and the French Maison also sets the stage for 'le Parfum', Louis Vuitton's highly-anticipated perfume (to be launched on September 1st)—marking new horizons for the House with its venture into the realm of fragrances. The stagecraft extends into a pop-up store in the atrium of Printemps where event-exclusive leather goods, accessories, shoes and ready to wear garments will be showcased.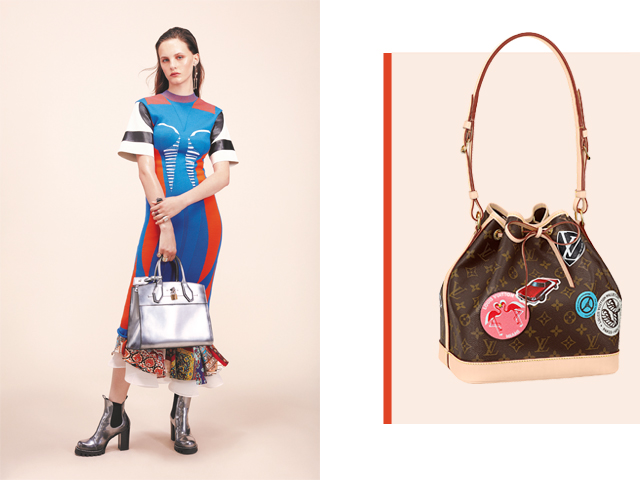 The fantastical journey would not have been possible without the mastermind behind the ceaselessly amazing window presentations at Louis Vuitton, Faye McLeod.  Hailing from Glasgow, Faye has trailblazed the way in the arena of window design and which led to her appointment as LVMH Visual Image Director in 2012.
Taking time out of her busy schedule between her studios in New York and Paris, Faye gives Buro 24/7 a peek into the framework of her experience with Louis Vuitton.
Let's start from the very beginning; tell us about your first window for Louis Vuitton.
It was for the New Bond Street store opening. We created cabinets of curiosities with small leather goods transformed to look like taxidermied creatures under glass jars. My favourites were a giraffe and the little green frog.
What about the most unusual design you've worked on? 
That would probably be our Frank Gehry window. We worked on Frank's software to get the engineering and layout of the suspended sweeping metallic sails just right-and the way Frank wants it, of course.
You've mentioned that you consider different cultures and geographies when designing. What are some things that impact the creative process of coming up with a new window display?

All windows are architecturally unique and we tailor the design to fit. Also, we aim to be culturally relevant; especially with windows for new store openings. The British wit of the windows for the New Bond Street store is a perfect example-we wanted to engage the eccentric collector with a sense of humour.
Speaking of your works, which was the trickiest one in terms of production?
They are all pretty tricky as our timelines can be short and our level of production quality is high. Yayoi Kusama was a long process as we produced these centrally and validated everything in Tokyo with Yayoi and her team. We aimed for perfection and in my view we achieved it as noses were pressed against the glass in every city. 
You worked with Daniel Buren and Yayoi Kusama. What's creating something with leading contemporary artists like?
We've been very lucky to collaborate with characters who have really welcomed us into their world. We constantly have to pinch ourselves as it is such an honour to see them so happy seeing the end result and how viewers interact with our window space. The process has so far been joyful on every level.
What's the next big thing in window decoration?
Technology will be a big factor in the future. We have yet to see that really materilize in the world of windows. We don't follow trends at Louis Vuitton as we work so far in advance (12 months) that we have to use our instinct and storytell from the heart.
As for working with superbrands like Louis Vuitton, how does one balance creativity with the business side of things?
Personally, I love both! Working with both mindsets is what drives me. The more knowledge we have, the more creative the ideas; and the better the results. It's all about engaging the viewer visually through our storytelling.
What's the creative process like in the studio?
We have a no rules policy to getting an idea out. So, be it printing, plasticine, drawing or cutting up some vintage object I've found, everything goes. We work hard to make it a safe and fun environment to create. There would be music playing rather loudly, the 3D printer whirring, and models being built amidst tea, coffee, and activity aplenty.
What's the most difficult part of the process?
Coming up with the idea... Sometimes it flows easily, and sometimes it doesn't...
Finally, would you be able to shed some light on the Louis Vuitton x Printemps windows? We'd love to hear the story from your lips!
We created a galaxy, a landscape far far away. The collections are shown using special sculpted mannequins that float in space and products are perched atop shiny tripods. Also, we worked with Michel Gaubert on music to be played in the streets to accompany the set up. It was so much fun designing this and partnering with the Printemps teams who are always so encouraging to work with. I hope the viewers enjoy these unique windows. 
'Louis Vuitton x Printemps' windows will be on display from August 27th till October 8th, while the pop-up store will be held until October 22nd.
Related stories:

Louis Vuitton redesigns its packaging with a touch of saffron
Les Parfums Louis Vuitton coming to Malaysia this 2017

Buro 24/7 Exclusive: Marc Newson for Louis Vuitton's 'Rolling Luggage'