Your catch-up to the biggest headlines in fashion this week
Bally helps clean up Mount Everest with an organised clean-up
Inspired by its own pioneering heritage, the Swiss luxury brand launched the Peak Outlook initiative with the aim to preserve mountain environments, and made Mount Everest its first target. Previous clean-ups of the iconic mountain have been organised but reaching the peak at 8,848 metres was unprecedented. Lead by Dawa Steven Sherpa and his team of experienced climbers and guides, they successfully removed two tonnes of waste from the Himalayan mountain range. Items left behind from previous expeditions such as sleeping mats, winter apparel, climbing equipment, tents, empty petrol canisters, ropes and ladders were removed from Mount Everest, returning the mountain to its original pristine conditions. We love seeing luxury brands doing their part to make positive change!

Versace recreates J.Lo's iconic Grammy red carpet fashion moment with a pair of sneakers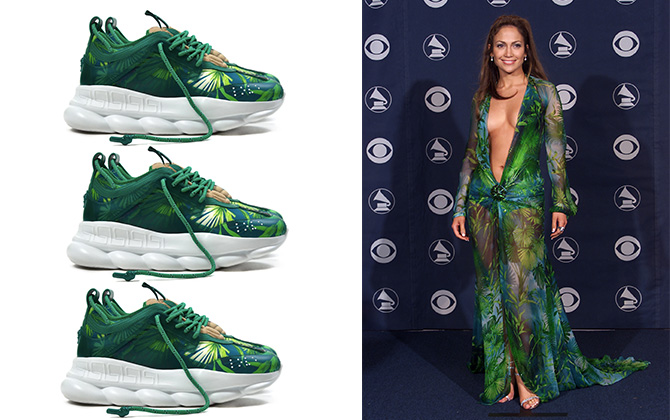 It's been 19 years since J.Lo wore that gravity-defying tropical-print sheer dress from Versace to the Grammy's in 2000. (19 years...we'll give you a minute to let that sink in). If social media existed in 2000, she would've broken the internet. According to Project Syndicate, it was the most popular search query that Google had ever seen at that time. In collaboration with American brand Concepts, the two have partnered for a limited edition pair of Chain Reaction platform sneakers which features the same green, leafy print on J.Lo's navel-plunging dress. It's the closest we can get to being Jenny from the block. The sneakers are available in men's and women's sizes and can be purchased online at Concept's web store.
Fendi announces a special collection with Chinese brand ambassador Jackson Wang
The instantly recognisable FF logo is reimagined with a muted black tone-on-tone colourway that goes hand in hand with Jackson Wang's cool and relaxed style, and is featured on ready-to-wear apparel and accessories. Another Fendi classic that gets the Jackson Wang treatment is the Baguette bag, with the logos in velvet, embroidered on the frontal flap. The Fendi x Jackson Wang capsule collection will be made available exclusively to 33 selected Fendi boutiques around the world. The closest to us Malaysians will be the Fendi boutique at Marina Bay Sands, with the collection launching on 5 August.
Will Smith is the face of Moncler's 'Genius is born crazy' campaign
The Fresh Prince of Bel-Air collaborating with Moncler? That's genius! In the campaign, the Hollywood legend dons Moncler's signature puffer coat in bright red, paired with silver trousers, cross-legged while levitating. Very zen. The actor, producer and musician revealed on an Instagram post that he's always admired Moncler but when he got the call from the fashion brand, his first thought was "These [jokers] must be crazy". He continued, "I've always dug their gear. So I listened to their ideas. Then I was like... that might be genius! I started pondering the relationship between crazy and genius, and I got more and more intrigued. Real dreamers always get called crazy!"
Armani Hotel in Milan offers an exclusive one-time only offer this September 2019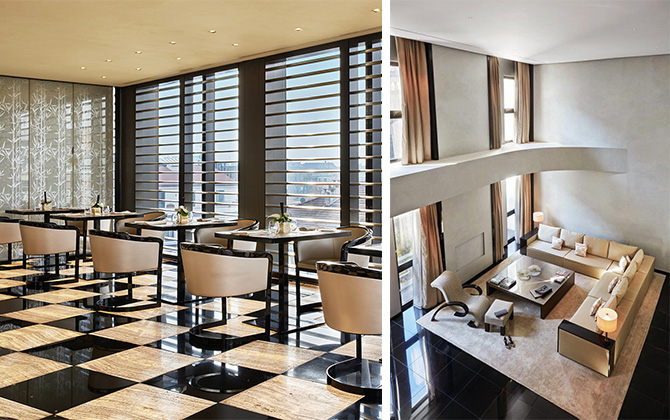 Do you have plans to visit the world's fashion capital in September? If you are, you might want to consider staying at the luxurious Armani Hotel to coincide with your trip. When in Milan, do as the Milanos do and go all out. Pamper yourself with a stay at the Armani Presidential Suite or Armani Milano Suite for the ultimate Italian experience. With a minimum of a 3-day reservation, you will be provided with 2 tickets to the Giorgio Armani Autumn/Winter 2019 Fashion Trunk Show where you can shop the latest season's collection.
MSGM joins forces with Fila to revive a classic chunky sneaker from the '90s
For its Autumn/Winter 2019 Men's collection, MSGM partnered with fellow Italian brand Fila, and reinterpreted one of the latter's most iconic styles from the '90s—the Fila Silvia Trainer sneaker. The updated sneakers are made with faux leather and nylon on a 3D patterened sole which guarantee support, resistance and performance... heaven-sent kicks for true athleisure fans.The MSGM x Fila collection is now available at Parkson Elite, Pavilion KL.