30 years on from his debut menswear collection in 1986, Belgian designer Dries Van Noten sits down for an exclusive interview with Buro 24/7 to ruminate on the current state of fashion
One day after his rather excellent SS17 menswear show, we find Dries Van Noten sitting in his Paris office in the Marais, talking about the current state of fashion and his role as a designer. Van Noten is pensive when he speaks, weighing each word carefully. This is how one imagines him at work, always with a deliberate sense of purpose and meaning.
Van Noten's show was a riff on the Arts and Crafts movement that originated in England at the end of the 19th Century as a reaction against industrialisation. Mass manufacturing brought much-needed products, but it also brought alienation and despair. Leading members of the creative class William Morris and John Ruskin railed against the soullessness of modern production, calling for an artisanal movement that connected the maker and the consumer through products made with care. More than one hundred years later we find ourselves in the same boat. There is too much stuff—most of it badly made—to be quickly consumed and discarded. "Fashion has become such an industry, such a business, that we seem to have lost a little bit of its beauty and skill," Van Noten said. "I really wanted to make the connection to the Arts and Crafts, which was an early reaction against a time when everything became produced instead of being made."
When Van Noten visited Kelmscott Manor two years ago he was struck by the way Morris structured his personal residence as an aesthetic way of life that went beyond the superficial. "It was a place where everything was connected, from the handmade calligraphy books to the Flemish tapestries that hang over Morris' bed," Van Noten said. "There is something beautiful about it."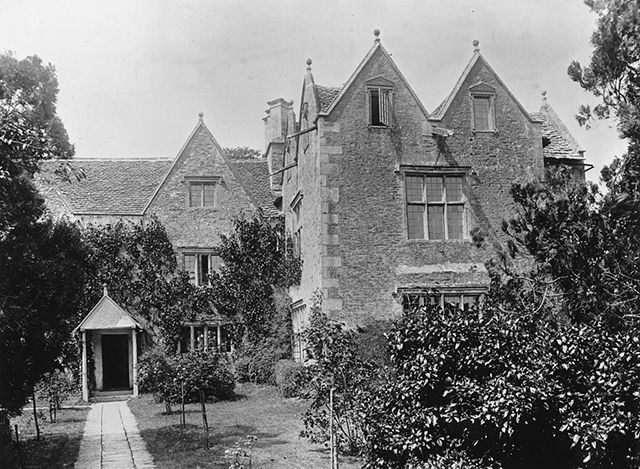 Van Noten and his team went to work, keeping in mind that the Arts and Crafts movement never rejected modernity, but sought to infuse it with a sense of meaning and care. Van Noten therefore was comfortable fusing the traditional and the new. The Flemish tapestries were photographed and printed on coarse, uneven fabrics that have a handmade feel to them. He incorporated calligraphy motifs by the St. Petersburg artist Pokras Lampas, whose work Van Noten found on Instagram. The result was sublime. "Van Noten is a true designer in his passion for his craft, and this collection brought him back to the stuff that human hands make, with all its beautiful imperfections," wrote Tim Blanks in his review for the Business of Fashion.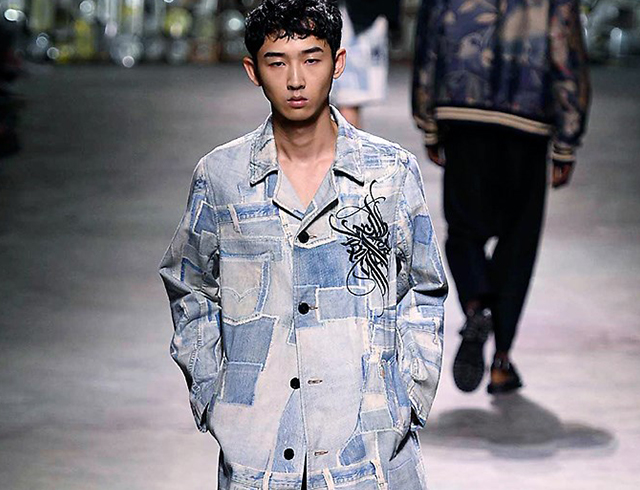 In recent years fashion has undergone not a Renaissance but an explosion of product. There is the rise of fast fashion that encourages irresponsible consumption, but also a glut of stuff at the high end. "Expensive fashion must also be blamed because it's just an overdose," Van Noten said. "I am obsessed with fashion, I love fashion. But I have to say it's the second season where I did not even look anymore at pre-collections. I cannot take it anymore. There's just too much of it. And the news of the moment are all about the wrong things. Breaking news. Companies not showing the men's collections, instead choosing to combine with the women's shows. Who cares? That's not what fashion is about."
If the designer as artist has a responsibility or a need to reflect the world around him, Van Noten is one of them. "Yesterday's collection was my reaction to things that I feel are wrong," he told me. "I don't always give the right answer, but it's part of my work." In a world with too many things (Americans throw out 10.5 million tons of textile every year), Van Noten tries to create something special and true, in his own way. Take ethical production, for example, which clothing conglomerates from H&M to Kering trumpet at every corner. Meanwhile, Van Noten hardly mentions that his company employs 3,000 embroiderers in India, who embroider his garments by hand and receive a fair wage. "We started to work in India in the '80s, so it was a lot of education from both sides before I got them to make the kind of embroidery that I had in mind. These master craftsmen work in villages, and it's a prestigious job that gets passed on from father to son," said Van Noten. "Sometimes, when you send these products to department stores, they send it back because there's a little weave or color fault in it. But, you know something? This scarf was made in a 45-degree heat and high humidity by an artisan, so the paint doesn't take as well under those conditions. But should those people have to stop printing because it's so hot? There is beauty in it, proof that it's handmade."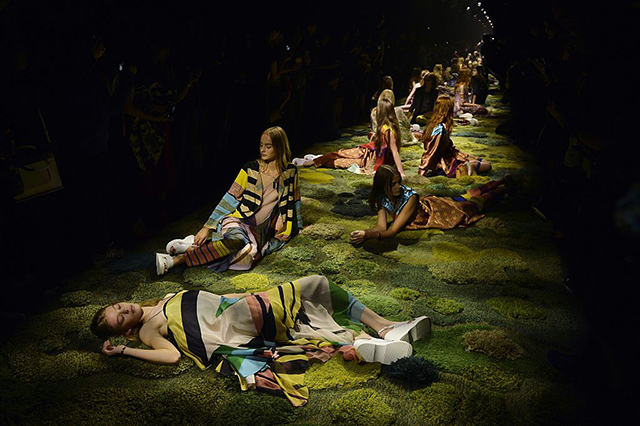 And yet Van Noten is optimistic about fashion in general and his place in it. The company struggled in the late '90s and early '00s when the big fashion conglomerates were pushing out smaller brands out of department stores and opening mono-brand boutiques at breakneck speed. But Van Noten remained fiercely independent and now reaps the benefits of being his own boss. He is hugely successful, with plans to grow his company steadily without having to make all the usual compromises—a sneaker collaboration here, a perfume there.
Van Noten is one of the few successful designers today who actually sells clothes, as opposed to clocking in sales from mass produced fragrances and handbags. His clothes account for 92% of sales, and shoes and accessories for the rest. He has never made a perfume. (There is a Frederic Malle scent out there with his name on it, but it's an homage to Van Noten). If you happened to see the recent museum exhibit devoted to Van Noten's work in Paris or Antwerp, you would be impressed with the wide array of his aesthetic influences, which range from punk, Bollywood and David Bowie to his own garden. Part of the reason is that Van Noten has been designing for thirty years, producing a vast body of work. His influences reflect the complexity of his own character. "In the end, all my influences are personal," said Van Noten. "Sometimes, I will see something like a Francis Bacon exhibit, and I walk out completely flabbergasted, thinking, 'What was that? I hated it, I loved it, it was beautiful, it was awful.' And then it continues to turn around in my mind, until I say to myself, 'It would be a great challenge to translate what I felt in that moment, where one side is really beautiful and the other really strange, not to say ugly.' I really love Francis Bacon, but I also love roses."
Whether the end client is aware of the complicated wanderings of Van Noten's mind is besides the point. "Some people want to travel with me in my whole working and intellectual process to create those collections, and some people just go to the store and say, 'I like this sweater,' and they don't care about the whole thing around it, and that's also fine," he says. "But I don't want just to make a nice sweater. I need intellectual guidelines to create that sweater in the first place." And, if at times Van Noten has to forego purely commercial considerations, so be it. "In the collection I showed yesterday there are wools which are straight from a simple handloom, not industrial. They may not be the friendliest wools to touch but their texture is amazing. Put them in a department store where there is no personal service and they won't sell a piece, because you have to understand the clothing, to explain to the customer what they are looking at."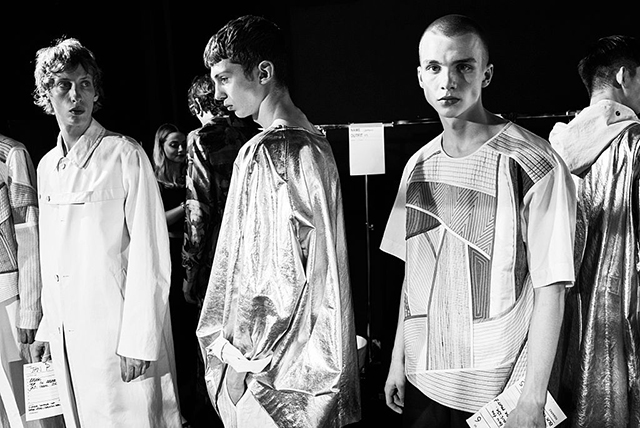 Part of Van Noten's success is building a strong design team around him. "As a designer you have to be creative, especially by picking the right people around you and challenging them creatively." It is also important for Van Noten that his team is not comprised of sycophants that hang onto his every word. "I can't do everything myself. I need good people around me, even if they disagree with me sometimes. I also learn from them," he said. "But, they have to give more to the company than just their hours. They have to share a part of their soul. Every season we start with an empty page, and quite often it's a real struggle."
As our time together draws to a close, I ask Van Noten if he ever feels jaded and without hesitation, he replies, "Of course." To detox, Van Noten spends time in his garden in the Belgian countryside. "My garden is important for me to stay human. In fashion it's quite easy to lose touch with reality, and the garden keeps my feet on the ground. It's a good thing."
All the looks from Dries Van Noten Men's Spring 2017 collection below:
01
02
03
04
05
06
07
08
09
10
11
12
13
14
15
16
17
18
19
20
21
22
23
24
25
26
27
28
29
30
31
32
33
34
35
36
37
38
39
40
41
42
43
44
45
46
47
48
49
50
51
52
53
54
55
56
57
58
59