Get to know Romyda_KL and its founders a little better ahead of the brand's KLFW debut tomorrow
Public relations practitioner Selina Yeop Jr and pop and R&B singer Ning Baizura have known each other for a long time. What was initially a business relationship grew into that of close friends, and now they are both good friends and business partners as they venture hand-in-hand into a field they are both passionate about—the fashion industry.
On Romyda_KL
"Romyda_KL is a brand that combines the prowess of Romyda Keth, a famous Cambodian designer with nearly 30 years of experience in her craft, as well as Ning and myself as the creative directors of this new label. I have been a devotee of Romyda since 1998," says Selina Yeop Jr. "The first time I stepped into her studio in Phnom Penh and slipped on her dress, I marvelled at the superb cutting and beautiful handcrafted details. Everything is handmade and perfectly moulds the feminine form. "
"Romyda's designs are very feminine and to a certain degree rather sensual due to her French heritage. She likes to add a tinge of avant-garde to her looks but we feel that Malaysian women prefer edginess with modesty in the right proportions. As creative directors we both agree on looks that we feel have a stronger appeal to what women here will appreciate. One thing is for sure: Romyda_KL is suitable for every shape, size, age and style preference. Besides the fitted silhouettes you have seen me and Ning in, there are also A-lines as well as jackets and other cuts that fits all forms."
We had a quick Q&A with both creative directors of Romyda_KL, that is Selina Yeop Jr and Ning Baizura, to find out more on their upcoming show at KLFW and chat about their personal styles:
What can we expect from the upcoming show at KLFW?
Selina: "For the upcoming KLFW we are presenting highly wearable designs that are very French but with strong Asian influences. Bold colours are the order of the day."
Ning: "Our debut collection is all about flirty fun and femininity. There are a lot of colours and symbols that represents Malaysia, and I hope it really resonates with our audience."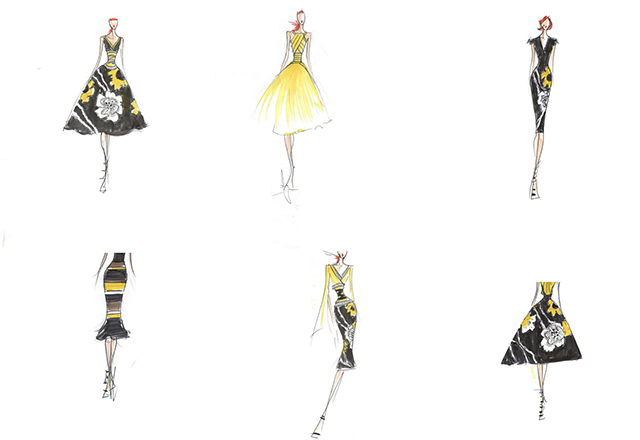 A current trend that you can't get enough of is...
S: "I love coats, be it structured or slouchy."
N: "For me it will be a Romyda_KL favourite - I can't get enough of our knee-length dresses."
How would you describe your personal styles?
S: "My personal style is always to bring up the glamour ante with high quality accessories and classy jewellery. I like power dressing, but it must be toned down with a great pair of jeans or a rugged jacket to soften the look."
N: "I love clothes that are chic, effortless and very feminine with a classic cut, something that accentuates my body, which is more of an hourglass figure. I like being on the move, so I think silhouettes that are flowy and flouid complements my personality too."
Name 3 of your wardrobe essentials.
S: "Good shoes, a sleek jacket and my favourite diamonds!"
N: "That little white dress, that little black dress (laughs), and a classic-cut pant suit in either black or white."
Both of you juggle different careers outside of fashion. What keeps you going and how do you stay inspired?
S: "What keeps me going is the love for life and the gratitude for being alive."
N: "I will say my love for both industries keep me going, and I am constantly inspired by everything and everyone around us."
What is next for Romyda_KL?
S: "The world is our oyster—watch this space!"
Romyda_KL is available at The Conversation Studio and their debut show @ KLFW will take place at 5pm tomorrow (16 August 2016) in Pavilion KL.