Deborah Lloyd, president and chief creative officer of Kate Spade New York, divulges on her inspiration for Fall 2016 and her creative process at work
Last week, we introduced you to the Kate Spade New York Fall 2016 collection; a beautiful culmination of jazz blues and romance, playing off the vibes of NYC back when jazz joints reigned—bold, fiery and free-spirited, yet feminine and classy at the same time. Here, learn more about the collection from the creative mind behind it as we speak to Deborah Lloyd about her creations for Fall 2016, amongst other things: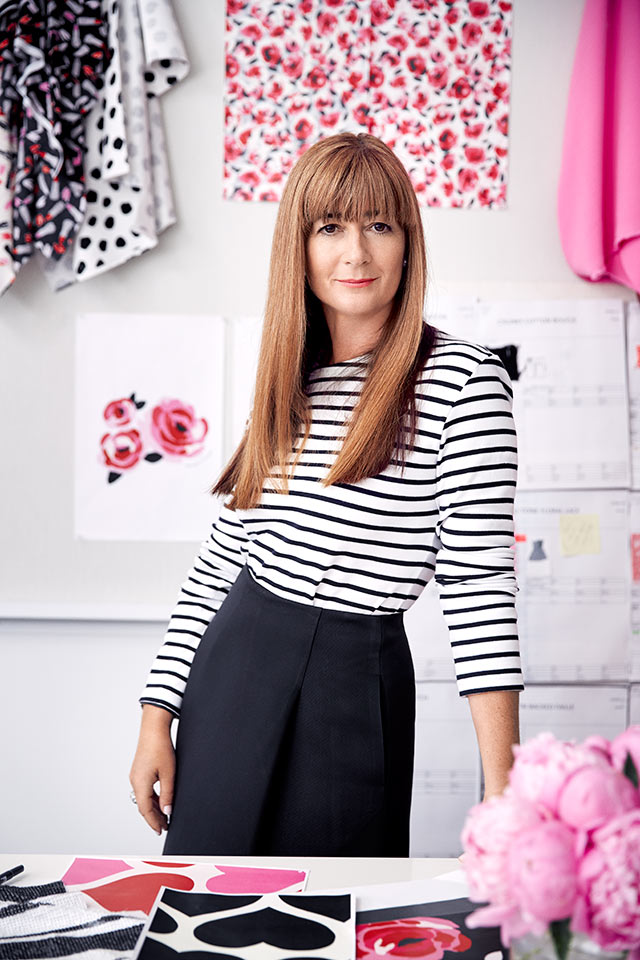 The Fall 2016 collection seems to be filled with musical nuances and hints of romance. Tell us about your inspirations behind the collection?
For Fall, I was inspired by the chic bohemian spirit of sirens, divas and creative firebirds of the stage. By Billie Holiday singing the blues in an intimate jazz club. By Tamara Rojo holding bouquets of lavish red roses. By Liza Minelli's divine decadence in Cabaret and Marlene Dietrich.
And so there's an air of eclectic individuality and romance that permeates the collection. It's a mix of menswear tailoring and feminine, fluid shapes. Heavy plaids and embellished tweeds and airy chiffons. This season the hemlines are longer with a lightness of touch. And throughout, moody blues, sultry mauves, burlesque nudes and lipstick reds take center stage against a backdrop of shale, black and white.
Do you have a personal favorite from the collection?
I'm loving the lower block Marcella heels, I think it's the fact that you can wear a lower heel and still look sexy. You can run around and live your life wearing them, it's fab!
A key look at our presentation was mixing the highly feminine with the lightness of touch. Whether it's a masculine heavy coat that has a soft fur collar or tweed suiting pieces worn with chiffon or lace—I like the juxtaposition of the two.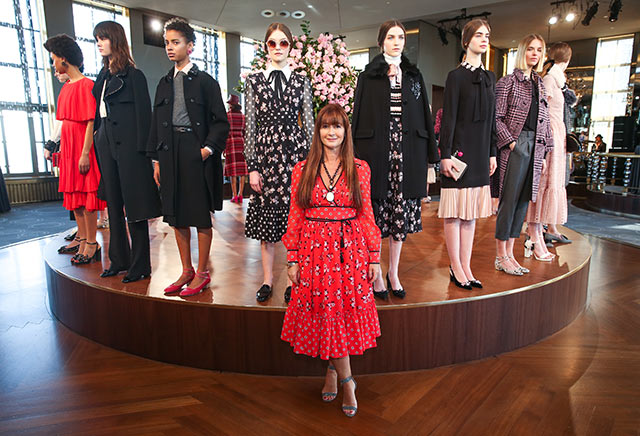 It mustn't be easy, to constantly come up with fresh ideas each season. How do you stay inspired?
I keep my eyes open and enjoy the journey; it's amazing what you see.  I am especially inspired by travel—from vintage markets, films, art galleries, museums, or just a walk in the park—creativity and inspiration is everywhere.
Could you walk us through your creative process behind each collection?
It all starts with the season's big idea. I love doing the research for this. It's a moment of freedom to allow my mind to wander and see what catches my eye. It's hard to define what my gut is telling me, but I know it's going to be about certain colours or details that keep piquing my interest.
I start with a clean white wall and start adding images, print, colour and vintage pieces. I work with the team to bring these ideas to life across all categories. I'm like a conductor making sure each designer is following the same score.
Who do you see as the Kate Spade New York woman?
We like to say that she is quick, curious, playful and strong. She is not a wallflower. She has a sense of humor and lives for adventure. Any girl that fits that description is a Kate Spade New York girl in my eyes.  We inspire her to lead a colourful life in every sense of the word.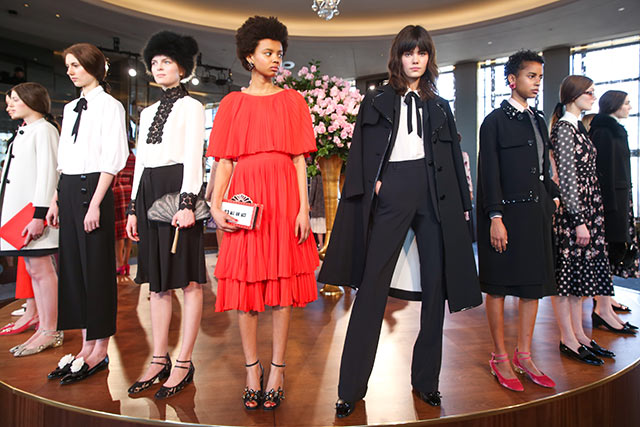 What are some of the biggest challenges you have faced in your career as a fashion designer?
Firstly, it's putting together a team! When I arrived at Kate Spade New York, 60% of the staff were interns! To start with, we needed people who were good at many things, and as we grew, we needed true experts in their fields. We asked a lot of favours in the beginning until we had a scalable size. Luckily, we came through and are still working with those vendors. They became part of the family.
Name us 3 of your wardrobe staples.
A statement coat, a crisp white button down and a classic pencil skirt are wardrobe essentials.  Colour is important to consider as it can make you stand out from a crowd.  You should always personalize these pieces with statement jewellery, as well as a good shoe and bag that mean business.
Your most treasured fashion item is...
A cocktail ring that I wear almost every single day.
What do you think is an understated fashion trend?
A tailored white button down shirt.
One style tip you would like to share?
Take risks and don't be afraid to stand out in a crowd.
If you could design for a superhero, who would it be?
Wonder Woman, because she is the ultimate madcap heroine
What do you like most about New York City?
There is no better city for people watching, I always keep an eye out for street style on my commute to work in the morning. Living in New York, I'm constantly inspired by the bright lights, the architecture, the cityscape...
Where is your favorite place to go to for a vacation and why?
I love escaping the city to my house upstate to spend the weekend relaxing with my husband and my dogs. If I'm traveling abroad, I love going home to London or visiting the museums in Paris.
What are 5 essential items we will find in your bag when travelling?
My iPhone, a cashmere scarf, a notebook, a Montblanc pen, and a pink lipstick for a dash of colour.
Could you take us through a day in the life of Deborah Lloyd?
There is no typical day—I wake up around 6am, have a green juice for breakfast and spend a few moments with my dogs, Stan and Lulu. I check all emails and catch up with what is going on in the world. I love a quiet moment to contemplate the day ahead and plan my strategic attack! I like to plan ahead so I'm ready for any surprises.
If you were not in the fashion industry, you would be...
A florist. Fresh cut flowers are my greatest indulgence!
Related stories:
Kate Spade New York Fall 2016: A meeting of jazz blues and romance
Kate Spade celebrates second anniversary of On Purpose label