Here's an online fashion retailer that should be on your radar
There's no denying that the pandemic has a detrimental effect on the fashion industry, as the entire supply chain have all been negatively impacted. That said, when it comes to e-commerce platforms, it's a different story. Online shopping—from groceries to fashion—has seen a huge surge in the past year, and it will likely continue to thrive for the foreseeable future.
E-retailers such as FashionValet and Zalora are two of the most well-loved locally, but while the former specialises in modest fashion and the latter caters to the masses, there's a niche market that's left untapped. Enter Dia—an e-commerce platform that shines the spotlight on Southeast Asian brands. Founded by Kylie Francis, Alia Farouk, and Aisha Hassan, Dia is a love letter to this region, and it was created when they noticed the lack of recognition for artisanal labels that are rich in heritage and craftsmanship. Their goal? To introduce Southeast Asian artisanship to a discerning global audience.
From intricate minaudières by Filipino designer Neil Felipp to Thai-inspired apparels by Rosa Supra to modern batik separates from Malaysia's very own Fern and Frankitas, the e-commerce platform features a curated list of brands to know, and you can definitely anticipate more to be added down the road.
Below, the founders give us more insight into the world of Dia, the e-commerce industry, and more:
Where did the idea for Dia come about?
Aisha: The idea for Dia came about because time and again while we were living abroad, we would get compliments on unique items we owned. And time and again, we would proudly name the Southeast Asian boutique brand we believed should be better-known. Dia is the result of us pursuing that belief. While we've seen versions of artisanship like batik-printing or rattan-weaving surface in the mainstream, there's often a lack of context or credit around its origins. Sometimes the craft is simply white-labeled, or even just imitated, and then sold.
Dia's ethos is to give context and credit. We want everyone in the world to experience what Southeast Asia has to offer but from authentic boutique brands who employ artisans fairly. We cultivate close relationships with every brand and artisan we feature, some of whom we've been shopping from for years. Nothing goes on this platform unless we believe in it or we would buy it ourselves. For my co-founders and I, there's also personal accountability because Dia is deeply tied to our identities as Southeast Asian women. That's something we're proud of and what makes Dia a passion project for us.
Could you tell us more about each co-founder's background?
Aisha: Kylie, Alia, and I were born in sunny Malaysia and have spent most of our lives here. Alia and I have been best friends for over 20 years, while Kylie and I met six years ago while both of us were working for Khazanah, the sovereign wealth fund. We've had the privilege to live abroad in places like New York, Zimbabwe, and London, and worked across different industries from journalism to international development. We also feel lucky to have mixed ethnic heritages: I am Chinese and Malay, Alia is Malay and Thai, and Kylie is Chinese and Sri Lankan. Malaysia is our shared home.
What was it like to launch an e-commerce site in the middle of the pandemic?
Alia: It was a bold move to launch a fashion site during the pandemic, but we also feel like it was the perfect time. Brands could no longer ignore the importance of digitalisation, consumers were becoming increasingly conscious of how they spend, and people were looking for inspirational online shopping experiences, of which we hope Dia was one.
What do you look for in the brands that you feature?
Aisha: We try to onboard slow fashion brands, meaning their items are not mass-produced, and we prefer brands that create their products partly or entirely by hand, thus involving some types of artisanship. Beautiful design plays a factor as well. We take pride in our community of Southeast Asian brands, and we invest a lot of time into nurturing those partnerships.
What are some of the most popular brands on the site so far?
Aisha: While all of the brands on our site are well-loved and have interesting stories behind them, the one that makes everyone's jaw drop is Neil Felipp, a Filipino designer who makes these exquisite minaudières that were featured in both the Crazy Rich Asians book series as well as the 2018 film adaptation. In the movie, the character Astrid Leong is seen clutching the Siren minaudière, which we sell on our site, in the wedding scene. The Siren is inspired by Neil's mother and is an homage to Cebu, where he's from. Neil draws inspiration from the world around him, including from Greek myth and literature, so that every piece contains a narrative within itself.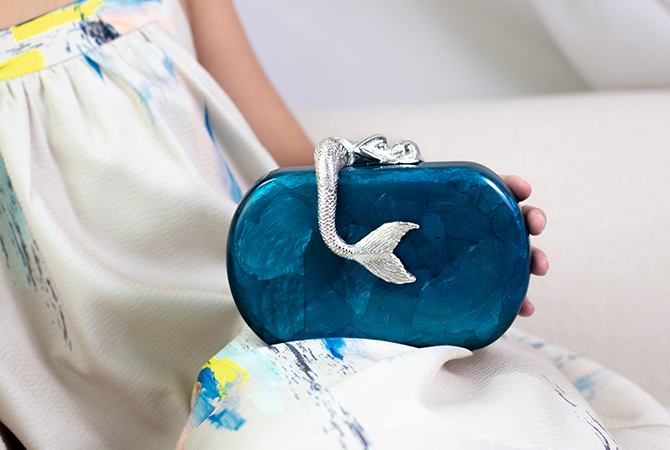 Alia: Another brand that sold out during our trial is Talee Studio, which makes hand-knotted earrings from organic materials in Sabah. In 2010, the founder Lorraine Lee's father collapsed and his heart stopped for six minutes on the way to the hospital—the brain damage led to short-term memory loss, but he lived. Lorraine ties nautical knots with her father because it's a form of cognitive therapy. So more than being a striking pair of earrings, they also confer a feeling of resilience to the wearer. We've actually just launched an exclusive Dia collection with the brand, which can be seen below.
What do you think a customer wants when it comes to fashion in this day and age?
Kylie: I think that consumers are demanding more accountability and transparency from the fashion industry. If we care about the origins of the food we eat and the products we put on our skin, it's only natural that people should care about who made their clothes as well. And that's why we write brand profiles for every brand featured on the platform—we want our customers to know the story behind their products, and the real lives that are involved in the making of them.
Sustainability is also one of the biggest buzzwords in fashion right now. How important is that role in your business?
Kylie: Sustainability is important to us, but at the same time we are wary of greenwashing because at the end of the day, no fashion e-commerce business can be 100% sustainable when energy is used in the creation and shipping of products. But does that mean that we shouldn't shop online at all? Of course not, because people's livelihoods depend on it. So we try to be sustainable by selling products that our customers will love, items that are non-disposable and that will turn into an heirloom rather than end up in a landfill. Alongside that, we strive to be ethical by ensuring that the brands we work with employ artisans fairly and don't mass produce.
What are some of the biggest challenges you've faced during this time?
Kylie: Aisha, Alia, and I launched Dia the day I moved to New York with my husband. So one of the biggest challenges that we faced early on was adapting to working remotely across different time zones. To help strengthen the fabric of our long-distance team, we adopted a few cultural values and norms.
The first is open and honest communication, including talking about our challenges and boundaries. The next is that we run towards the problem, not away from it. No matter the time crunch or the frustration, we help each other march calmly towards the issue rather than drowning in stress. The third is to always assume positive intent, and that comes from a place of deep trust and respect for each other. Our final value is agility. Although we've come a long way and have learnt a lot, we still don't know what we don't know. The only way to prepare for these known unknowns—knowing that we don't know things—is to embrace failure, to learn from our mistakes, and to adapt.
Are there any fashion e-commerce sites that Dia looks up to?
Alia: In terms of user-friendliness, experience, and product curation, Net-a-Porter is what we aspire towards. Another site that we admire is Ishkar, a retail platform that sells crafts from countries like Afghanistan, Yemen, and Pakistan.
What do you think is the future of fashion e-commerce?
Kylie: The rise of e-commerce has, in many ways, democratised fashion. It's not just a few big brands that define what looks good or not anymore. Platforms like Shopify and Instagram are enabling smaller brands to reach and excite customers across the world, and consumers are welcoming that. Millennials are almost twice as likely as baby boomers to prefer up-and-coming designers and these attitudes are spilling over into other generations as well. So in that sense, I think the future of fashion e-commerce is about catering to consumer heterogeneity.
What would you like to ultimately achieve with Dia?
Kylie: We hope to change the stigma surrounding products from Southeast Asia. When we first started discussing the idea for Dia, we conducted some market research and were surprised to find that most people associate Southeast Asian products as being cheap and lacking in quality. This is because a significant portion of fast-fashion products are manufactured here in Southeast Asia.
Although this has contributed to our region's GDP in the short-term, it has also been detrimental to artisanal brands because they are undervalued and overlooked. This, in turn, has jeopardized artisans' livelihoods and put craft legacies at risk. So we hope that Dia will shine a light on the incredibly rich heritage of craftsmanship from this region and help Southeast Asian designers to receive the global recognition they deserve.
Check out Dia here.