Swing by the Ritz-Carlton KL from 2-6pm today to shop for Arissa Cheo's first RTW collection in collaboration with Shoes Shoes Shoes
Singaporean socialite Arissa Cheo is well-known for a handful of reasons. The stylish 34-year old entrepreneur has made waves in the media recently for the launch of her first ready-to-wear collection, Arissa X Collection N°1. Citing Jane Birkin and Vanessa Paradis as fashion icons, Cheo intends to put a personal twist to existing fashion trends that she loves while making it her own via this line.  "My brand is all about looking put together in an insouciant way, and more importantly, to have fun while you are at it."
Spot grunge-inspired graphic T-shirts alongside paint-splattered denim vests and flared jeans that come with a '90s touch from her collection—all rock 'n' roll elements that have been reinvented for the 21st century which you will also find in her #OOTD shots. The talented style star will be in town only for today for a pop-up store in collaboration with Shoes Shoes Shoes. Below, we scored an exclusive interview with Cheo on what to expect from her first collection:
1. What made you decide to embark on your own fashion label?
My cousin and I previously had an online store we started back in 2010 that carried various cult labels, and we both also dabbled at designing apparel and accessories. I've always had the intention of starting my own business(es), and decided to begin with fashion as it was something that was already familiar to me.
2. How did you find concept and inspiration for your first collection?
For my first collection, I wanted to establish who the Arissa X girl was and so we sorted through music, references and tear sheets from magazines I collected; we even rummaged through my wardrobe to figure out what I loved about my favorite pieces and delved into the synergistic relationship between what I think my style is and what people assume it is.
3. What is something you'd like to convey to customers through Arissa x Collection No.1 RTW?
The goal was to build a wardrobe for the quintessential Arissa X girl so that she can have all these basics but with our own twist—maybe it's a little sexier, a little stronger, a little more playful but these are all pieces that are meant to be worn in our girl's real life.
4. Who is your style muse/icon?
I grew up listening to a lot of artistes such as Namie Amuro, Aaliyah and Michael Jackson, and the way they dressed set the foundation of my personal style. Later on, I became very inspired by supermodels of the 1990s like Kate Moss and Naomi Campbell.
5. A fashion trend you're currently obsessed with?
Big shoulders! I grew up just shy of the '80s and I think for some reason that contributes to my obsession with that decade. Besides, the wider the shoulder the narrower the waist, right?
6. What is something (fashion-related) we'd never see you in?
Polka dots.
7. A piece from the collection that you have a soft spot for?
The Kate shirt dress with tie-around sleeves because that was the very first design that my team and I came up with.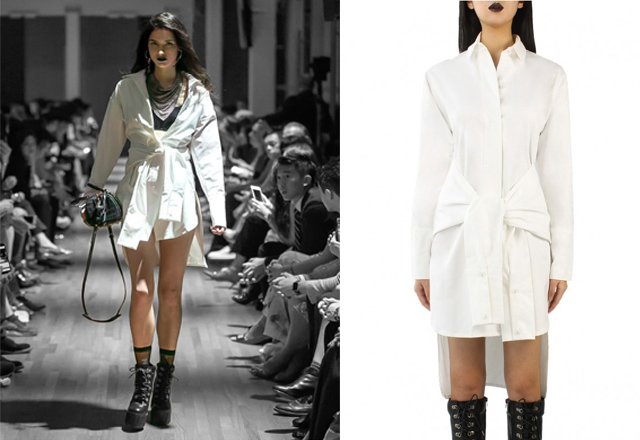 8. How do you envision your label evolving in the future i.e. will there be room for other elements that aren't rock 'n' roll per se?
Yes of course! As with my style, the label will continue to evolve but I don't think you'll ever see us do anything too avant garde or conservative. We like a good balance, but always with a slight hint of rock 'n' roll.
9. How would you describe an Arissa X girl's signature look in a few words?
Feminine, strong and effortless with a good dose of sexy.
10. What is one item in your wardrobe you cannot live without?
Hoop earrings.
11. A styling trick or advice you'd love to share with our readers?
Start with one strong, mood-altering piece that makes you feel, act, or walk a little differently; it could be shoes, a jacket or even a chunky ring—then go from there.
Drop by the Ritz-Carlton Kuala Lumpur today from 2-6pm onwards to check out Arissa X Collection No°1 RTW in the flesh at the exclusive one-day pop up store. You can also shop the collection online at Shoes Shoes Shoes.
Related stories:
Five minutes with Ann-Sofie Johansson of H&M
Exclusive: Jessica Jung on her style evolution and favourite trends