The French designer lets us in on his creative process, the inspiration behind Uniqlo U's latest collection, and his thoughts on how the pandemic has affected the way people shop
It's safe to say that Uniqlo U has been one of the Japanese Lifewear brand's best-selling lines since Christophe Lemaire took the helm as its artistic director in 2017 (ICYMI, the designer previously helmed the womenswear line at Hermès from 2010 to 2014). Essentially an elevated Uniqlo collection, the pieces are made from high-quality materials with a higher standard of craftsmanship, resulting in sophisticated basics that have more to them than meets the eye.
In conjunction with the launch of Uniqlo U's Autumn/Winter 2020 collection, the French designer gave us a thorough explanation on his creative process, from the start to the end:
What was your starting point for this collection?
When we start to work on a new Uniqlo U season, I always ask what are the essential pieces that we need in the collection. The idea is to create clothing solutions, pieces that you will need, and hopefully, desire. We are always working towards finding a balance between something down to earth in terms of functionality, practicality, and comfort, but with the right fabrics and the right colours.
As a design team, we collectively always have a lot of references in mind when we start. We love clothing, fashion history, costume history, military-wear, and workwear, and we can get very enthusiastic about certain directions. But there comes a point when we have to forget about the mood boards as well as references and be focussed on the design, in order to have a distinctive point of view and to bring solutions to people's wardrobes.
Uniqlo U caters to a global audience. How is your creative process like each season?
The beauty of Uniqlo is that we are present all around the world and speak to diverse audiences. The exciting challenge for us is to ensure that as many people as possible will understand what our work is about. This is why we don't want the collection to be over referenced, too edgy or ironic.
During the design process, we have our customers constantly in mind. We are very much looking for this quality of universality and it has to be understandable to different kinds of people. We are often asking ourselves, will someone in the suburbs of Japan, or in a town in China, or somewhere in Europe and the US get what we are trying to achieve? Yet, at the same time, it's also interesting to be quite directional with what we, as a design team, believe in. Sometimes we are idealistic and propose brave fabrications or volumes, whether oversized garments, longer sweaters, or even larger sized pants, and we debate whether they are commercial or not. But if it's cool and important for the collection, we usually go with our intuition.
At the end of the day, you have to trust your instinct. It is an interesting exercise every season to balance the fine line between what you can anticipate in terms of customer expectations, and what you feel in terms of the design direction.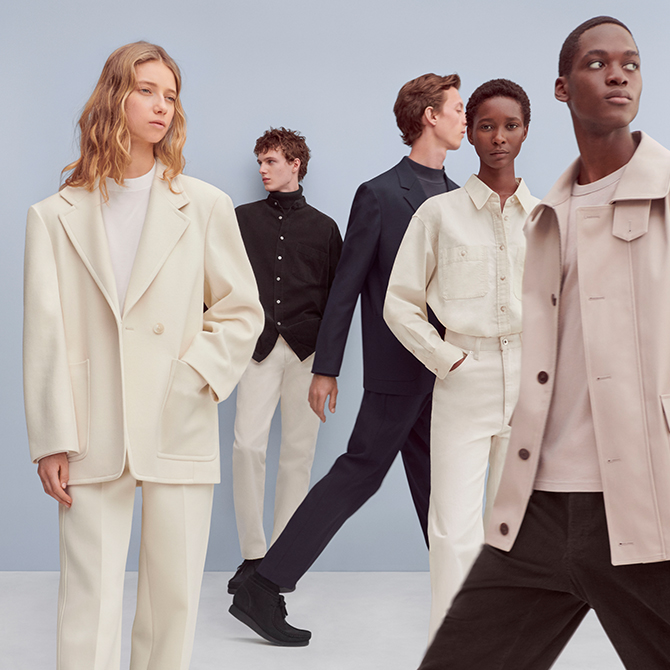 How does this new collection differ from the previous ones?
Every collection is meant to be an evolution from the previous one. I always want there to be a sense of dialogue between them and we work each collection as complimentary to the previous one, because it is about helping our customers to build a wardrobe. It's always a balance between a few carryovers, or improved carryovers, and new pieces.
Tell us more about the colour palette this season.
Sometimes we have stronger colours, but most of the time we are looking for smart neutrals. So, if we want to include beige in the collection, we will explore every shade of beige from cafe latte to sand. Instead of a navy, we might explore darker shades of blue, or greyish blues, or greenish blues, instead of just sticking with the familiar tone of this particular colour. A lot of attention is given to this aspect of building a collection.
This season, for the womenswear collections, we were interested in skin tones and neutral colours. This was particularly the case for the 'second skin pieces' and we like the idea that you can wear skin tones next to your skin. We also played with powdery makeup shades. The menswear palette is a little bit more colourful with lots of corduroys, for instance, in deep shades of burnt orange and blue-greens.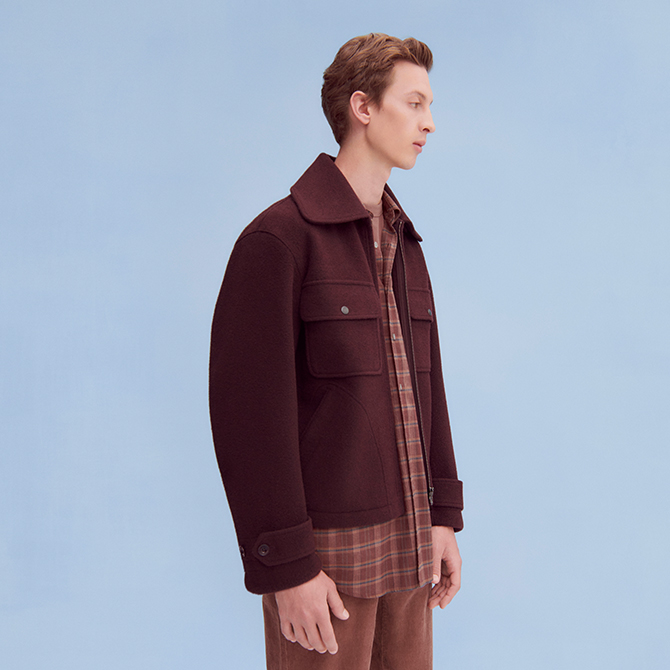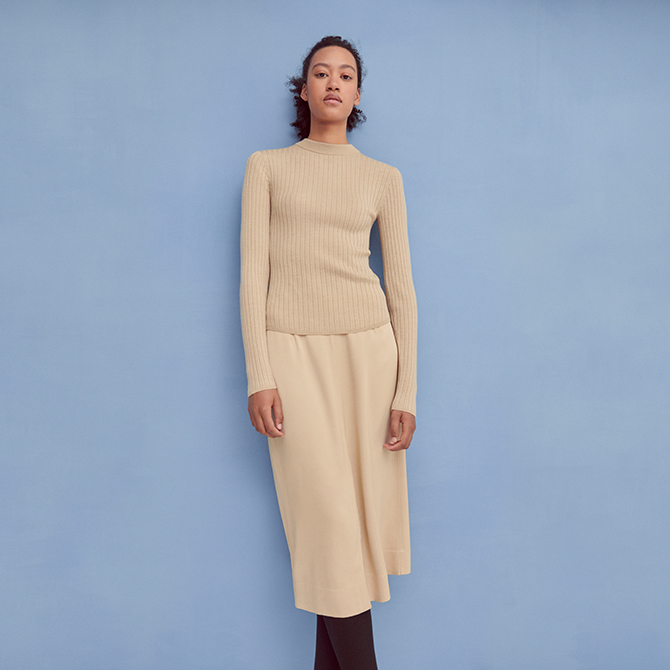 What's the inspiration behind the AW20 womenswear collection?
For this womenswear collection, we wanted something cleaner: a little bit leaner in terms of silhouettes with straight leg trousers and straight dresses. Initially, we were inspired by the 1990s minimalist wave in fashion. The focus was on functionality with very special fabrics and finishes. From there, we worked piece by piece, building the best possible collection by designing garments that you would want to keep in your wardrobe. It was also important for us that these garments would work easily with other pieces that you already have.
There was a need for easy, slightly looser dresses in very feminine styles. The silhouette is reminiscent of classic 1940s dresses but updated with a new cut to create a more contemporary version of a classic and using this great textured crepe viscose that we have developed. There is something archetypical about these dresses. In fact, one of our constant references as a design team are the Macmillan Visual Dictionaries that were published in the 1990s. In one of them, there is a fashion section where you will find illustrations of dresses or shirts that have a supernormal, archetypical quality to them which we love. So when we are thinking about a womenswear wardrobe that is relevant, we think there should be room for classic dresses like these.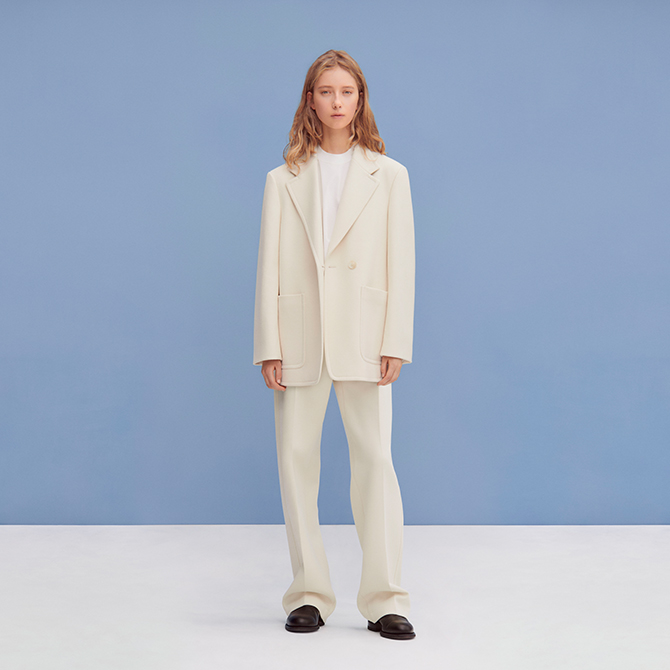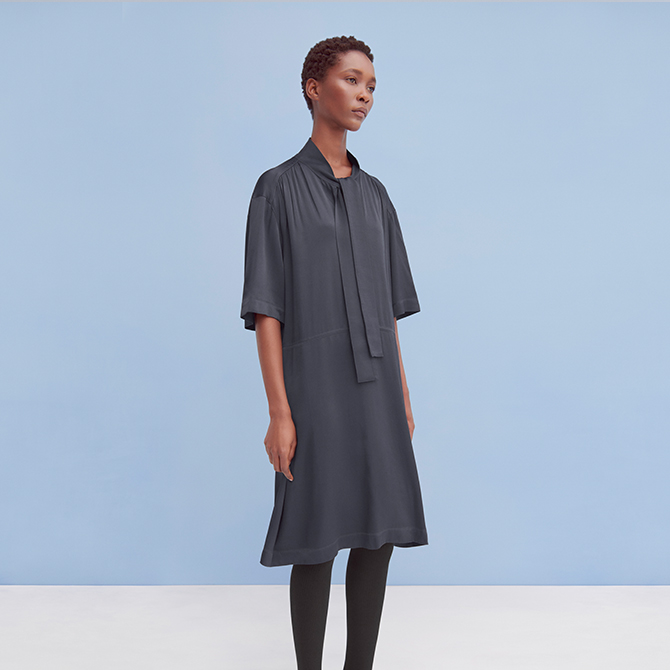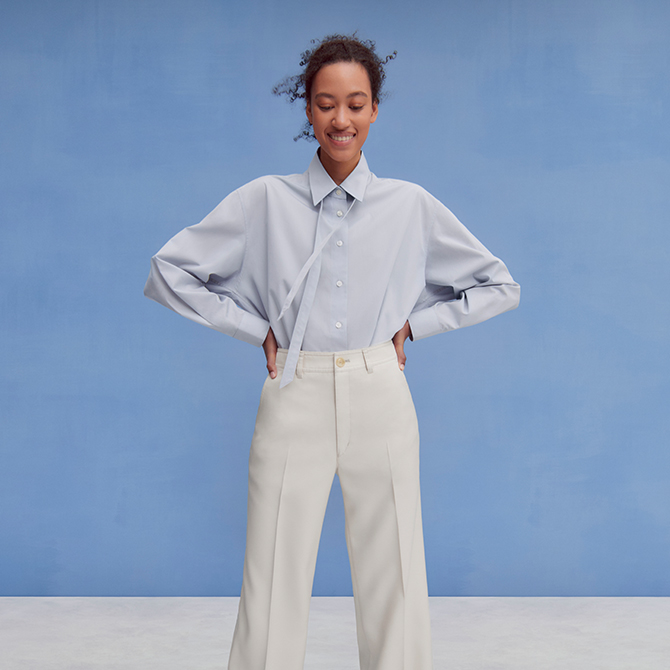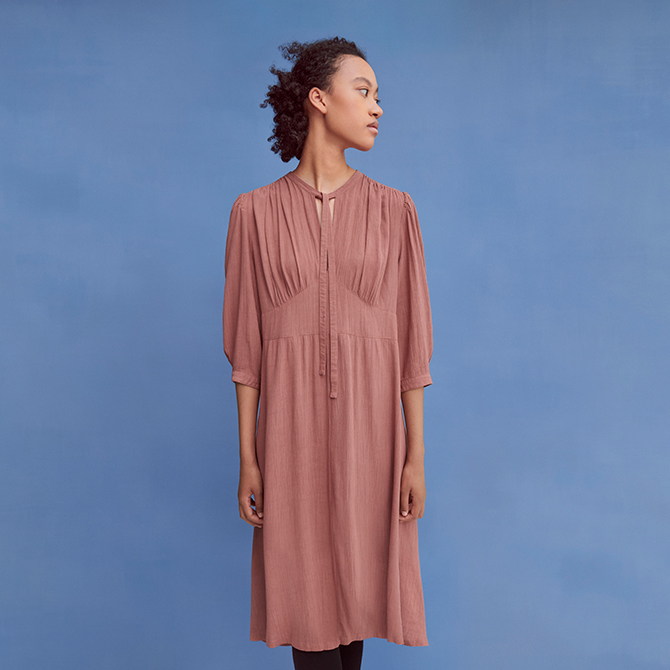 What about the menswear collection?
Paninari was a youth movement in northern Italy at the end of the 1980s. They were very much into sportswear, wearing down jackets, chunky knitwear, and of course denim. The movement had a very European sensibility to it with refined colours and they liked to mix classic pieces with sportswear. We began the menswear collection by looking at these Paninari images for inspiration.
Of course, references are always just a starting point, and at the end of the day, the idea is to create smart pieces for men such as straight-leg chinos with a permanent crease. This season, we were interested in adding more volume to the collection with boxy silhouettes and oversized proportions. There are some sportswear references in the collection too. A lot of work went into fabrication and the weight of fabrics. The beauty of our Uniqlo U design team is that they are really dedicated to what they do. They work towards finding the perfect details, from fabrics to finishes, and as a result, we have the capacity to come up with extremely good quality garments in relation to the price. I think this is quite unique.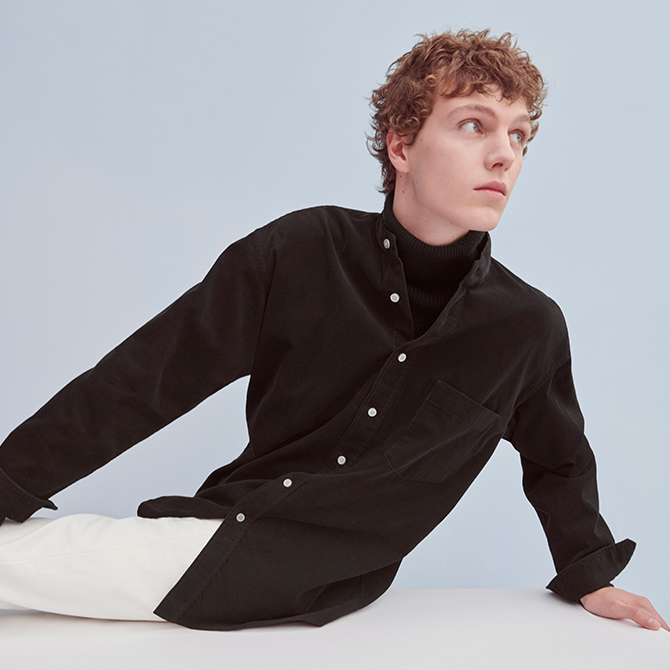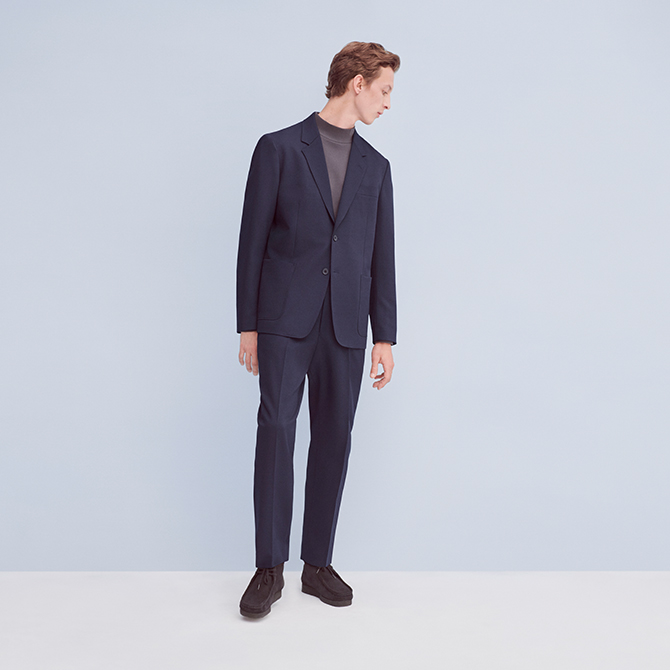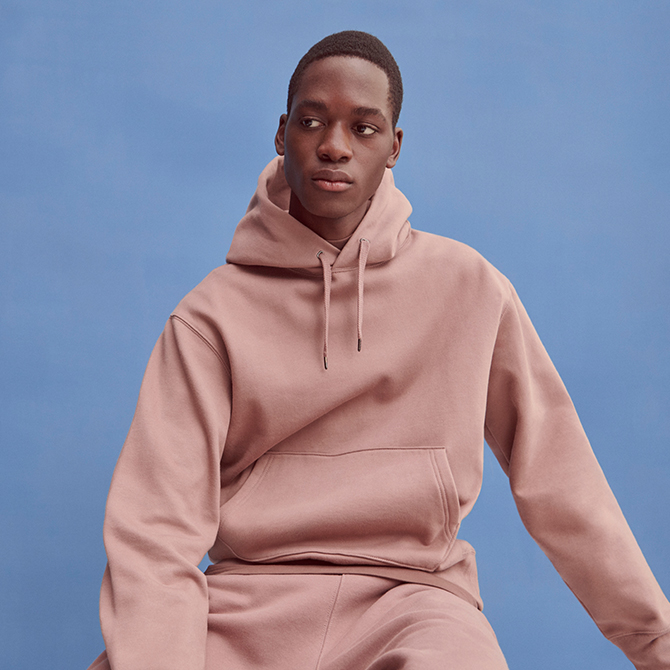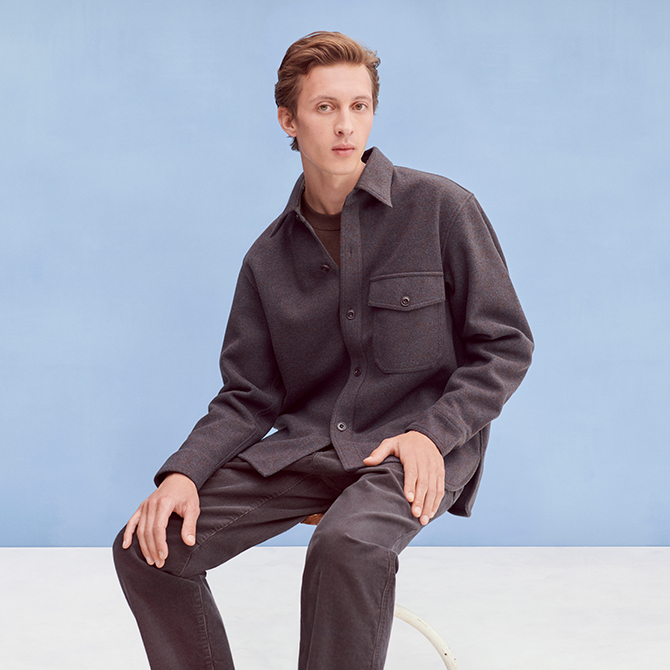 Tell us more about the denim pieces in this collection.
Denim is a fantastic fabric. We like to use it in diverse ways, and we have an amazing research and development team in LA for this. Of course, we love to explore the great classics like the five pocket jeans or trucker jackets. This season, for instance, we wanted to propose a denim coat with workwear detailing for women. The coat is quite unusual because of its long silhouette and we styled it in the campaign on top of a light
denim shirt dress which is also quite long. This coat is a great example of how we literally tried to stretch the classic denim piece towards creating a new proposal. The result is a functional garment with a lean, elegant silhouette. And the beauty of denim is that it ages well. Hopefully the denim piece will become like a good friend that will evolve beautifully and you can make your own.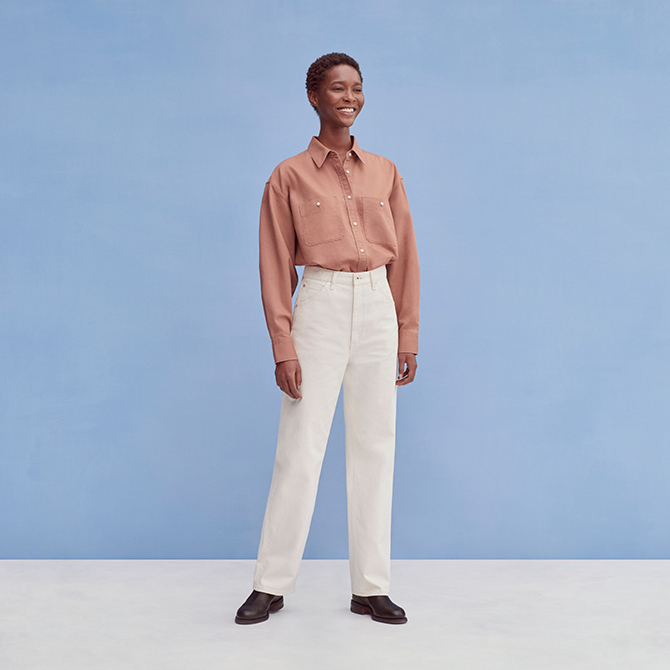 What are your personal favourites in this collection?
You know, I love the whole collection. But if I had to choose something, I would say that the women's soft wadded cotton coat is a great addition. I think we managed to create an elegant shape and the coat is warm as well as cosy. And I love the colour which is kind of a light cafe latte. For me, this coat is very Uniqlo U. I also love all the second skin pieces made of fine-gauge knits and super soft merino. And the French terry of course, which is very clean and beautiful. With this, we wanted to propose it in unusual colours, like dusty pink for men. You know I could go on and on, but these would probably be my favourite pieces.
How do you think people's relationships with their clothing has changed due to the current global pandemic? 
I guess people are evaluating their relationship with consumerism. I think they want to buy less but better, whether it is food or objects. There is a growing sense of people looking for essentials that you don't want to throw away immediately. This also applies to clothing. Perhaps they are looking for something simple and straightforward, and just the right products: the right jeans, the right trousers, the right jackets, the right T-shirts and the right shirts. And I think Uniqlo and Uniqlo U are very much in line with this evolution between people and their relationship with clothing.
The pandemic has reinforced our conviction. We feel more strongly than ever that we are coming up with the right products to match people's needs. And we are trying to create the perfect high-quality garments, which are very important for us.
You've helmed Uniqlo U for three years now. What are you most proud of?
I would like people to know that we really work here with passion and we give a lot of consideration to clothing. The philosophy at Uniqlois to propose good LifeWear essentials. This means a lot of trial and error when it comes to fabrication, detailing, finishing and functionality.
We spend time considering the pocket sizes and the ways in which they are positioned because we truly respect our customers. And as a design team, we spend a lot of time trying on the clothes ourselves to ensure a perfect fit and function. We share this love for a democratic approach toward clothing, which means proposing a good design and quality styles that are suitable for as many people as possible around the world. And it's interesting to see how many people are responsive to this proposal. This is something we are very proud of.
The Uniqlo U AW20 collection is now available in stores.