Before the women's New York Fashion Week kick off (in three days!), here's a recap of what you might have missed from the men's edition that wrapped up last week:
Boss
What's new in the Boss world? An injection of refresh by new brand director Ingo Wilts sees the classic suit rolling with the times with a tasteful play on silhouettes. Slouchy proportions gave the suits a tasteful retro twist, while some looks walked on a sophisticated line between business and athleisure—look 12 is the perfect example, where an anorak is worn underneath a double-breasted jacket and paired with wide pleated pants. "This is a new way for Boss," said Wilts. "We're known for the suit, but this shows how you can wear it differently."
Robert Geller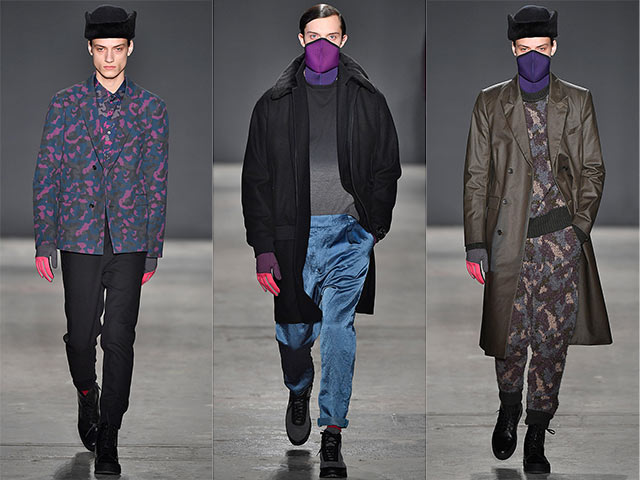 At a time when terrorism is all too real and political instability is rife, Robert Geller chooses to counter the pessimism with hope and positivity. With that, the designer's 10-year-anniversary collection (titled 'Love and War') became a poetic and poignant call to arms, as military references came in camo prints and ski masks, but not without the beautiful, softer touches that shone in the love message logos on sweatpants and sweatshirts, and flowy silk pants in indigo, blue and orange. To take his finale wave, Geller wore a shirt with the word 'Immigrant' emblazoned across the chest—no prizes for guessing what he's standing up for. 
Raf Simons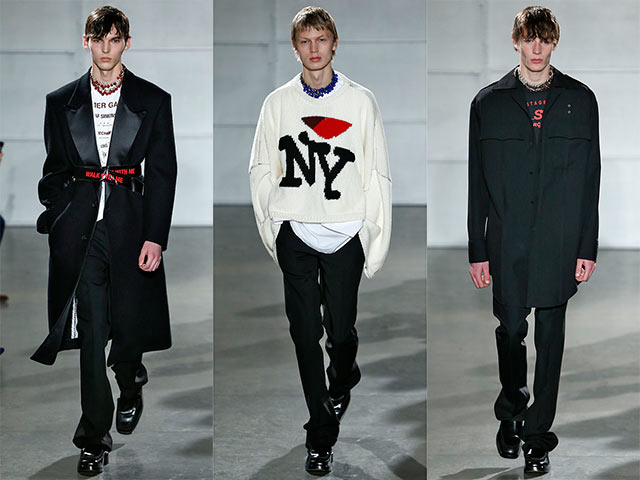 While we're at it, here's a recent immigrant who put up what was probably the most anticipated show at NYFW: Men's. Raf Simons brought his 22-year-old brand from Europe to the Big Apple, and picked up inspiration from the city with "incredible energy, incredible people, and incredible freedom". What transpired were baggy knits featuring part of Milton Glaser's 'I ♥ NY' logo, and, inspired by the iconic logo, 'I ♥ You' messages were emblazoned on strips of ducts tapes that cinched the waists of luxuriously tailored oversized topcoats. Meanwhile, messages such as Walk With Me and RSVP Youth Movement served as reminder for the youth today to be fearless in making statements, whether in fashion, art or politics.  
Bode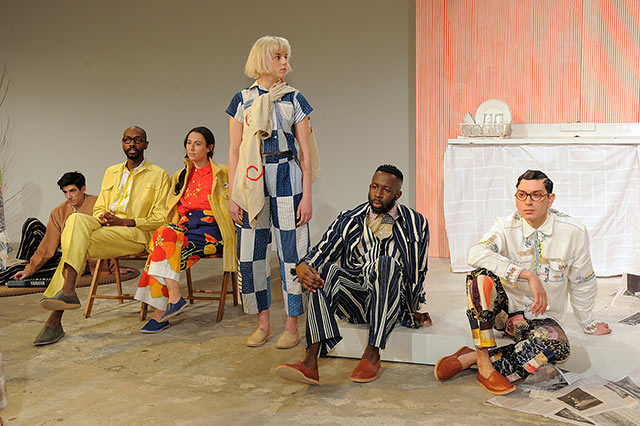 A fresh name to know from the week will be Bode, the 7-month-old line of Emily Bode. For her fall collection, the designer created a home in Cape Cod as a backdrop for her presentation. "My mother and aunts have always inspired me since I was a child. We would go antiquing and I grew up in Cape Cod during the summertime," said Bode—and what a charming collection she churned out. Repurposing handmade quilts from the 19th and 20th centuries—sourced from around the globe—there were plenty of mixed patchwork prints, stripes and florals with a retro touch on cropped trousers, jackets and pyjama suits.  
Related stories:
A guide to new season suits as seen on the runways of Paris
Highlights of Milan Men's Fashion Week Autumn/Winter 2017
Top trends from London Fashion Week Men's Autumn/Winter 2017