Marc Jacobs' Fall 2017 collection is an ode to the diverse street culture of New York
Respect. So titled Marc Jacobs' Fall 2017 collection, and that was what it garnered after its showing at New York Fashion Week earlier this year. And we say that for many reasons: from the unusually stripped down but effective show set, to the diverse casting and detail-rich clothes that came down the runway. 
For Fall 2017, Marc Jacobs was inspired by a documentary called 'Hip-Hop Evolution'. The designer, born and raised in New York City, described the collection as "an acknowledgement and gesture of respect for the polish and consideration applied to fashion from a (hip-hop) generation that will forever be the foundation of youth-culture street style".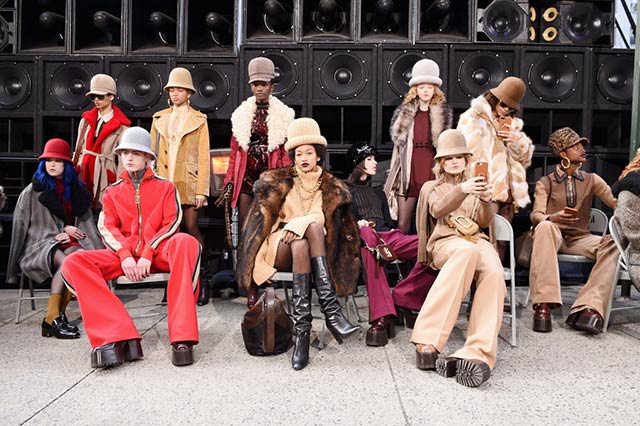 One of the main takeaways we gathered from admiring the Marc Jacobs Fall 2017 collection up-close at a press event recently was this: textures are a pleasure—and the collection was a rich display of a variation of fabrics and patterns. The fur-collared coats, track suits, corduroy pants and turtlenecks were bold nods to the style of hip-hop, as were the accessories of statement hats by Stephen Jones, beanies, heavy gold chain necklaces and dangling "key" earrings.
In the warm neutral palette of camel, ginger, brown, red and maroon, the Marc Jacobs girl will find her party outfit in the form of glittery gold mini dresses—paired with chunky platforms or high boots for a tasteful retro spin (looks 2, 9 and 27). On the other side of the spectrum, we can see the corporate woman donning the coats as seen on looks 13 and 29, proving just how the collection is a brilliant ode to the diverse street culture of New York. 
01
02
03
04
05
06
07
08
09
10
11
12
13
14
15
16
17
18
19
20
21
22
23
24
25
26
27
28
29
30
31
32
33
34
35
36
37
38
39
40
41
42
43
Fall 2017 also sees the debut of Marc Jacobs new IT bag: the Hotshot. Like the popular Snapshot bag, this mini rectangular crossbody features the gold Double J logo front and centre. The gold chain strap renders it bold, chic and versatile—the perfect fit for the street-tinged collection. In case you missed it, see how you can wear it this nifty little bag as a statement necklace in our Instagram post.
Related stories:
New York Fashion Week AW17: Marc Jacobs
Three things to discuss about Marc Jacobs SS17 besides the dreadlocks
Marc Jacobs opens its newest store at Suria KLCC