From Robert Geller's new project to Raf Simons' 'Blade Runner'-inspired show, here are the highlights of New York Men's Fashion Week Spring/Summer '18:
A notable debut...
Gustav von Aschenbach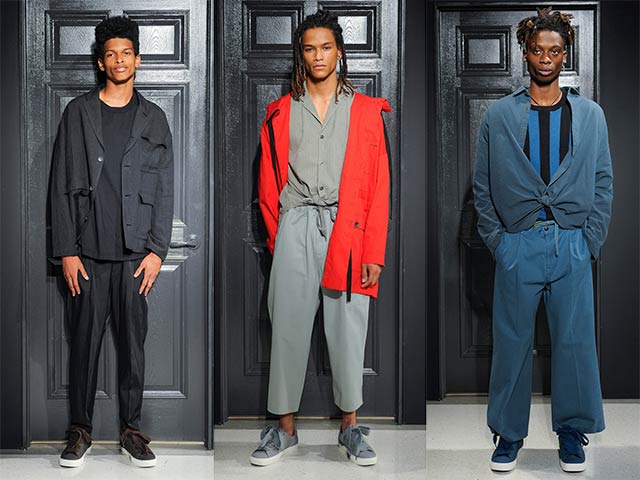 Who is Gustav von Aschenbach? Gustav is the name of the main character in the novel Death in Venice by Thomas Mann, but in fashion context, it is now also the name of Robert Geller's new line, which just made its debut at New York Men's Fashion Week. This is Geller's venture into more commercial fashion, on top of his eponymous label. While the collection did speak of accessibility in terms of price point (the most expensive piece is priced around $500) and wearability (featuring monochromatic outfits with an easy-going, utilitarian vibe), it is no short of quality - the pieces are all made from high-grade Japanese fabrics.
A solid sophomore outing...
Bode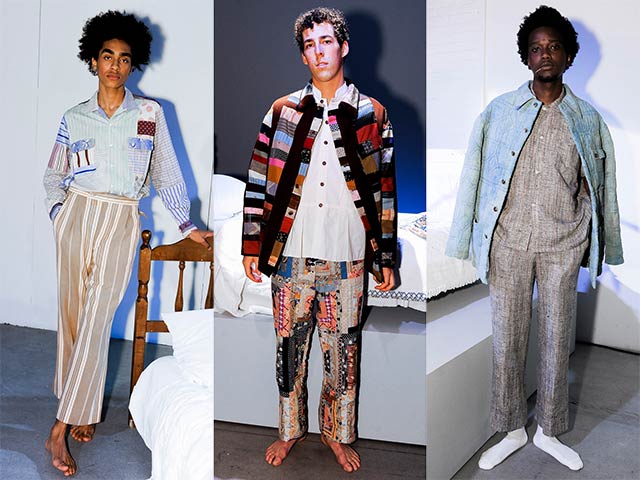 In her charming debut last season, Emily Bode transported us to her family home in Cape Cod. This time around, the backdrop of her presentation resembled an attic, or grenier in French—more specifically, the attic at her uncle's home in the south of France where she spent some summers as a child. The attic is also a space that reminds her uncle's mother of her happiest memories. The set and the clothes, which featured her signature blend of textures, patterns and antiquity, came together to convey an inviting sense of warmth that is most certainly unique to the young label. 
Riding the waves...
Boss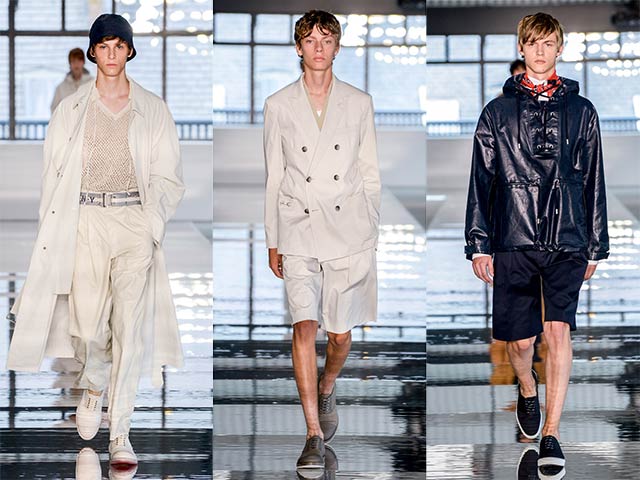 Boss goes easy, breezy, nautical for SS18. "It's all about lightness of ease," said designer Ingo Wilts backstage before the show. With that, the usual sharp tailoring is toned down to unconstructed blazers paired with shorts and roomy trousers. The nautical details were mostly subtle, coming through in striped belts, flag prints on the back of technical nylon jackets, and coordinates of the brand's Columbus Circle store embellished on sack bags. What we'd borrow from the boys: the lightweight trenchcoats and leather macs will sure come in (stylishly) handy when things get a little chilly.
Here to steal the show...
Raf Simons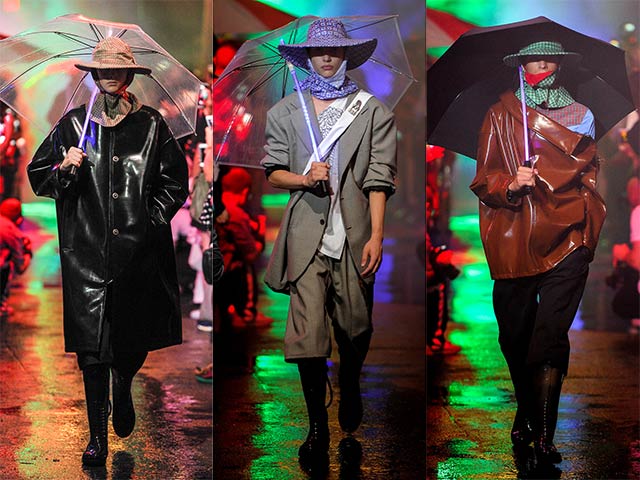 It was intriguing from the get-go—Raf Simons turned an alley behind a shopping mall in Chinatown, into a Blade Runner-inspired runway. Located under the Manhattan Bridge, the dystopian atmosphere was complete with neon lights, the scent of recently gutted fish, and the subway rumbling overhead. But nothing fazed the crowd, which included the likes of A$AP Rocky, Marc Jacobs, Julianne Moore and Jake Gyllenhaal.
"There were a lot of things that go back to my early days and why we started doing the things we did," says Simons. "There were strong music references from the past [juxtaposed] and taken out of context. It was about movies, Blade Runner, it's about cultures sliding together, Asian culture, cultures of the West. There was more of a new wave punk attitude." Simons partnered with artist Peter Saville once again, featuring vintage New Order and Joy Division graphics on both the set and the clothes. The opening ensemble of a hyper-sized black rubber trenchcoat paired with rain boots and an umbrella set the tone for the looks to come. Cocooning coats, slouchy suits, baggy culottes, as well as draped blazers and sweaters made the bulk of the collection, a cinematic collection that sang of attitude and eclectic energy as only Simons can conjure.  
Related stories:
The best street style from NYFW Men's SS18
The best of Milan Men's Fashion Week SS18 came in shades of blue