Karl Lagerfeld brought froufrou to the Ritz Paris for Chanel's Métiers d'Art 2017 collection
1. If there's one person who can coalesce Parisian hotel staycations with the pomp and circumstance of a luxe fashion show, it's got to be Karl Lagerfeld—his ingenuity breathed new life to the newly refurbished Ritz along Place Vendôme, taking inspiration from the "cosmopolitan elegance" of the Ritz's high-profile clientele circa '20s and '30s. To kick off the week's shenanigans, guests including G-Dragon, Pharrell Williams, and Lily-Rose Depp mingled at a cocktail party on Monday evening at the Ritz.
2. Karl Lagerfeld's favourite model, Cara Delevingne opened the show wearing an ivory tweed suit and an impish smile, while new models and It daughters of celebs made most of the runway including Sistine Stallone and Selah Marley. Lagerfeld's latest muse and the face of Chanel's N°5 L'Eau Lily-Rose Depp made her Chanel catwalk debut along with Sofia Ritchie, while Pharrell Williams also took his turn meandering the lunch tables that seated a total of 300 guests.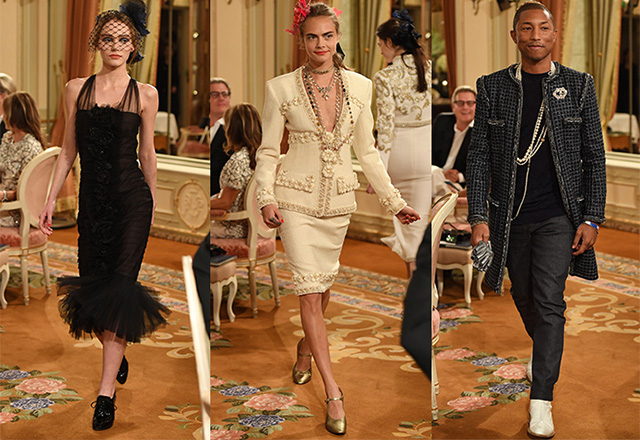 3. The clothes were pretty much what the 21st-century Parisienne would wear to a high-tea at the Ritz, but Lagerfeld couldn't resist riffing off elements that have been blazing on the runways lately, adding a puffer jacket to the lineup (worn with tulle, of course), a full-on gold sequin double-breasted pantsuit with a shawl lapel, and even an all-black leather ensemble that stood out amongst the shiny knits, tweed embroideries and frothy tulle.
4. Lagerfeld played the accessory game well, rolling out knee-high boots in vivid pink, red, and black alongside oxford heels and a Mary Jane or two for the preppy chic girl. Models sported hair net veils with sizable roses in all colours, making for a ladylike mien that went hand in hand with strands of chain and pearl additions around their necks. 
5. Who could've missed the stark white liner painted on the models' eyelids—a bold contrast compared to last year's, screen-siren worthy smoked out winged liners. A slick of statement white paired with matte complexions and a delicate pink lip served as the finishing touches to the evening's "Paris Cosmopolite" look.
Related stories:
Watch the exclusive Chanel N°5 L'Eau film before its worldwide reveal