We're all about supporting local this week - check out our favourite looks from Kuala Lumpur Fashion Week 2016
Cai Mei Khoo, Editor-in-Chief: Eclipse
Tropical flora and fauna prints, chic maxi dresses, beaded tulle dresses for evenings - designer Sonny San outdid himself for his latest collection for Eclipse. Citing Cuba as inspiration for this collection, it was tough for me to pick one favourite but I loved the looks with palm frond prints - this one in particular, is both modern and versatile enough to wear from beach to a romantic drive along the ocean-side boulevard in a bright pink Chevy. So happens, Cuba is next on my travel bucket list...
Gwen Ong, Deputy Editor: My Apparel Zoo
Forgive me for the all-black ensemble but I believe you can never have too many black dresses. This asymmetrical hem piece caught my eyes when I first saw it. It looks like the kind of dress that I could live in. I like the flowy and subtle layers, which I imagine, will give off an ethereal vibe as you walk down the street. It's all about the movement! Play it up with some statement necklaces, a matching clutch and high heels and you're all ready to rock an evening party. Ellie Norman, my heart is happy to meet your acquaintance. 
Jasmine Leong, Senior Fashion Writer: Jonathan Liang
Every year, the showcase of Jonathan Liang's eponymous label would be one of the most highly anticipated shows at KLFWRTW. And this year, the Paris-based designer did not disappoint. One of the pieces off the label's Spring/Summer 2017 collection that especially stood out to me is this see-through dress, which is a total sheer genius. Embellished with floral and butterfly appliqués, the sleeveless number with an unexpected cutout and ruffle hem simply spells girly-chic. Styled with a dual-toned bomber jacket (worn in an unconventional way, of course), the outerwear juxtaposed the ultra-feminine silhouette, giving the whole look extra cool-girl points. We can now forget about shoulder-robing because this is going to be next trendy way to wear a jacket.
Loh Wei Yeen, Fashion & Beauty Writer: Alia Bastamam
There's something about the hue of molten metals that appeal to me, and with Alia Bastamam's signature slinky, feminine silhouettes, this look checks all the right boxes in my books. Reminiscent of liquid rose gold teemed with a dash of silver, this silky trench coat and matching trousers are perhaps the perfect lazy day ensemble that I could wear from day-to-night, and that covetable metallic top has just the right amount of edge for an evening-appropriate look.
Rachel Au, Lifestyle Writer: Mimpikita
There were many amazing designs at this year's KLFWRTW but I've always got a soft spot for pastels and when we decided on the theme for this week's #WednesdayWishlist, my mind instantly thought of Mimpikita. This year's collection comes as a collaboration with Annick Goutal where it's inspired by the beauty brand's Rose Pompon fragrance; and like its fresh and sweet scent, the designs come off as dreamy and feminine. As a fan of collared pieces, this particular two-piece ensemble mostly caught my attention with the top's interesting silhouette. And that blue pleated skirt with peekaboo tulle is one simple but charming detail. It's dangerously close to becoming a piece I would wear every day and that's not going to be great for my daily #ootd pictures (I mean, if I did take those that frequently). Do check out the behind-the-scenes of the Mimpikita x Annick Goutal collection here.
Tan Su Fen, Writer: Cassey Gan
Cassey Gan's latest collection Series 8 is inspired by the late Dame Zaha Hadid and her interest in the Suprematism art movement, which translated into newer experimental silhouettes alongside her signature play on texture, fabric and graphic print. Nothing makes me happier than when comfort and style comes hand-in-hand, and in this case, it was the whole collection! It was hard for me to pick a favourite, because each look held its own—but I ultimately decided on this for 1) the beautiful colour combination and 2) the unique neckline and asymmetrical skirt design that offers a refreshing deviation from a straight cut. 
Alyssa Lee, Editorial Assistant: Melinda Looi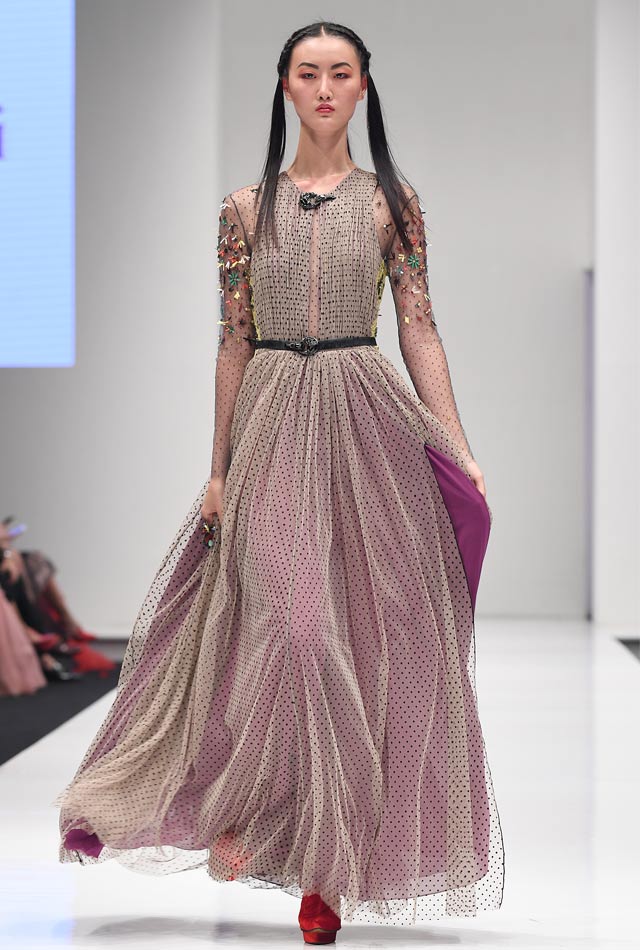 Have you ever tried playing 'match-the-designer-to-the-brand'? Oftentimes, one cannot deny the strange semblance that exists between a collection and its designer. In the case of Melinda Looi and her namesake label, that likeness is as bright as broad daylight. Her collection at KLFW was a frenzy of prints, fabrics, colours and textures—all expertly layered and juxtaposed with the golden touch of a seasoned industry player. The look above is the embodiment of all that. The polka-dotted nude chiffon spreads out from the ruched bodice to create an ethereal overlay to the punchy violet skirt beneath. Its tulle sleeves mirrors the print with the most discreet change in texture and opacity, while the colourful beaded embellishments look like the aftermath of a blissful frolic through a mountain of spring flowers. And to balance everything out, just the right amount of hardware and a bold red shoe. What a refreshing alternative to the bog standard, ultra-feminine evening ensemble—this one has attitude.
Related stories:
#KLFWRTW2016 Street Style by TTFGA: Day 5