The Marc Jacobs SS19 pieces we're shopping for right now
More is more, as Marc Jacobs SS19 demonstrates
More is more, as Marc Jacobs SS19 demonstrates
Nevermind that the show started an hour and a half late at NYFW. This, after all, is the same designer who famously kept showgoers waiting for two hours at his SS08 show, and if Marc Jacobs was showing signs of going back to past habits, then the clothes on the runway were similarly in the same vein. Here were clothes that harked back to collections past, or referenced other designers: a menswear-inspired suit from Marc Jacobs AW18 but this time cut slightly smaller and reinterpreted in bright colour blocks, lace-trimmed satin slips as previously seen in his collection for Louis Vuitton AW13, tweed Chanel-like suits but in a boxier cut. "There are references to designers that have always inspired me, and our past collections that have inspired me," said Marc Jacobs. "Things that I continually go back to."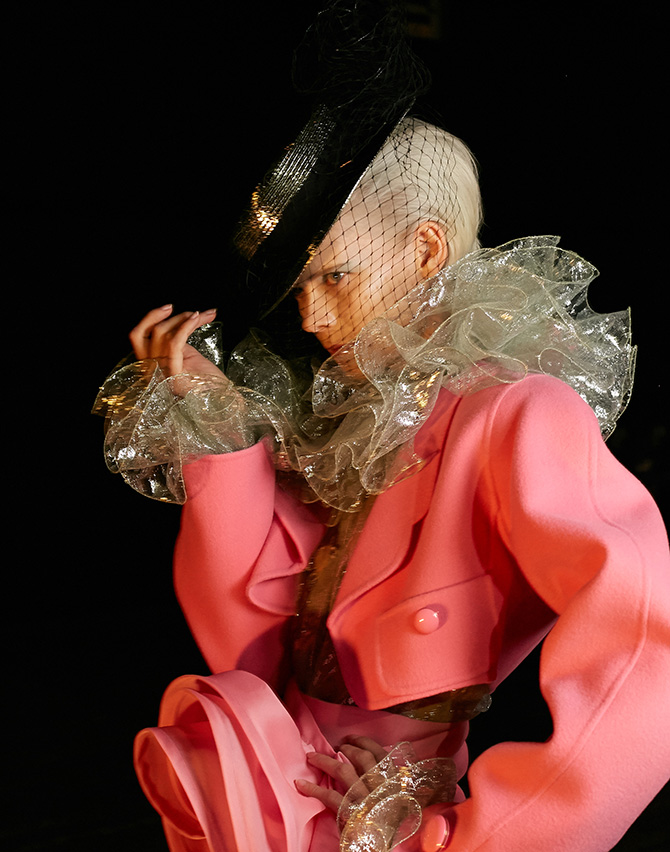 What stood out at Marc Jacobs SS19 were the broad shouldered suits and baggy trousers worn with Pierrot neck ruffs and sleeve cuffs, frothy dresses in multiple layers of ruffles, some completely covered with ostrich plumes. There were rosette sashes tied around the neck or waist, some large enough to shield the wearer's face, juxtaposed with silk satin dressing gowns, plain thermal-knit sweaters and skimpy lace-trimmed satin slips. This was a lesson in dressing up, from the fundamentals right up to the OTT extras. "I think there are plenty of people dressing women to go to Starbucks," said Marc Jacobs. "I wouldn't want to sit through a show for ten minutes of Starbucks outfits or yoga class outfits—if you're going to get dressed up, get dressed up." These were couture-inspired pieces, and elevated basics: there  were 3D embellishment on coats; streetwear was turned on its head, with a collegiate sweatshirt done in metallic knit. A grey button-down knit cardigan had flecks of Lurex woven through—this season, dressing up, rather than down, is de rigeur.
For evening, Marc Jacobs dialed up the fun in glamourous looks that were meant for dancing the night away in—ostrich plume dresses that flounced with every move, statement-making mini dresses made of maxi ruffles, and gold sequined trousers that sparkle and shine, all elevated with clear PVC block heels, or leather pumps with curls of leather worn with glittery stockings. These were clothes to move around and have fun in—time to swap those leggings and sneakers for sequins and feathers.
The best looks from Marc Jacobs Spring/Summer 2019
Marc Jacobs is located at G09, Ground Level, Suria KLCC.
Related articles
Buro 24/7 Selection